Florida school shooting survivor pleads with Melania Trump: Stop Donald Jr cyberbullying me
Criticism comes after President's son 'liked' two tweets promoting conspiracy theories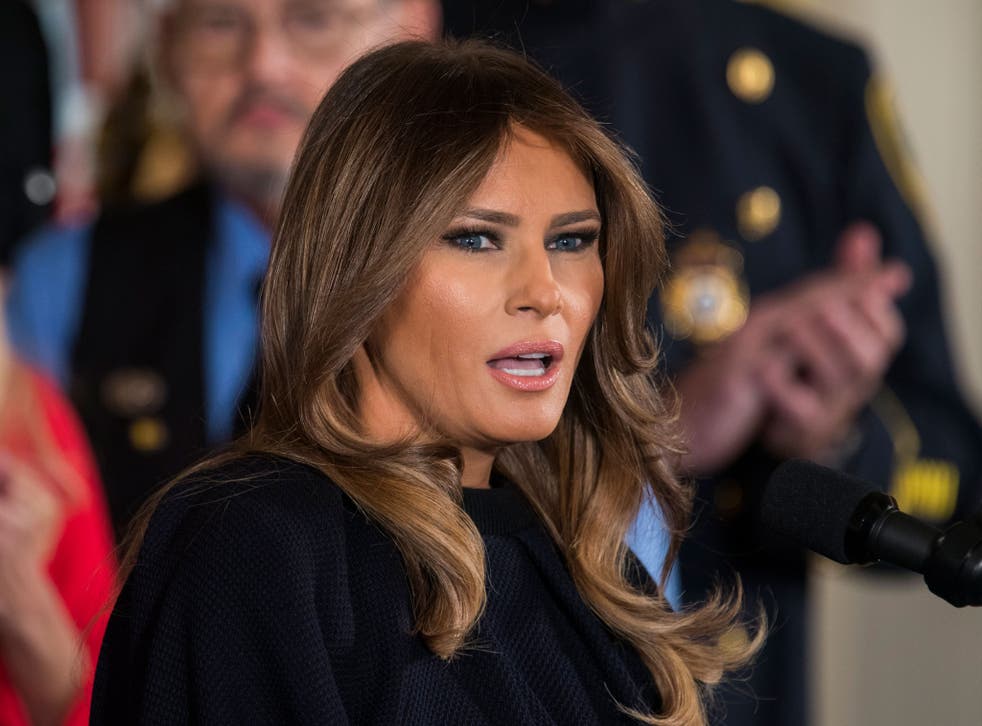 A 14-year-old survivor of the school shooting in Parkland, Florida, has publicly accused First Lady Melania Trump of failing to stop her stepson, Donald Trump Jr, from bullying her and her family online.
The attack by Lauren Hogg was particularly acute given Ms Trump's vocal commitment to fighting cyberbullying.
"Hey @FLOTUS you say that your mission as First Lady is to stop cyber bullying," wrote Ms Hogg, "well then, don't you think it would have been smart to have a convo with your step-son @DonaldJTrumpJr before he liked a post about a false conspiracy theory which in turn put a target on my back."
"I'm 14 I should never have had to deal with any of this and even though I thought it couldn't get worse it has because of your family."
Ms Hogg is the younger sister of David Hogg, a 17-year-old student at Marjory Stoneman Douglas High School who has led the push for gun law reform in the wake of the attack and who was this week accused of being a crisis actor.
A video pedalling the conspiracy theory spent several hours at the top of YouTube's "Popular Right Now" playlist before being taken down.
According to Twitter account Trump Alert, which tracks the Twitter activity of Mr Trump and his family, Donald Trump Jr "liked" two tweets promoting conspiracy theories about Hogg and his family.
Mr Hogg said it was disturbing that Mr Trump Jr liked the posts and criticised all those who amplified the claims.
"I'm not a crisis actor," Hogg told CNN's Anderson Cooper on Tuesday. "I'm someone who had to witness this and live through this and I continue to be having to do that."
Ms Trump made prevention of cyber-bullying one of her platforms when Mr Trump entered office.
World news in pictures

Show all 50
"It is our responsibility to take the lead in teaching children the values of empathy and communication that are at the core of kindness, mindfulness, integrity, and leadership," she said.
Critics at the time were quick to point out the irony of her choice, as the President frequently uses Twitter to ridicule Democrats, Republicans, other world leaders, political opponents and news outlets including CNN and the New York Times.
Speaking just before an event at a middle school in Michigan in October, the First Lady reiterated her message.
"By our own example, we must teach children to be good stewards of the world they will inherit," she said.
"We need to remember that they are always watching and listening."
Ms Trump has not yet made any public statement in response to Ms Hogg's tweet and the Office of the First Lady did not immediately respond to a request for comment.
Join our new commenting forum
Join thought-provoking conversations, follow other Independent readers and see their replies