Mexican president says marijuana should be 'legalised for scientific and medical purposes'
Mexicans can already possess up to five grams of the drug without breaking the law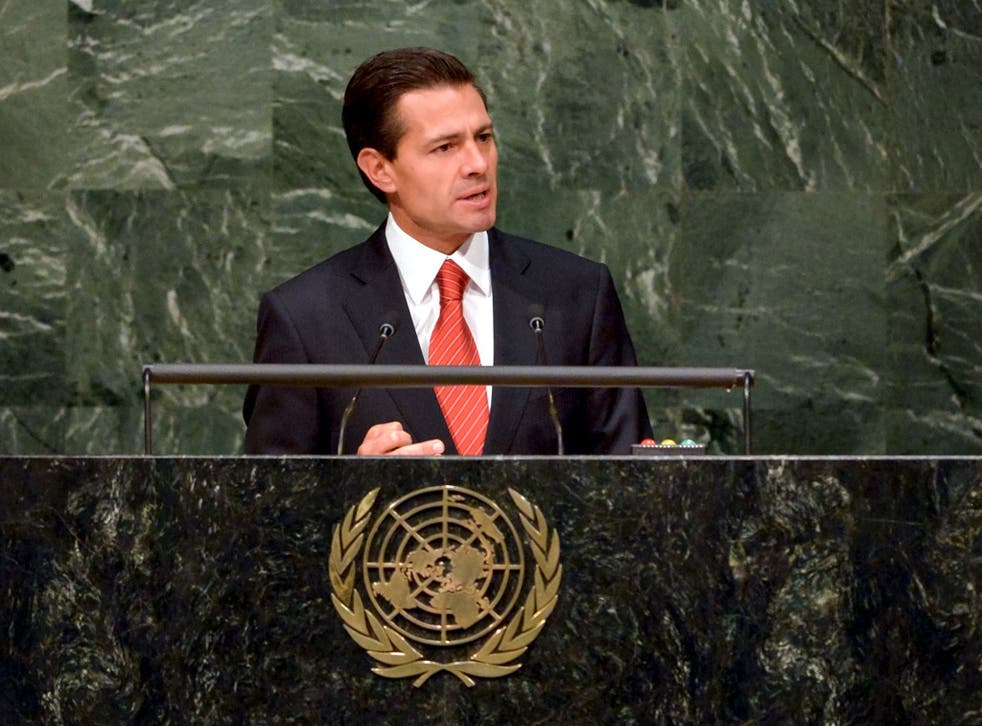 The President of Mexico has voiced his support for legalising cannabis for "medical and scientific purposes" and increasing the legal limit for personal possession.
President Enrique Peña Nieto was speaking at the UN General Assembly Special Session on Drugs when he referred to narcotics as a "public health problem" and said the international community should be "flexible" in tackling them.
The Supreme Court of Mexico – one of the countries hardest hit by the war on drugs – voted to relax laws on cannabis in 2015. However, Mexico would continue to fight organised crime connected to the drug trade, the president said.
"Availability and better access to controlled substances for medical and scientific purposes should be assured, avoiding at the same time its diversion, misuse and trafficking," Mr Peña Nieto said.
The aim of increasing the legal amount of cannabis for personal use is intended to "decriminalise consumers", a principle Mr Peña Nieto said should be another central focus of a fresh approach on the war on drugs, as the total prohibition approach had not been effective.
He added: "We should be flexible to change that which has not yielded results, the paradigm based essentially in prohibitionism, the so-called 'War on Drugs' ... (which) has not been able to limit production, trafficking nor the global consumption of drugs."
World's 10 deadliest street drugs

Show all 10
The legal limit for cannabis possession in Mexico is currently five grams. In addition, users possessing 50 milligrams of cocaine or 40 milligrams of methamphetamine (crystal meth) are not in breach of the law.
Mr Peña Nieto reminded the UN of the disproportionate price Mexico has paid in the so-called 'war on drugs'
"My country is one of the nations that have paid a high price, an excessive price, in terms of tranquility, suffering and human lives," he said.
The Mexican drug war has caused massive damage and destabilisation to the country.
An estimated 100,000 people have been killed in the last 10 years. An estimated 27,600 people have been forcibly 'disappeared', including the 43 students from the town of Iguala, in the southern Guerrero state, which drew worldwide attention.
Powerful drug cartels can often operate with impunity and their influence stretches far beyond the borders of Mexico.
In addition to controlling the drugs trade, the cartels have been implicated in genocide, kidnapping, people smuggling, assassinating politicians and journalists, extortion and corruption at all levels.
Join our new commenting forum
Join thought-provoking conversations, follow other Independent readers and see their replies