Miami Garden Police video: Officer shoots and kills unarmed black man with schizophrenia
Lavall Hall's mother had hoped police would take her son to hospital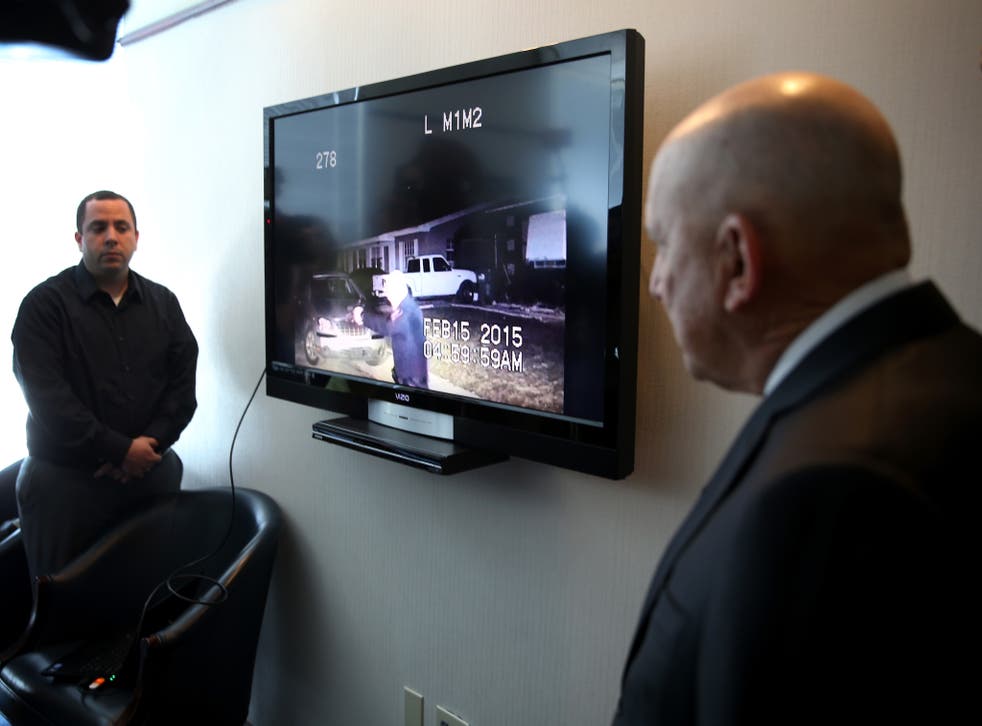 The family of an African-American man shot by police in February have released video of the fatal shooting, alleging that it shows Lavall Hall was unjustifiably killed.
Hall, 25, was shot by police in Miami Gardens, Florida, after his mother called 911 asking for help on the evening of February 15. Hall, diagnosed with schizophrenia and biploar disorder, was refusing to come into the house and had attacked his mother with a broomstick.
Catherine Daniels told Fusion that she wanted the police to take him to a mental health facility.
Yet instead Hall was shot and killed. Police chief, Stephen Johnson, told The Miami Herald that his officers had attempted to use tasers after one of them was hit by the broomstick. When Hall charged at the officers, they pulled out their guns. The two officers involved in the shooting were put on administrative leave.
However, video released by attorneys representing Hall's family released dash cam video which they argue paints an entirely different picture to the one presented by law enforcement.
At a news conference, lawyer Glen Goldberg said, "In the video, you'll see Lavall runs away from the officers. The officers had made up their minds that they were going to kill Lavall before this incident took place."
Hall's family claim that the police were informed that they were dealing with someone with mental issues and that they used "excessive force". Hall was wearing just his underwear and carrying a broom when he was fatally shot.
The attorney for Eddo Trimino, the police officer in question, said that the video vindicated his actions. They claim he feared for his life as he retreated from Hall, who allegedly disobeyed Trimino's commands.
"You're trained to shoot at the center body mass. So it's going to be a bit of a lower trajectory of the gun. He's not shooting at eye level, that's in the movies. The video justifies the officer's actions. You can see his fear," attorney Andrew Axelrad told The Miami Herald.
Miami Gardens is a city of 110,000 people and with a high crime rate. A Fusion investigation last year found that 99,980 people were stopped and questioned by Miami Gardens Police Department between 2008 and 2013. 56,922 of this number were not arrested. 8,489 of the nearly 100,000 stopped were children, according to the Fusion report.
The authors of the report, Dan Lieberman and Alice Brennan, wrote that their analysis showed "how aggressive and far-reaching the police actions were. Some residents were stopped, questioned and written up multiple times within minutes of each other, by different officers...Senior citizens were stopped and questioned near their retirement home, including a 99-year-old man deemed to be "suspicious."'
Register for free to continue reading
Registration is a free and easy way to support our truly independent journalism
By registering, you will also enjoy limited access to Premium articles, exclusive newsletters, commenting, and virtual events with our leading journalists
Already have an account? sign in
Register for free to continue reading
Registration is a free and easy way to support our truly independent journalism
By registering, you will also enjoy limited access to Premium articles, exclusive newsletters, commenting, and virtual events with our leading journalists
Already have an account? sign in
Join our new commenting forum
Join thought-provoking conversations, follow other Independent readers and see their replies