Senior Trump adviser compared to renowned Nazi by editor of 'neo-con bible' Weekly Standard
'First time tragedy, second time farce'
Samuel Osborne
Sunday 05 February 2017 17:09 Comments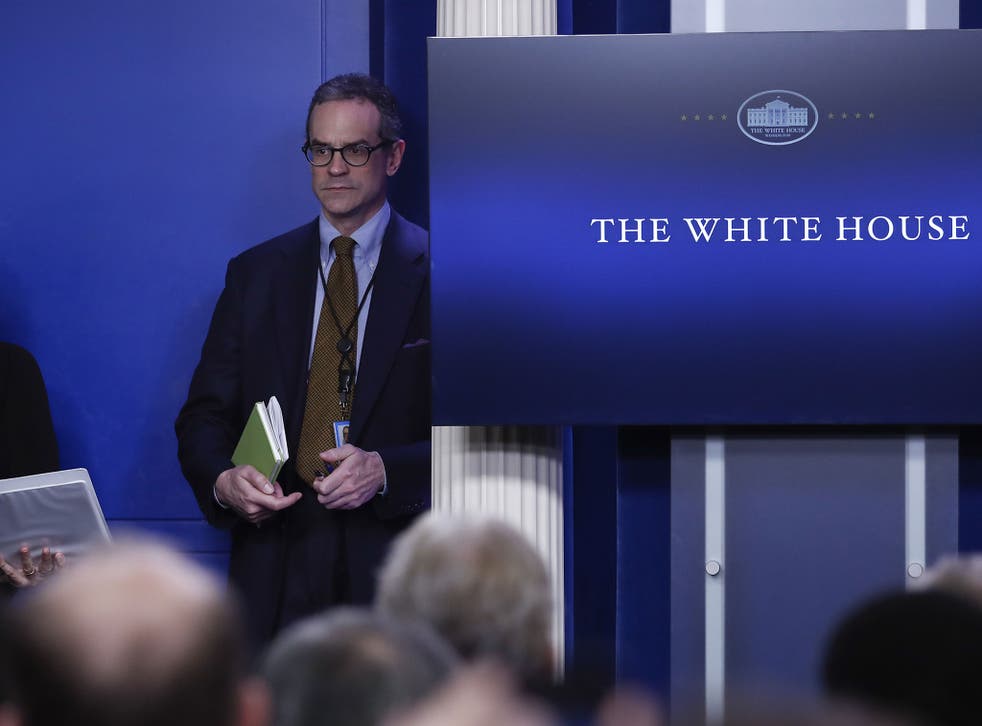 A senior adviser in Donald Trump's administration has been compared to a renowned Nazi philosopher by the editor of the "neo-con bible" The Weekly Standard.
Michael Anton, works as a senior national security official in the White House.
"From Carl Schmitt to Mike Anton," The Weekly Standard editor Bill Kristol wrote on Twitter, comparing Mr Anton to the controversial Nazi political theorist.
"First time tragedy, second time farce."
Mr Kristol expanded on his concerns in an email to Mic, linking Mr Anton to far-right figure Steve Bannon, Mr Trump's closest adviser.
The former editor of the alt-right Breitbart website was reportedly behind the White House directive that made US green card holders subject to additional screening under Mr Trump's "Muslim ban".
"The Bannon-Anton wing of the Trump White House has a penchant for semi-conspiratorial analyses and semi-kooky prescriptions," Mr Kristol wrote in the email.
"And for them, being responsible isn't a virtue. Which is worrisome."
Donald Trump's closest advisor Steve Bannon thinks there will be war with China in the next few years
In his tweet, Mr Kristol shared a link to a New York Magazine article describing Mr Anton as "America's leading authoritarian intellectual."
During the election, Mr Anton wrote several pro-Trump articles under the pseudonym Publius Decius Mus, a reference to the ancient Roman consul who gave his life in battle to save his people.
He was unmasked as the anonymous author earlier this week by The Weekly Standard.
In his most influential essay, "The Flight 93 Election," Mr Anton made the case that conservatives should support Mr Trump because they cannot survive another election defeat.
He makes his case by using the metaphor that conservatives are like the passengers on the doomed 9/11 Flight 93, which was eventually brought down in a field in Pennsylvania.
"2016 is the Flight 93 election: charge the cockpit or you die," he writes.
The controversial orders Donald Trump has already issued

Show all 9
He adds: "If you don't try, death is certain. To compound the metaphor: a Hillary Clinton presidency is Russian Roulette with a semi-auto."
Mr Anton, who was formerly a speech writer for the Bush administration and Rupert Murdoch, then director of communications at multinational investment bank Citigroup, goes on to describe the Obama government as "the junta".
He argued Mr Trump was the only Republican capable of saving America: "Trump, alone among candidates for high office in this or in the last seven (at least) cycles, has stood up to say: I want to live. I want my party to live. I want my country to live. I want my people to live. I want to end the insanity."
Now he is in a position where he can shape the White House's national security message, commentators are wondering how much Mr Anton and Mr Bannon will be able to shape the US president's ideas and policies.
Register for free to continue reading
Registration is a free and easy way to support our truly independent journalism
By registering, you will also enjoy limited access to Premium articles, exclusive newsletters, commenting, and virtual events with our leading journalists
Already have an account? sign in
Join our new commenting forum
Join thought-provoking conversations, follow other Independent readers and see their replies