Michael Cohen: Trump's personal lawyer is trying to stop use of evidence seized in FBI raid
Mr Cohen's lawyers have asked to 'take the first cut at identifying documents that are relevant or not relevant' to federal investigation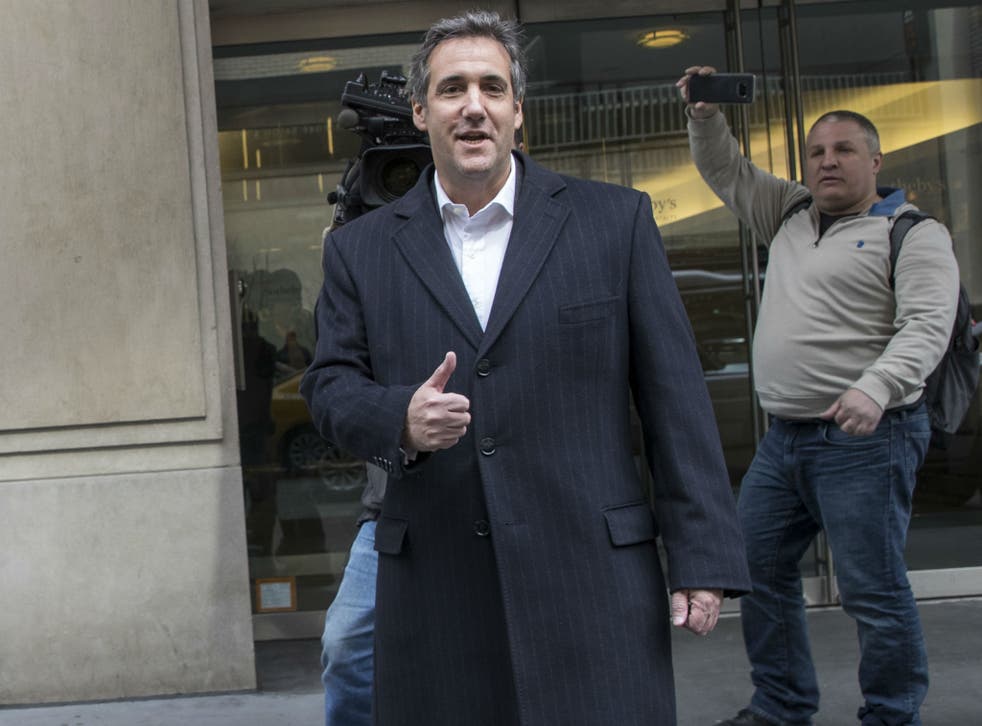 President Donald Trump's personal lawyer Michael Cohen is trying to prevent the government from using materials found in FBI raids of his office and residence.
Michael Cohen is seeking a temporary restraining order regarding FBI raids on his home, office, and hotel room that took place earlier this week, a Justice Department spokesman said. Monday's raids followed a referral by Special Counsel Robert Mueller, who for nearly a year has been looking into whether the Trump campaign colluded with Moscow as part of a wider investigation into Russian meddling in the 2016 presidential election.
At a hearing in the US District Court in Manhattan, Judge Kimba Wood said Mr Cohen's lawyers had asked on Thursday night to "take the first cut at identifying documents that are relevant or not relevant" to the investigation.
Lawyers for Mr Cohen told the the judge that material seized in the raids is protected by attorney-client privilege.
Joanna Hendon, a lawyer for Trump, said the president had "acute" and "weighty" interests at stake. Ms Hendon resisted the idea that Me Cohen's lawyers, a "special master" or a "taint team" favoured by prosecutors should decide what information becomes public.
"The viability of this prosecution, it has to be done right," Ms Hendon told Judge Wood.
The biggest names involved in the Trump-Russia investigation

Show all 17
Tom McKay, a federal prosecutor, said that the president does not deserve special treatment, and that his interest in attorney-client privilege was "no different" from anyone else.
The FBI raids have clearly infuriated Mr Trump, who has called the special counsel investigation a "witch hunt" and tweeted that "Attorney--client privilege is dead!"
Media reports have suggested that agents confiscated documents regarding Mr Cohen's bank records, business records and communications with the 2016 Trump campaign. The warrant referenced a possible investigation into wire fraud, bank fraud and campaign finance. Mr Cohen has denied any wrongdoing.
Donald Trump rages over search of his lawyer Michael Cohen's office, describing it as a 'break-in'
Potential communication between Mr Trump and Mr Cohen over the infamous "Access Hollywood" tape that captured Mr Trump making lewd remarks about women was also sought, while the Associated Press reported that information over contacts with former Playboy model Karen McDougal and adult film actress Stormy Daniels, real name Stephanie Clifford, .
Both women have claimed to have had affairs with Mr Trump, which the president denies. Ms Daniels has said that Mr Cohen also paid her $130,000 just days before the November 2016 election in order to keep quiet about the matter. Mr Cohen said the money was paid, but has not given a reason. he has denied allegations of an affair between Ms Daniels and Mr Trump.
The court hearing did not provide any details of why agents seized the items, but the judge, prosecutors and the attorneys all spoke openly about an investigation that previously has been played out away from public hearings.
Judge Wood adjourned the hearing until 2 pm local time It was unclear whether that session will be open or closed to the public. The judge said sealing the proceedings might be needed to protect "the privacy interests of potentially innocent people."
Ms Daniel's lawyer, Michael Avenatti, was in the audience for the court session and asked the judge to be heard in the afternoon session.
"We have every reason to believe that some of the documents seized relate to my client," he said.
Agencies contributed to this report
Join our new commenting forum
Join thought-provoking conversations, follow other Independent readers and see their replies