Walter Scott shooting: Former policeman who killed unarmed black man to testify in front of 92% white jury
He shot Scott five times in the back as he was running away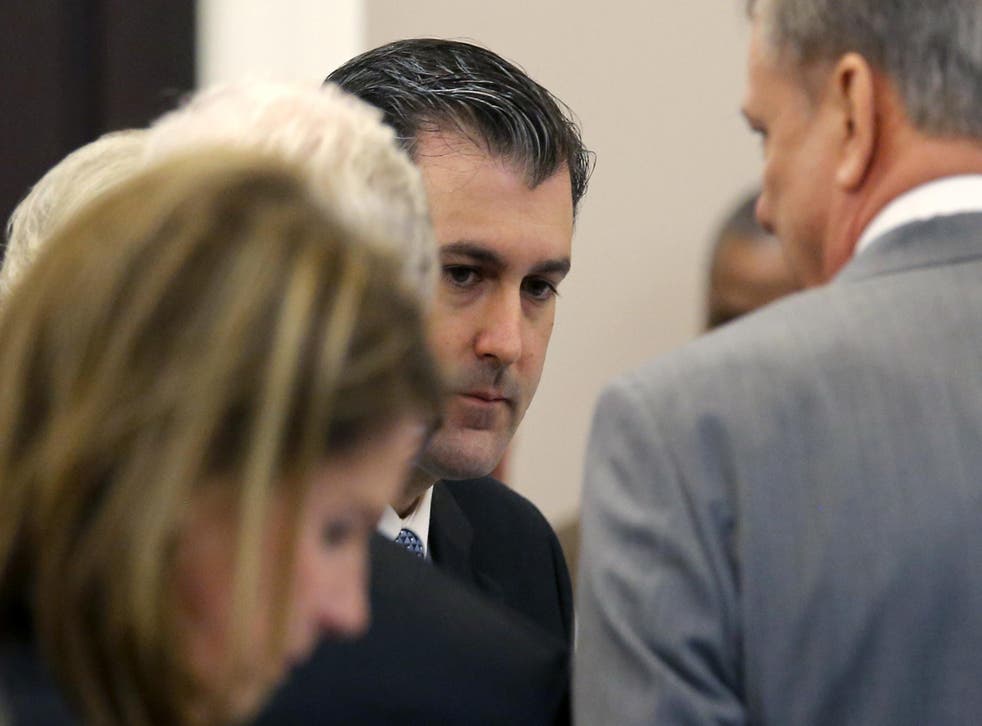 A white ex-officer who was charged with murder said in court his "mind was like spaghetti" when he was shooting unarmed black man Walter Scott five times in the back.
Michael Slager, on trial in North Charleston, faces 30 years to life imprisonment for the killing in April 2015 which was captured by a bystander on video. He is the 18th witness in his own defense.
Once the video of the shooting had been released, Slager was fired and charged with murder.
He has been on bail since January.
Scott's family speculated he might have been running away because he had been falling behind on child support payments and was afraid of going back to jail.
During cross examination he was asked if he could see in the video that, at the time he shot Scott, the victim did not have his taser. He replied: "At the time I was there I did not know [if he had my taser]."
Asked again if he could see the absence of the weapon specifically in the video, he said: "Yes, after learning information I do [concede he did not have the taser]."
"Mr Scott was coming after me with the taser twice. My mind was like spaghetti," said Slager in court.
The prosecutor argued that the taser was on the ground beside the ex-officer as he was shooting Scott.
"I was doing my job," added Slager.
The Walter Scott shooting explained
"He never stopped and I gave him multiple commands to stop. Even before the tasing."
11 white people and one black person are in the jury.
Slager's lawyers argued that the video, widely shared on social media, did not tell the whole story, and that Slager told Scott to stop and warned him he would use his stun gun. Scott allegedly wrestled with Slager and grabbed his taser before running away.
He maintained they had a struggle, in which he said Scott was on top of him, but he did not remember everything that happened during the fight. He said Scott had the taser and it was "coming at [him]"
"He never stopped. He was always dangerous," said Slager, referring to the moment when he chose to fire his weapon because he said he believed Scott had run away with his taser.
Scott was 18 feet away when the ex-officer fired the first few bullets, and about 40 feet away by the final shot.
Slager insisted that at 18 feet away, Scott could still have turned around and attacked him "again". The taser was later found with an empty cartridge, lying on the ground near Slager.
Civil rights protests in North Charleston following fatal shooting of Walter Scott
Both sides have seen 3D computer creations of the scene presented by witnesses, as reported by the Associated Press.
His defense lawyer Andy Savage cited an April 2015 report from the FBI which stated that Scott was "wanted and dangerous, with violent tendencies".
The judge, Clinton Newman, is considering whether the jurors will be allowed to visit the scene of the shooting.
Dot Scott, president of the National Association for the Advancement of Colored People in North Charleston, previously told The Independent that she was concerned about the make-up of the jury and that the one black person had "never even heard" of the Walter Scott killing or seen the video before.
Speaking of police officers and government, she said: "You've been feeding them monsters, you've grown us to this level of distrust and built up anxiety and frustration, and it comes to boiling point."
In court, Slager was asked about his previous use of tasers, including a routine traffic stop where Slager and a colleague reportedly dragged a suspect out of his car and tasered him.
"The ones [incidents] we went over today, the subject was assaulting the victim or someone else, and the safest is a taser, so I don't want to get into a fight with a person when I can use a taser that's going to cause less harm to that person than me, than an actual fist fight."
He said he had not received any de-escalation training, and added, referring to his use of tasers: "That's what police officers do. That's our job. We can't just ignore crime."
Mr Slager said since Scott's death, he has gone through a "rollercoaster". He said he could not sleep and has nightmares.
In jail, the person in the cell next to him was Dylann Roof, the young mass murderer who shot nine black churchgoers dead in July 2015.
Join our new commenting forum
Join thought-provoking conversations, follow other Independent readers and see their replies