Woman accused of urging boyfriend to kill himself goes on trial
Michelle Carter is accused of pushing her boyfriend to suicide through texts and calls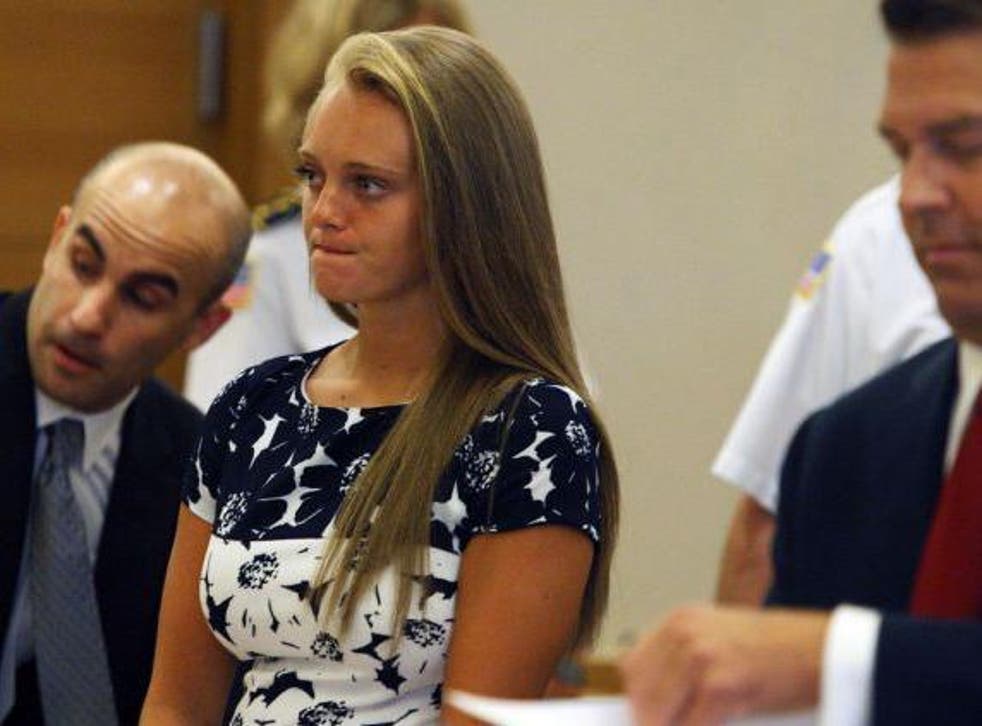 A young woman accused of encouraging her boyfriend to kill himself, was playing a "sick game", a court has been told.
The hearing in Massachusetts heard that Michelle Carter, who faces a charge of involuntary manslaughter charge, allegedly texting her boyfriend to – among other things – "just do it" before, he took his own life in 2014. At the time he was 18, and she was 17.
In her opening statement, prosecutor Maryclare Flynn accused Ms Carter of sending "dozens" of text messages and making phone calls too. In them, Ms Carter encouraged her boyfriend to kill himself, even instructing him to get back in the car he had filled with carbon monoxide fumes, the court heard.
Ms Flynn accused Ms Carter, who is now aged 20, of bringing about her boyfriend's death so she could play the "grieving girlfriend".
However, Ms Carter's defence lawyer said her boyfriend, Conrad Roy, was "on this path to take his own life for years," and that his girlfriend had urged him to get treatment.
"It was Conrad Roy's idea to take his own life, it was not Michelle Carter's idea," said attorney Joseph Cataldo. "This was a suicide, a sad and tragic suicide, but not a homicide."
This is the first involuntary manslaughter indictment the Massachusetts Supreme Court has considered on the basis of words alone. The arguments, experts say, will come down to one crucial point: whether Ms Carter directly caused the death of Mr Roy with her texts and calls.
"The state has got to show not just that there was encouragement, but that Ms. Carter killed this young man with her words, and that's a really significant obstacle for the prosecution," Matthew Segal, of the ACLU of Massachusetts, told The New York Times.
"Just because Ms. Carter's conduct may have been wrong, doesn't mean there's necessarily a law in Massachusetts that made it a crime," he added.
Unlike many other states, Massachusetts does not have a law against encouraging someone to kill themselves.
World news in pictures

Show all 50
If the prosecution is successful, however, they could secure up to a 20-year sentence, putting the 20-year-old Ms Carter behind bars until age 40.
The case is being tried without a jury in juvenile court, because Ms Carter was a minor when Mr Roy killed himself.
Register for free to continue reading
Registration is a free and easy way to support our truly independent journalism
By registering, you will also enjoy limited access to Premium articles, exclusive newsletters, commenting, and virtual events with our leading journalists
Already have an account? sign in