Michelle Obama reveals husband wore same tuxedo for eight years but no one noticed
'No matter what we do, he puts on that same tux,' says former First Lady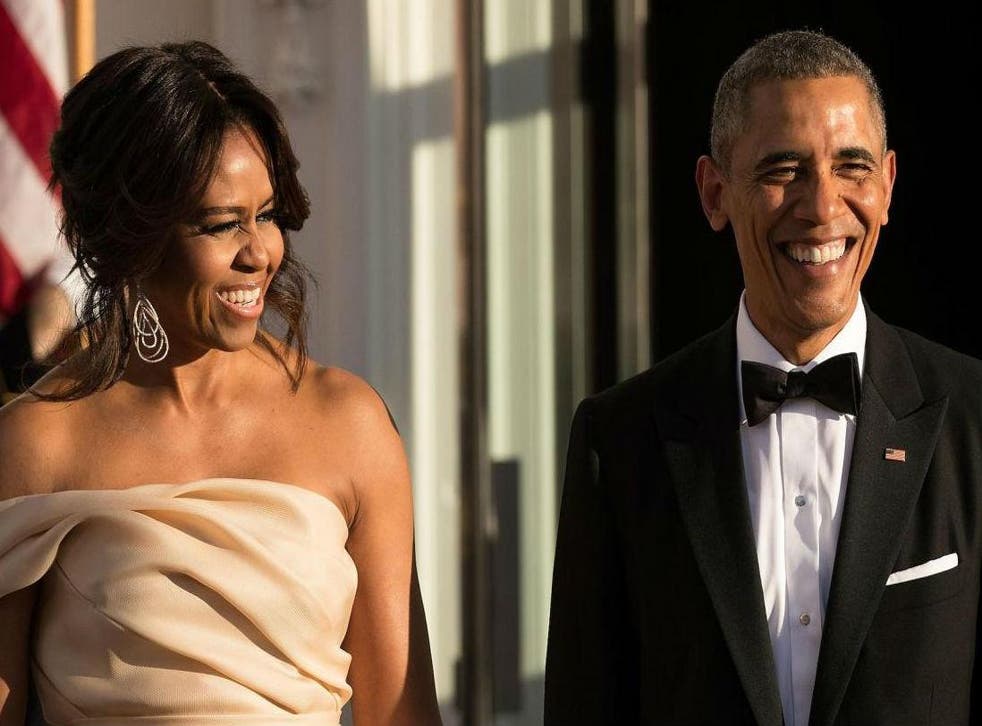 Barack Obama's dress sense was neither adventurous nor outlandish but it still garnered its fair share of admirers. Dubbed the most well-dressed President since John F Kennedy, Mr Obama arguably knew how to dress for every occasion.
While he was comfortable donning a classic black tuxedo for formal galas, he was equally comfortable in his infamous "mom jeans" and windbreakers for downtime. Sported on the 2008 campaign trail and at an MLB All-Star Game, the loose-fitting, stonewashed 80's style jeans were something of a signature look for the Chicago native.
Nevertheless, it has now emerged Mr Obama was putting in less time and energy than it appeared into his aesthetic. Michelle Obama has revealed her husband liked his tuxedo jacket so much he wore it for the eight whole years of his presidency.
The former First Lady explained that while her outfits were scrupulously scrutinised at all times, her husband managed to get away with wearing the same suit jacket for both terms in the White House.
"This is the unfair thing - you talk about Fred Astaire and Ginger Rogers - no matter what we do, he puts on that same tux," Ms Obama explained during an appearance at Apple's Worldwide Developers Conference on Tuesday.
"Now, people take pictures of the shoes I wear, the bracelets, the necklace - they didn't comment that for eight years he wore the same tux, same shoes."
Michelle Obama as the First Lady

Show all 11
"And he was proud of it too. He's like, 'Mmm, I'm ready. I'm ready in 10 minutes. How long did it take you?' I'm like, 'Get out of here.'"
Ms Obama, who was called a style icon and a taste-maker during her time as First Lady, also revealed the anecdote behind the somewhat iconic photo of her gently altering Mr Obama's bow tie just before he greeted Chinese President Xi Jinping and wife Peng Liyuan at the White House during a state visit in September 2015.
"We walk and in front of us are about 100 press people," she recalled.
"So we're standing there waiting for the cars to roll in and I was bored. So I sort of thought, let me make sure my husband looks good".
Mr Obama has been equally as adored for his dress sense since leaving the White House in January, with many heaping praise on his backwards baseball hat on holiday and his brown leather jacket leaving the National Gallery of Art in Washington DC.
Reflecting upon life after he left the White House last May, he said: "I can wear my mom jeans in peace. I hate these tight jeans."
Join our new commenting forum
Join thought-provoking conversations, follow other Independent readers and see their replies