Michelle Obama opens up about racism and the 'shards' that 'cut' her 'deepest' as First Lady
'There are still people who won't see me for what I am because of my skin colour,' says former First Lady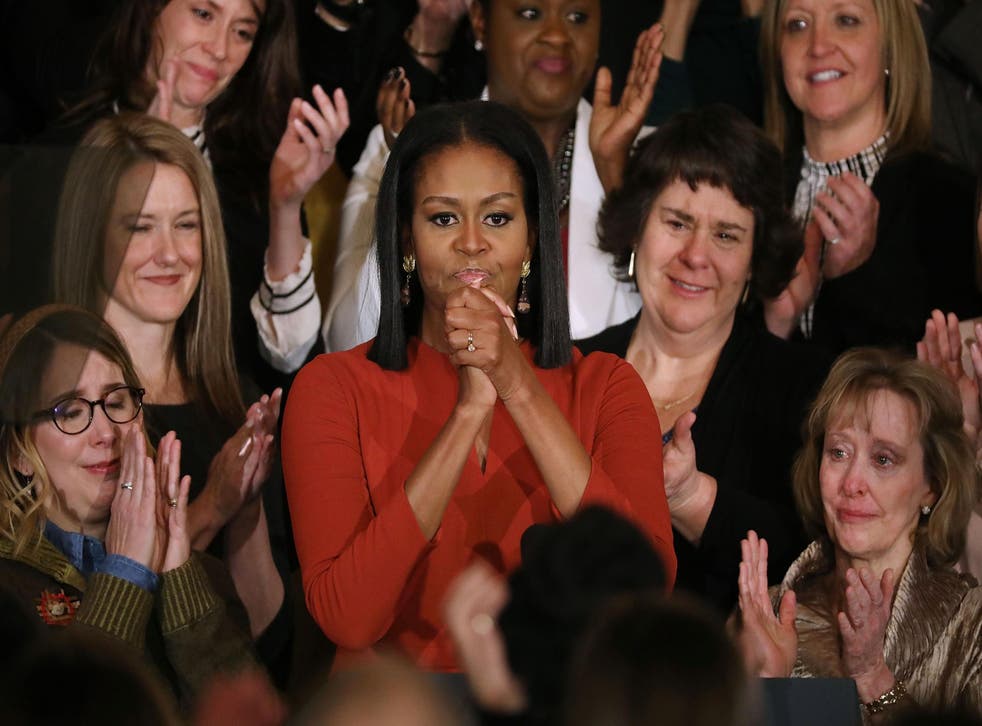 Michelle Obama might have been bolstered by enduringly high popularity ratings as First Lady but this does not mean her time in the White House was devoid of difficulties.
America's first black First Lady endured repeated racism while in the White House. From being branded an "ape in heels" by a West Virginia official to being told she had a "gorilla face" by a local Washington mayor, Ms Obama was subject to countless spiteful racially-charged remarks from politicians and commentators.
The 53-year-old, who married Barack Obama in 1992, has now addressed this racism head on during an appearance in Denver on Tuesday.
Sat in an armchair on stage, Ms Obama was pressed about which shards of glass had cut her deepest during her eight years in the White House. She referred to the incident cited above where she was called an "ape in heels".
"The shards that cut me the deepest were the ones that intended to cut," the Chicago native replied, according to the Denver Post. "Knowing that after eight years of working really hard for this country, there are still people who won't see me for what I am because of my skin colour."
Michelle Obama as the First Lady

Show all 11
She added: "Women, we endure those cuts in so many ways that we don't even notice we're cut. We are living with small tiny cuts, and we are bleeding every single day. And we're still getting up."
She restated previous statements that she has no plans to run for President despite many calls for her to do so, prompting boos from the audience, but said her and her husband plan to remain committed to public service.
"The people in this country are universally good and kind and honest and decent," she told the audience. "Don't be afraid of the country you live in. The folks here are good."
Ms Obama made the remarks at an event which was part of the Women's Foundation of Colorado's 30th-anniversary fundraising celebration.
This is not the first time Ms Obama has addressed issues of race. In a speech at Jackson State University, a historically black institution in the capital of Mississippi last year, she addressed the persistent "shadows" of racism. She began by citing personal, quotidian examples of racism before going on to address macro-level structural prejudice.
Ms Obama talked of being pulled over for "driving while black", being closely scrutinised while shopping and even having random passers-by actively cross the street to avoid coming into contact with you. But then she drew attention to institutionalised forms of racism.
She said: "Maybe it's when the early voting location in your neighbourhood just happens to be closed, or law after law is passed about the kind of ID you need to cast your vote. Maybe it's all those schools that, despite the laws, are still very much separate and unequal. Or the criminal justice system that still doesn't provide truly equal justice for far too many!"
Register for free to continue reading
Registration is a free and easy way to support our truly independent journalism
By registering, you will also enjoy limited access to Premium articles, exclusive newsletters, commenting, and virtual events with our leading journalists
Already have an account? sign in
Register for free to continue reading
Registration is a free and easy way to support our truly independent journalism
By registering, you will also enjoy limited access to Premium articles, exclusive newsletters, commenting, and virtual events with our leading journalists
Already have an account? sign in
Join our new commenting forum
Join thought-provoking conversations, follow other Independent readers and see their replies