Voter intimidation reported in Michigan after man allegedly tries to stop Muslim women from voting
Man reportedly 'pulled two women wearing Hijabs out of line'
Samuel Osborne
Wednesday 09 November 2016 01:23 Comments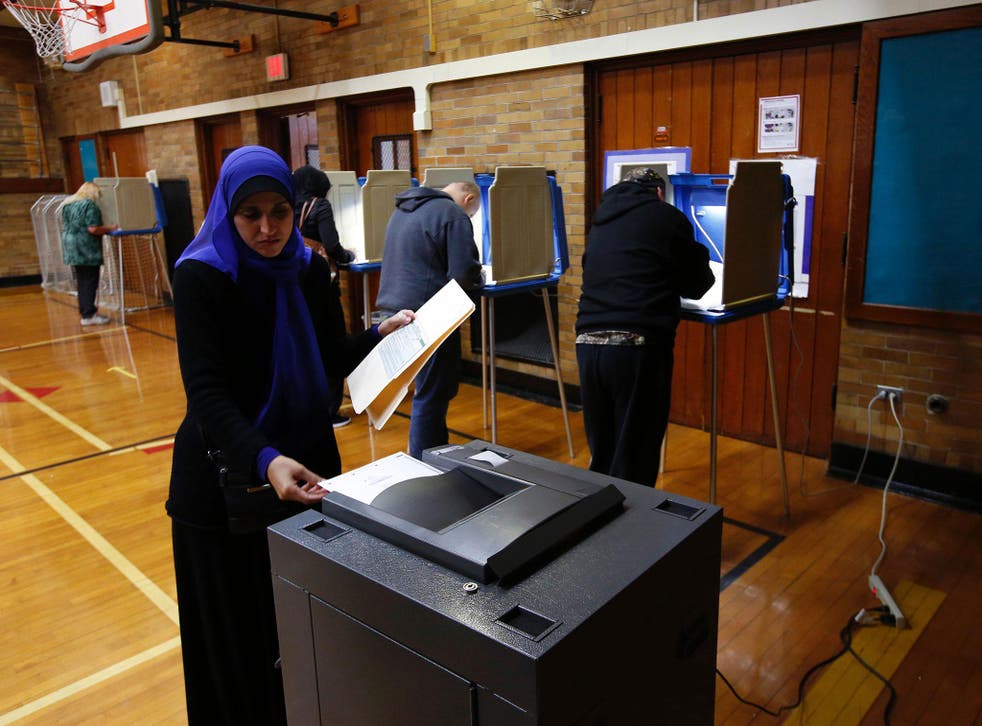 Police were called to reports of voter intimidation after man allegedly tried to stop two Muslim women from voting in Michigan.
An East Lansing voter named Ron Fox reported the incident to Mother Jones in an email: "I observed a man just outside the door to the polling place. He pulled two women wearing Hijabs out of line ahead of me.
"When I came level to him, he was examining their voter registration cards and appeared to be attempting to direct them to another polling place. He seemed polite but I did not like that he'd singled out those two women…
"When I finished voting, there were two polling officials that were asking him to leave. He was refusing. He then entered the polling place, presumably to attempt to obtain permission to remain."
US Presidential election: key moments in pictures

Show all 12
The man was not wearing the "identifing stickers" worn by election officials in Ingham County, Mr Fox said.
"I would say that there was at least some profiling going on as the two women in question were the only ones he singled out while I was in line," he added.
Mr Fox reported the incident to Barb Byrum, the Ingham county Clerk, who said she considered the incident to be "targeting individuals and harassing them to convince them that they shouldn't be voting.".
She said the incident had been reported to police.
"It doesn't pass the smell test," she added, "so it needed to be addressed by law enforcement."
US Election: Presidential results by state - 01:00
Concerns of voter intimidation and fraud led to a flurry of lawsuits in the run-up to election day, and new voter regulations in more than a dozen states also held the potential to sow confusion at polling places.
But in the early voting, most of the problems were routine - the kinds of snags that come every four years, such as queues, machines not working properly, and trouble with ballots or voter rolls.
One New Jersey voter reported waiting three hours because there were too few voting machines at her polling place in Jersey City.
In Texas, a computer malfunctioned at a polling place inside a high school in suburban Houston, forcing officials to briefly send voters to another polling place more than two miles away.
Fort Bend County elections administrator John Oldham said the malfunctioning console was later replaced with a backup and voting resumed.
Election officials in Utah said voting machine problems in the southern part of the state forced poll workers early in the day to use paper ballots. A computer problem in Durham County, North Carolina - a Democratic stronghold in a state which has been a key battleground in the presidential race - triggered long queues when election officials had to rely on a paper check-in process.
There were also sporadic reports of people in North Carolina who said they were not put on the voter rolls despite registering through the Division of Motor Vehicles.
Additional reporting by PA
Register for free to continue reading
Registration is a free and easy way to support our truly independent journalism
By registering, you will also enjoy limited access to Premium articles, exclusive newsletters, commenting, and virtual events with our leading journalists
Already have an account? sign in
Join our new commenting forum
Join thought-provoking conversations, follow other Independent readers and see their replies