Mick Mulvaney's confirmation as Donald Trump's budget director adds to anti-Muslim and anti-media cabinet
New director of the Office of Management and Budget is confirmed by the Senate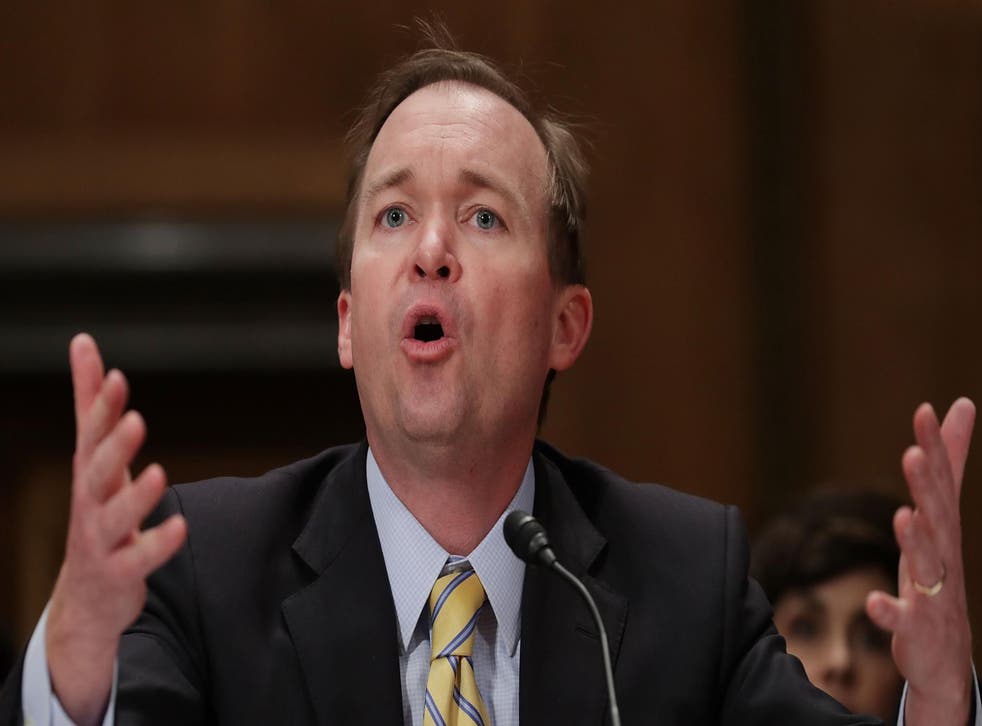 The Senate has confirmed fiscal hawk Mick Mulvaney as the new director of the Office of Management and Budget, adding to Donald Trump's cabinet picks who distrust the media and have expressed anti-Muslim views.
The South Carolina Republican was voted in 51 to 49, escaping opposition from Democrats and Republican Arizona Senator John McCain, who accused Mr Mulvaney of being anti-military for proposing spending limits on the Defense Department.
He has suggested that welfare programmes like Medicaid should be reviewed, which would target many people who rely on such aid and who also voted for Mr Trump.
As director of the Office of Management and Budget, he will oversee the creation of Mr Trum's federal budget plan and he will also be in charge of efforts to improve government management.
He last tweeted in September after watching a debate between Mr Trump and Hillary Clinton, questioning if anyone "trusted the media".
"One key takeaway...NBC's Lester Holt gave us a birther question, a Trump tax return question, only 20 seconds on Hillary's emails and nothing on immigration. Is it any wonder nobody trusts the media anymore?"
He has also expressed anti-Muslim views, supports school choice, which could divert federal funds from free schools, and has questioned laws that target voter suppression.
A sub-committee in his state Senate passed a bill last month where Syrian refugees would have to register with the state, and their contact information would be posted online for the public to see.
"If you let in the wrong Irishman–I'm fourth generation– if you let in the wrong Irishman the downside is really not that serious, okay," he said. "You let in the wrong Syrian refugee, one, then people can die as a result."
Not one Syrian refugee has been charged with even the intent of carrying out a terrorist attack on US soil for more than four decades, according to a Cato Institute report.
The new cabinet member's views will feed into an anti-Muslim and anti-refugee inner circle. Mr Trump has called the media "dishonest" for months, accusing CNN and Buzzfeed, the New York Times and the Washington Post of spreading fake news.
His chief strategist and founder of Breitbart, Steve Bannon, said the mainstream media was now the "opposition" to the government. House Speaker Paul Ryan has advocated government efforts to "investigate" intelligence agency leaks to the media, citing national security concerns.
Donald Trump's controversial cabinet
Mr Mulvaney was confirmed on Thursday despite failing to pay $15,000 in payroll taxes for the babysitter he employed after he and his wife had triplets in 2000. He made the admission to the Senate Budget Committee, and said he would pay any penalties or interest to make up the loss.
Similar gaffes have derailed nominees, but Mr Mulvaney has sailed through the confirmation process relative to obstacles faced by the likes of education secretary Betsy DeVos.
Democrat Senate Minority Leader Chuck Schumer responded: "When other previous Cabinet nominees failed to pay their fair share in taxes, Senate Republicans forced those nominees to withdraw from consideration."
Last month Mr Mulvaney diverged from the White House stance, however, by admitting that Mr Trump's crowd size did appear smaller than that of Barack Obama in 2009.
"I'm not really sure how this ties to OMB," Mr Mulvaney said. He added that "from that picture, it does appear that the crowd on the left-hand side [for Mr Obama's 2009 inauguration] is bigger than the crowd on the right-hand side."
Register for free to continue reading
Registration is a free and easy way to support our truly independent journalism
By registering, you will also enjoy limited access to Premium articles, exclusive newsletters, commenting, and virtual events with our leading journalists
Already have an account? sign in
Register for free to continue reading
Registration is a free and easy way to support our truly independent journalism
By registering, you will also enjoy limited access to Premium articles, exclusive newsletters, commenting, and virtual events with our leading journalists
Already have an account? sign in
Join our new commenting forum
Join thought-provoking conversations, follow other Independent readers and see their replies