Mike Flynn spreads fake news 16 times in last few months, son joins in
The conspiracy theories range from Hillary Clinton being involved in a child sex ring in a pizza shop to her campaign manager drinking body fluids as part of a 'ritual'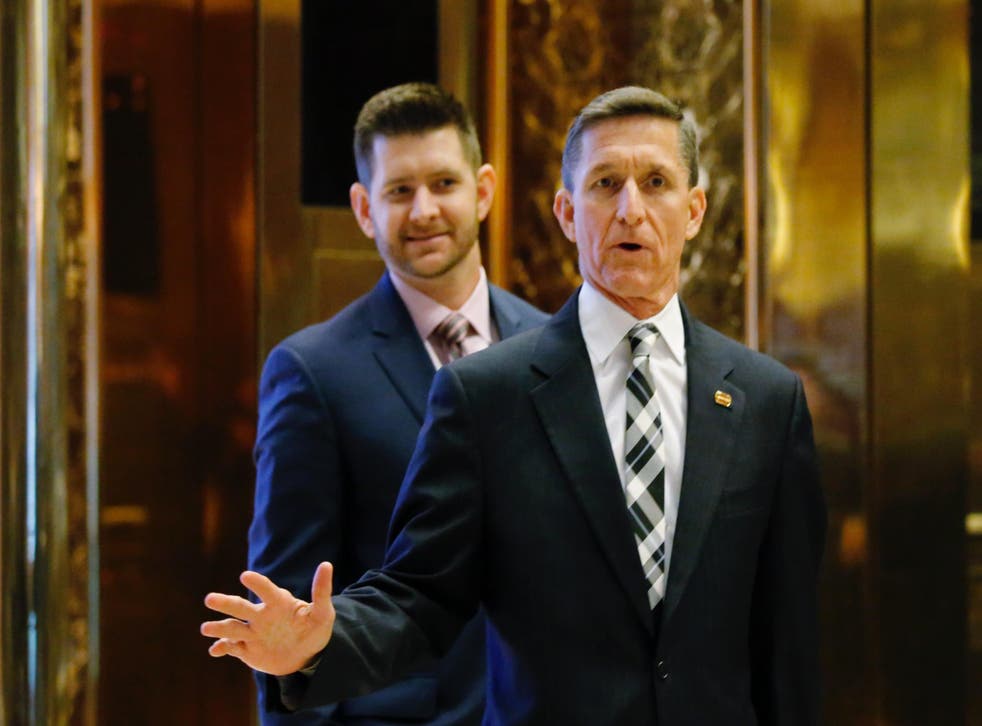 Donald Trump's incoming national security adviser has been caught spreading incorrect news at least 16 times in the last few months.
A combing of Michael Flynn's twitter account by Politico shows he has spread conspiracy theories about Hillary Clinton, Barack Obama and their allies. This includes accusing Ms Clinton of being involved with child sex trafficking, "waging a secret war" against the Catholic Church and her campaign manager consuming bodily fluids as part of a "spirit-cooking ritual". Mr Flynn also said president Obama is a "jihadi" who laundered money for Muslim terrorists.
The spotlight on fake news has intensified following the shooting at a pizza restaurant in Washington at the weekend by a man who believed false internet-based rumours that it was the hub of a child-trafficking operation involving Ms Clinton.
A total of 53 non-profit organisations have penned an open letter to the president-elect, urging him to dump Mr Flynn, who was "unfit for a critical post".
Mr Flynn has also retweeted stories accusing Ms Clinton of being an "insider threat" and an alleged United Nations one-world-government plot called Agenda 21. He used to be the head of the Defense Intelligence Agency. Critics have questioned whether Mr Flynn is genuinely able to tell the difference between fake and accurate information.
Mr Flynn has also been criticised for his anti-Muslim stance. He said fear of Muslims was "rational" and compared Islam to "cancer".
His anti-Semitic comments include re-tweeting a negative post about CNN and commenting: "Not anymore, Jews". One of his anti-semitic tweets was praised by former Ku Klux Klan imperial wizard David Duke.
His son, Michael Flynn, continued to push the fake story about the pizza shop child ring on Sunday as police arrested an armed man who said he had come to "investigate".
"Until #Pizzagate proven to be false, it'll remain a story. The left seems to forget #PodestaEmails and the many 'coincidences' tied to it," the younger Flynn tweeted.
Michael Flynn has also shared expletive-filled posts and racially insensitive comments on social media. He shared a story that Ms Clinton's top aide, Huma Abedin, had a link to the Muslim Brotherhood, and that senator Marco Rubio was a closeted homosexual who took cocaine.
In January, he tweeted "@voxdotcom soooo African Americans can have B.E.T. but whites can't have their own dating site? Hmmm…" The tweet has since been deleted. He shared a fake news item that the president flaunted an erection to female reporters, and said that voters of colour only chose Mr Obama in 2012 due to the colour of his skin.
Talking about Gloria Allred, the lawyer representing many women who accused Mr Trump of sexual assault, which he denied, the younger Mr Flynn said she was a "commie" who was trying to "get the heat off the witch".
Vice president-elect Mike Pence insisted Mike Flynn's son "has no involvement in the transition whatsoever", despite him having a .gov email address.
"No, he's not [involved], but I have to tell you, working with General Flynn and now KT McFarland, the national security team is coming together. Around the president-elect, I know the president elect is already doing an extraordinary job in preparing us to be ready on day one to bring that strong leadership to the world stage which the American people elected Donald Trump to bring."
Mr Trump has also taken to social media to spread false news, including his incorrect claim that "millions of people" voted illegally in the election.
California Representative Adam Schiff, the top Democrat on the House Intelligence Committee, told Politico that Mr Flynn and his team must disavow the conspiracy theories.
"They will soon have a country to run, and God help us if they conduct the nation's affairs like their transition — without the willingness or ability to separate fact from fiction," he said.
Join our new commenting forum
Join thought-provoking conversations, follow other Independent readers and see their replies