Donald Trump was just 'toying' with Mitt Romney over secretary of state position, says Roger Stone
Was the president-elect simply 'dangling' the job of secretary of state in front of his old critic?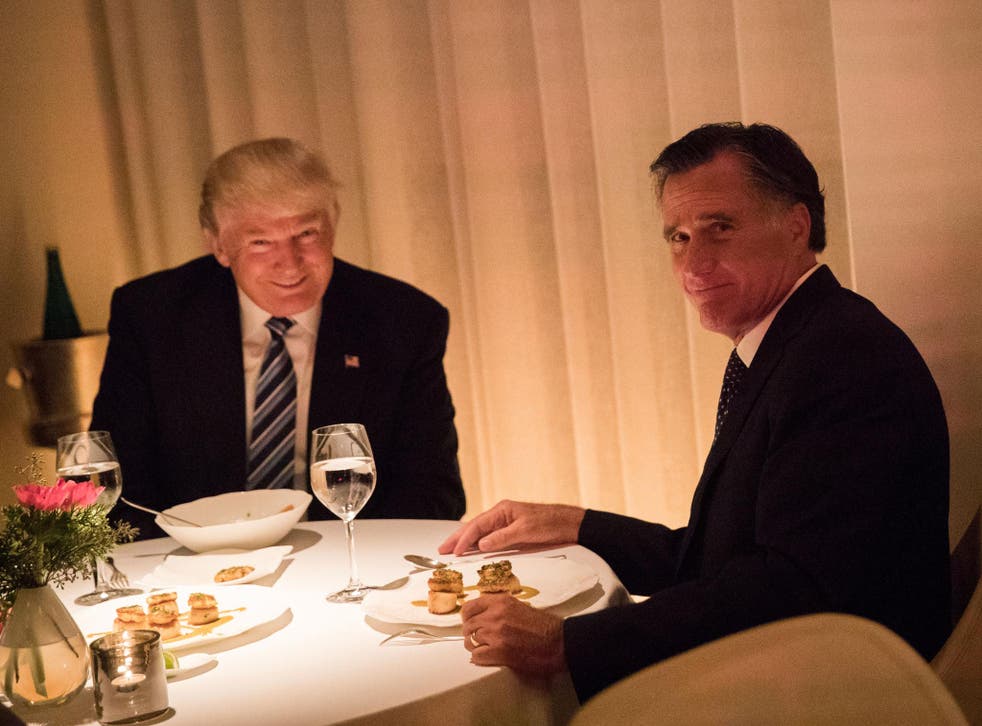 In the infamous photo of Donald Trump and former foe Mitt Romney having a candlelit dinner together to discuss the position of secretary of state, commentators were unsure who was the villain.
Mr Romney had insulted Mr Trump only a few months prior to their post-election meeting, and he was branded as disloyal by Mr Trump's top aides.
But it could be that the president-elect never had any intention of appointing his critic to the top job.
Roger Stone, Mr Trump's longtime adviser, told Infowars, the right-wing outlet of conspiracy theories, that the businessman-turned-president was just toying with Mr Romney.
"In retrospect it was very clear that Donald Trump was interviewing Mitt Romney for Secretary of State in order to torture him," Mr Stone said.
"To toy with him. And given the history, that's completely understandable. Mitt Romney crossed a line. He didn't just oppose Trump, which is his democratic right, he called him a phony and a fraud. And a con man. And that's not the kind of man you want as secretary of state."
Mr Stone, who wrote a book about the 2016 presidential race, said he was at the Trump Tower this month, but is not a formal adviser or part of the transition team.
Donald Trump: Mitt Romney performs U-turn
In a statement on Facebook on Monday evening, just a few hours after Mr Trump said he would announce his pick on Tuesday morning, Mr Romney wrote: "It was an honor to have been considered for Secretary of State of our great country. My discussions with President-elect Trump have been both enjoyable and enlightening. I have very high hopes that the new administration will lead the nation to greater strength, prosperity and peace."
The battle for the top job was stacked against him without the support of Mr Trump's aides.
Mr Stone's call against "choker" Mr Romney mirrors campaign manager Kellyanne Conway, who used a live television interview as an opportunity to air her grievances against a man she perceived to be "disloyal" and who, she said, had prompted a backlash against her boss.
Mr Stone added that it "tickled" him that Mr Trump won "easily" in Ohio, a state which Mr Romney won to president Barack Obama in 2012.
Mr Trump previously donated money to Mr Romney four years ago.
The tide only publicly turned between the two politicians during the 2016 presidential campaign.
While the arguments over Mr Romney continue, ExxonMobil CEO Rex Tillerson has been described as the top candidate for secretary of sate.
The appointment for secretary of state has not yet been announced.
All eyes are on Mr Trump's twitter account and the gold, revolving doors of Trump Tower.
Register for free to continue reading
Registration is a free and easy way to support our truly independent journalism
By registering, you will also enjoy limited access to Premium articles, exclusive newsletters, commenting, and virtual events with our leading journalists
Already have an account? sign in
Register for free to continue reading
Registration is a free and easy way to support our truly independent journalism
By registering, you will also enjoy limited access to Premium articles, exclusive newsletters, commenting, and virtual events with our leading journalists
Already have an account? sign in
Join our new commenting forum
Join thought-provoking conversations, follow other Independent readers and see their replies