Mitt Romney's team rocked as key player Tim Pawlenty walks
Co-chairman quits campaign as Republicans try to recover from video embarrassment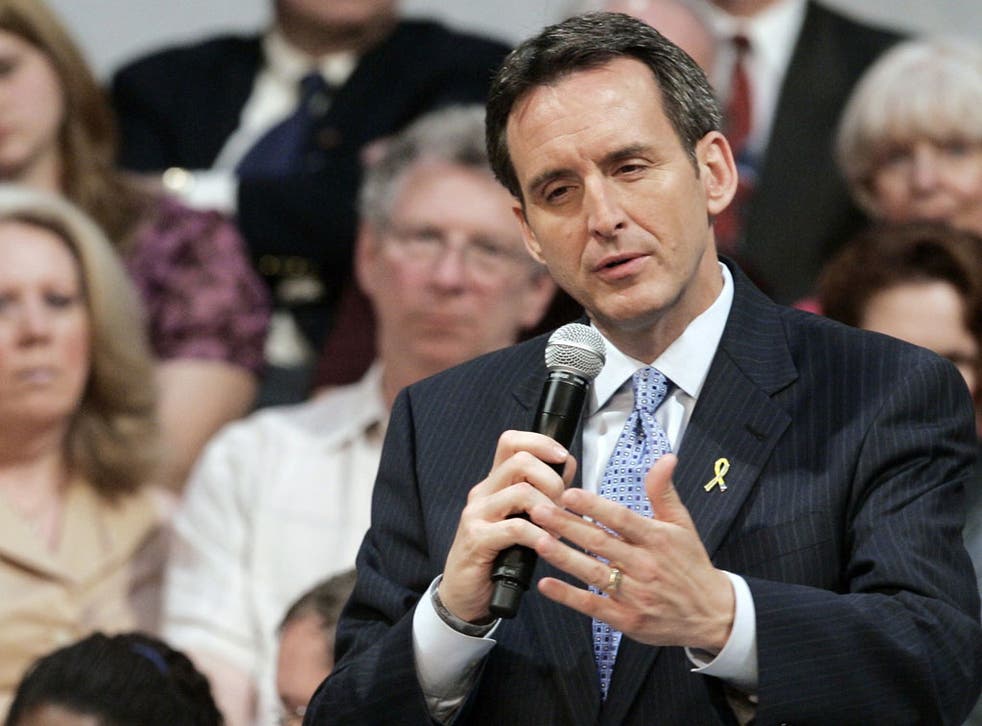 A top officer in the Mitt Romney presidential team abruptly abandoned ship yesterday offering fresh embarrassment for the Republican candidate and capping an awful 10 days of below-decks pandemonium and chaos.
With less than 50 days left in the race, Tim Pawlenty, the former Minnesota Governor who, as co-chairman of Mr Romney's campaign, had been one of his most visible spokesmen at the recent convention and on the trail, announced that he was bowing out to head a financial industry lobbying group in Washington.
The news was another unwelcome distraction just as Team Romney was taking steps to turn the page with a new stump script for the candidate emphasising his commitment to "the 100 per cent" of America and a newly packed schedule of campaigning by himself and running mate Paul Ryan that will kick off on Monday with a three-day bus tour of Ohio. Voters can also expect to see more of Ann Romney.
Both Mr Pawlenty, who was briefly a runner in the Republican primaries, and the campaign sought to downplay the departure. "While I regret he cannot continue as co-chair of my campaign, his new position advancing the integrity of our financial system is vital to the future of our country," Mr Romney said.
After refusing for several days to back down from the substance of comments video-taped at a donors' dinner in May, in which he wrote off 47 per cent of voters as "victims" who depend on handouts and therefore won't vote for him, Mr Romney changed tack abruptly at a forum taped by Univision, a Spanish-language channel, in Miami late on Wednesday.
"My campaign is about the 100 per cent in America and I'm concerned about them," he said, in a bid to bury all memory of his 47 per cent comments. "I've demonstrated my capacity to help the 100 per cent."
At a later rally, he tried to complete his rehabilitation by acknowledging that government support for people has a role. "That's how America works. We have big hearts. We care for people who have needs. We help lift them up," he said, before adding, "But then we don't make that a permanent lifestyle."
It will take more to dispel the gloom in Republican ranks, however, in part because the headwinds of recent days have not just been of Mr Romney's making.
Polling data continues to show that President Barack Obama got a lift out of his party's convention in Charlotte. More important, however, are new numbers showing that Americans are starting to evince more optimism about the chances of an economic recovery.
Since Charlotte, polls have shown the numbers of Americans who think the country is moving in the right direction jumping by six to nine points, including in a new Washington Post survey yesterday of voters in the key swing state of Virginia.
Mr Ryan, who will be the first to ride the Ohio bus tour next week, spent yesterday trying to reassure Republican colleagues in the House of Representatives at a behind-closed-doors meeting in Washington urging them "not to get distracted by the day-to-day polls," according to members who attended, and "to stay positive".
"Here's our commitment: we are going to make this about the big things," Mr Ryan told his peers. "We need to go on offense and we need to give our constituents the choice of two futures."
Join our new commenting forum
Join thought-provoking conversations, follow other Independent readers and see their replies