Massive drought across plains states could cost farmers up to $1bn
An unprecedented, unexpected drought has the world's breadbasket in its grip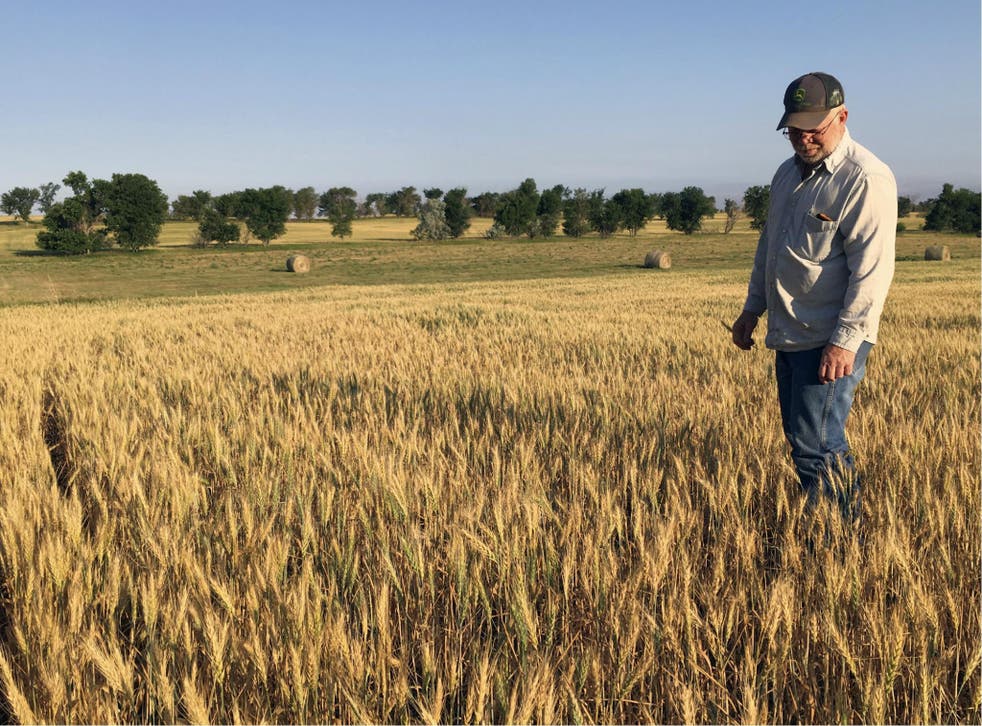 A "flash drought" throughout Montana, North Dakota, and South Dakota could cost farmers and ranchers up to $1bn before the rains return.
The drought that has struck the Great Plains "came from nowhere" and was not predicted even as recently as three months ago, according to environmental news outlet Grist.
The US Drought Monitor has classified it as an "exceptional" drought, the organisation's most severe ranking.
Some longtime farmers and ranchers, in North Dakota in particular, say these are the worst conditions they have seen in decades, possibly their lifetimes.
The US Agriculture Department estimates crop production in all three states this year will be down dramatically.
The growing season, which began in April of this year, has seen less than half of the normal amount rainfall.
In Montana's Missouri River basin - where the drought's "epicentre" is considered to be - is experiencing less than a quarter of normal rainfall.
The Dakotas and Montana, due in part to shifting weather patterns as a result of climate change, have become the heart of global wheat production as Kansas once was for the net-exporter US.
The fact that the drought is unexpected is adding to ranchers' and farmers' anxiety.
Millions could die of hunger as drought grips Horn of Africa

Show all 2
Rancher Dawn Martin and her husband, told the Associated Press they have had to sell off about one-third of their cattle herd.
Farmer John Weinand isn't expecting his crops to amount to much at all. "If we get some rain we'll have some corn and soybeans, but at this point it doesn't look very promising," he said.
These "flash" events are expected to become more common as Donald Trump withdraws the US from the global Paris Agreement on climate change and the world's second-largest producer of CO2 fails to halt climate change.
According to Grist, "as temperatures rise, abnormally dry conditions across the western US are already becoming more common and more intense. And as evaporation rates speed up, rainfall becomes more erratic, and spring snowmelt dries up earlier each year."
Some ranchers are digging new water wells in order to keep what is left of their dying herds alive and getting donations of hay from as far away as West Virginia.
However, their issues are more complex due to the drought.
At least 17 wildfires have been sparked across the region. Eastern Montana's 422-square-mile Lodgepole complex fire is one-third the size of Rhode Island.
The Trump administration, in addition to ignoring the effects of climate change, have also put up a key crop insurance programme on the chopping block for federal budget cuts.
The US Department of Agriculture - whose Trump-appointed head Sam Clovis is not a scientist and is a known climate skeptic - has also been instructed to change the way it discusses climate change as well.
According to emails obtained by the Guardian, the agency's Natural Resources Conservation Service which works on farmland conservation will change all uses of the term "climate change" to "weather extremes" in an apparent nod to the administration's belief that human action does not cause climate change or national disasters such as the flash drought and government action would not help prevent them.
Governors have declared states of emergency across the region in order to open protected lands to grazing as well.
Some ranchers and farmers worry too that once the rain begins, a new problem will arise: flash flooding.
Join our new commenting forum
Join thought-provoking conversations, follow other Independent readers and see their replies