Mother wins legal fight to have her disabled son's service dog go to school with him
Monica Alboniga says her dog Stevie has saved her son Anthony's life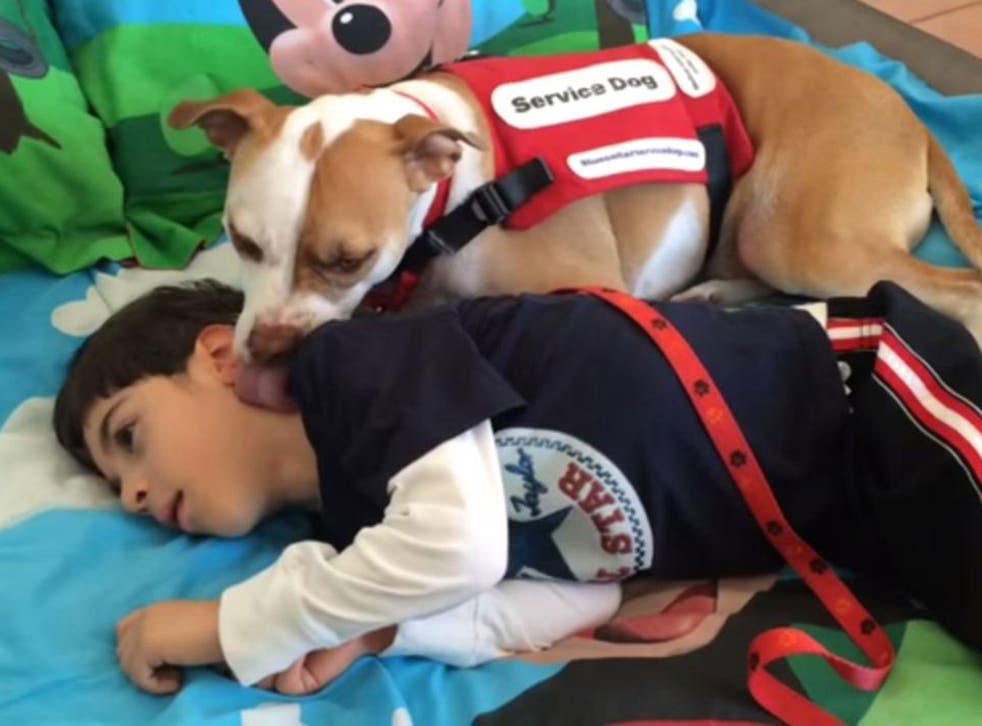 A mother has won a legal battle to let her son's service dog accompany him at school.
Monica Alboniga says Stevie the Staffordshire Terrier has "changed her life" after he was brought in to help her seven-year-old son Anthony Merchante, who has cerebral palsy, spastic paralysis, a seizure disorder and can't speak.
"I feel completely safe every time he is with the dog because I know the dog will look for help," she told The Miami Herald.
"Stevie lets me know when he has seizures or problems breathing. He pushes me toward Anthony, he barks. When Anthony is having convulsions, he starts barking and goes looking for us. Then he goes back to Anthony and stays with him."
The dog also wears a service vest containing vital emergency medical supplies and has been trained to stabilise Anthony's head so his airway isn't obstructed.
Ms Alboniga's lawyer, Matthew Dietz, claimed these requirements amounted to "an impossible barrier," and therefore violated his legal rights as a disabled person.
For the first four months that Anthony attended Nob Hill Elementary School, Alboniga worked as Stevie's handler herself until the school board appointed a handler.
However, the school board argued it was not their responsibility to help Stevie stay at school because staff were trained to perform the same duties as the dog.
The US Justice Department (DoJ) ruled that Stevie should be allowed to accompany Anthony to school without adhering to the requirements set out by the school district.
The DoJ said the school district "fundamentally misunderstands" the regulations within the Americans with Disabilities Act, which require that "public entities generally must permit individuals with disabilities to be accompanied by their service animals".
A judge ruled it was reasonable for Stevie to be on campus "in the same way a school would assist a non-disabled child to use the restroom, or assist a diabetic child with her insulin pump, or assist a physically disabled child employ her motorised wheelchair".
District's spokeswoman, Tracy Clark said in a statement: "The district has always permitted the service dog at the school.
"[Ms Alboniga[ pursued the lawsuit as the parties [the district and the plaintiff] differ somewhat in the interpretation of the federal regulations governing service animals. The district's legal department is reviewing and analysing the order."
Register for free to continue reading
Registration is a free and easy way to support our truly independent journalism
By registering, you will also enjoy limited access to Premium articles, exclusive newsletters, commenting, and virtual events with our leading journalists
Already have an account? sign in
Register for free to continue reading
Registration is a free and easy way to support our truly independent journalism
By registering, you will also enjoy limited access to Premium articles, exclusive newsletters, commenting, and virtual events with our leading journalists
Already have an account? sign in
Join our new commenting forum
Join thought-provoking conversations, follow other Independent readers and see their replies