Mueller hearings: How the left and right handled the 'brilliant' and 'painful' testimonies
Democrats went for specifics, while Republicans attempted to fluster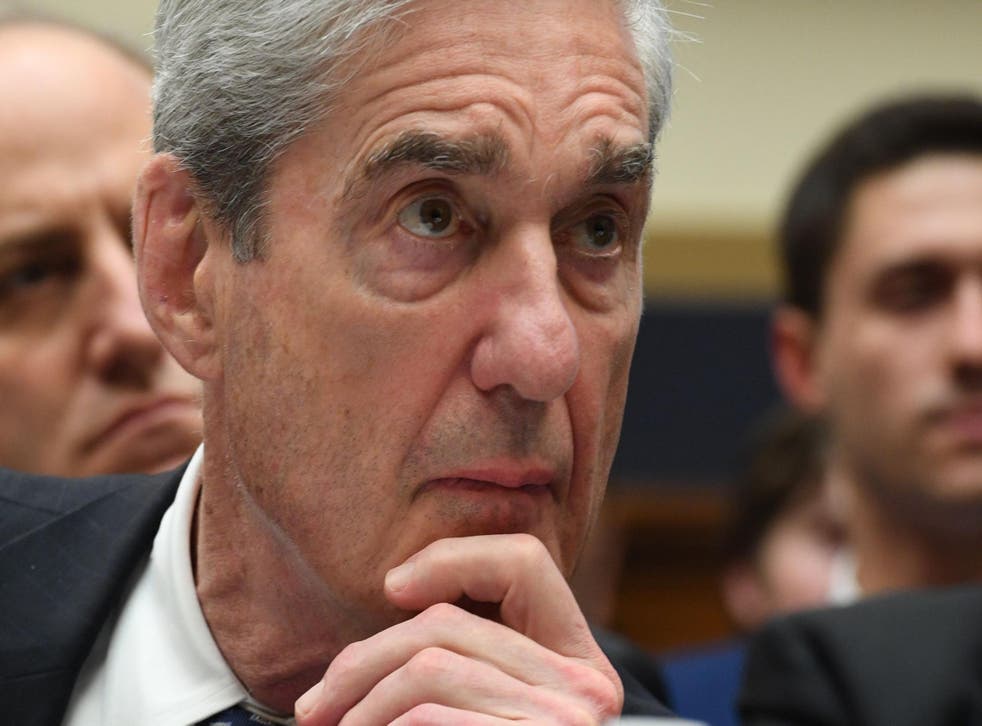 Robert Mueller's congressional hearings have been hailed by the media as somewhat of a do-over. After the initial release of the former special counsel's report on Russian interference in the 2016 election, many felt that it could be summed up easily - in two vastly different ways. On the left, pundits said the report made it clear that the president had taken help from Russia, and, more importantly, obstructed justice in efforts to cover up that help. On the right, Mr Mueller's refusal to state either of these charges outright overrode the report's contents in full. Today, Democrats and Republicans attempted to defend their views.
Democrats spent the day asking questions meant to draw out the words that Republicans say they need to hear. Several began or ended with compliments of the former special counsel, noting especially his work under Republicans, and volunteer military service during Vietnam. But their line of questioning wasn't coddling, and more than a few took great pains to pull out answers Mr Mueller's investigation gave context to without explicit confirmation.
Hakeem Jeffries of New York exemplified their strategy, asking Mr Mueller for a clear definition of obstruction of justice, then pointing to actions detailed in the report. Mr Mueller said the representative's analysis "wasn't out of the ball park," but that he did not "subscribe" to it. Mr Jeffries was praised by some anti-Trump Twitter personalities, but many on the left felt Democrats' strategy was weak. David Axelrod, the Democratic strategist, in particular seemed pessimistic, tweeting towards the end of the first hearing "This is very, very painful."
Republicans, meanwhile, attempted to get Mr Mueller to move away from the details of the report entirely, favouring an outcome where nothing mattered until the former special counsel himself said the president should be impeached. (He had made it clear that he would not.) They focused on "presumption of innocence," and pointed to the money and time spent on Mr Mueller's investigation. More than a few brought up conspiracy theories popularized on far-right websites like Breitbart.
Mueller investigation: The key figures

Show all 12
Jim Jordan, the Republican from Ohio, gave fiery questioning that pointed to "dirt on Clinton," and suggested to Mr Mueller that his investigation would have been better spent on finding the start of "false allegations." Mr Jordan's questions were widely praised on the right, with representative Mark Meadows, who live-tweeted the hearings, calling it "brilliant."
In general, far-right personalities and websites pushed the narrative that Robert Mueller was flustered and ill-prepared for questioning on the subject of his own report. Much of this relied on Mr Mueller's repeated asks for clarifications when questions had little to do with the findings of his investigation, invoking characters who had little prominence in the report, or pushing inaccurate narratives.
Charlie Kirk, who hosted the president at Turning Point USA's teen conference yesterday, added a conspiracy to his assessment of Mr Mueller, tweeting "Robert Mueller seemed genuinely confused when Democrats read the contents of his report to him. Could that be because it was actually written by a group of radical left-wing staffers that he conveniently neglected to screen for political bias?" This argument, the subject of much questioning, has no basis, and Mr Mueller vehemently denied any bias on the part of his staff throughout the hearing.
At least one moment got extensive treatment on both sides, after Ted Lieu of Hawaii got an answer the Democrats were hoping for. He asked if the reason Mr Mueller "did not indict Donald Trump is because of [a Justice Department] opinion stating that you cannot indict a sitting president." Mr Mueller responded: "That is correct."
The liberal podcast Pod Saves America was quick to signal the moment as a summary of "the case for obstruction of justice and why Mueller didn't indict," and many on the left followed suit. But Republicans fired back when Mr Mueller opened his second hearing with a statement walking back those comments.
In another tweet likely to be seen by the president and his son, the social media figure Carpe Donkum appeared to offer his opinion on the hearings. In a doctored video captioned "NO COLLUSION NO OBSTRUCTION," the White House favourite envisioned Donald Trump throwing "the Mueller report" at clips of journalists and Hillary Clinton tripping and falling down, signalling that the testimony finally defeated both of the president's main foes.
The left, for their part, also kept making the same joke: They think the book was better than the movie.
Join our new commenting forum
Join thought-provoking conversations, follow other Independent readers and see their replies