Member of neo-Nazi 'Atomwaffen Division' jailed for intimidation campaign in Seattle
Posters of skulls, swastikas and threats sent to homes of victims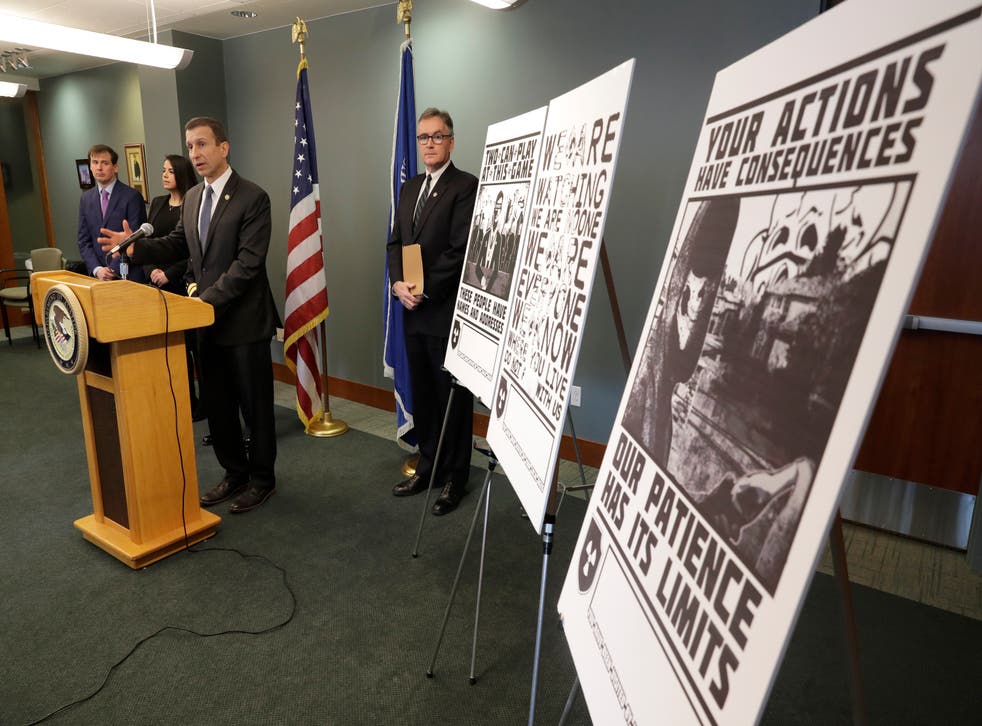 A member of the neo-Nazi group "Atomwaffen Division" was jailed for his part in a campaign to intimidate journalists, activists and minorities.
Johnny Roman Garza was sentenced to 16 months in federal prison for targeting people in Washington and other states.
Authorities say that members of the right-wing group threatened at least one Seattle television journalist and two members of the Anti-Defamation League.
Posters containing swastikas, skulls and threats such a "We know where you live" were sent to some of their homes.
Prosecutors say Garza, 21, went to the home of a Jewish journalist and put a poster on their bedroom window that featured a man in a skull mask holding a Molotov cocktail in front of a burning home.
The poster included the journalist's name and home address.
Garza also went to a Phoenix apartment complex where a member of the Arizona Association of Black Journalists lived but could not find anywhere to leave a poster.
Garza was one of four people arrested by the FBI and indicted by federal prosecutors on conspiracy charges of mailing threatening communications and cyberstalking.
"In Garza's words, the plot was designed to 'have them all wake up one morning and find themselves terrorised by targeted propaganda,'" a prosecutor wrote in court papers.
The group's name "Atomwaffen" is German for "Atomic weapon."
In sentencing Garza US District Judge John Coughenour said that prison was necessary "given the severity of this conduct and the horrible impact it had on people that are important in our society."
The judge said he believed Garza was genuinely remorseful and had factored in his age and "turbulent childhood" in his decision to depart from sentencing guidelines that recommended 33 months.
Prosecutors accepted that Garza was not the leader of the plot but had "enthusiastically embraced it, researching addresses for journalists and those who oppose hate in our communities."
They have also charged Brandon Shea, 24, of Redmond, Washington; Kaleb Cole, 24, of Montgomery, Texas; and Taylor Ashley Parker-Dipeppe, 21, of Spring Hill, Florida.
Parker-Dipeppe pleaded guilty in September and will be sentenced in February.
Cole and Shea, the two alleged leaders of the group, are scheduled for trial in March.
Register for free to continue reading
Registration is a free and easy way to support our truly independent journalism
By registering, you will also enjoy limited access to Premium articles, exclusive newsletters, commenting, and virtual events with our leading journalists
Already have an account? sign in
Register for free to continue reading
Registration is a free and easy way to support our truly independent journalism
By registering, you will also enjoy limited access to Premium articles, exclusive newsletters, commenting, and virtual events with our leading journalists
Already have an account? sign in
Join our new commenting forum
Join thought-provoking conversations, follow other Independent readers and see their replies