New Iran sanctions announced by US Treasury department after ballistic missile test
Iran quickly imposes its own set of sanctions against the US in retaliation, declaring Mr Trump has violated the UN resolution underpinning their 2015 deal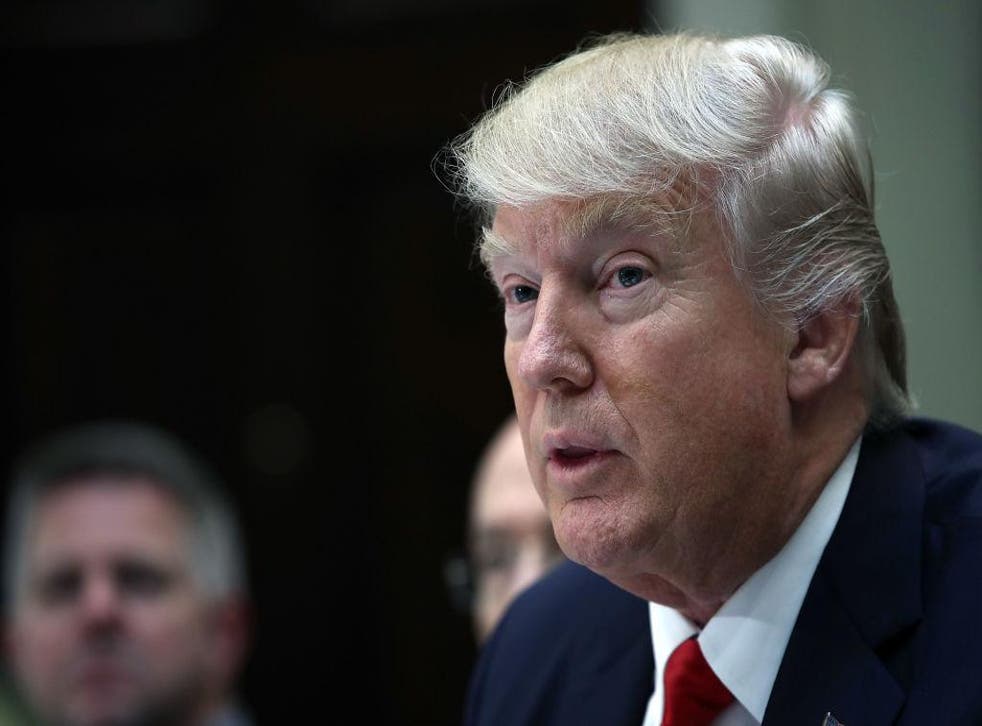 Relations between the US and Iran have soured sharply, as Donald Trump announced new sanctions and Tehran said it was imposing its own against America.
In a move designed to punish Iran for testing its ballistic missile programme, the US Treasury Department said it had published a list of 13 people and 12 entities facing new sanctions. The move signalled a marked escalation of tensions between the two countries and comes just hours after the President said Tehran was "playing with fire".
"The Islamic Republic of Iran is the world's leading sponsor of terrorism and engages in, and supports, violent activities that destabilise the Middle East," said US National Security Adviser Michael Flynn.
"That behaviour seems continuous despite the very favourable deal given to Iran by the Obama administration. These sanctions target those behaviours."
In retaliation, Iran announced a new set of sanctions against the US, declaring that Mr Trump had violated the US's legal commitments and a UN resolution underpinning the international nuclear deal.
Mr Trump told reporters on Thursday, when asked if military action was off the table in terms of Iran, that "nothing is off the table".
Some of the individuals and entities involved in the US sanctions are based in the United Arab Emirates, Lebanon and China.
"This action reflects the United States' commitment to enforcing sanctions on Iran with respect to its ballistic missile programme and destabilising activities in the region and is fully consistent with the United States' commitments under the Joint Comprehensive Plan of Action," the US Treasury statement said.
Under the sanctions, those involved cannot access the US financial system or deal with US companies. They are also subject to "secondary sanctions", which means foreign companies and individuals are prohibited from dealing with them, or risk being blacklisted by the United States.
The measures are similar to actions taken by the Obama administration targeting Iran's ballistic missile network, but senior Trump administration officials said the action was just the opening shot in plans to go after Tehran.
A senior US official told Reuters the sanctions were an "initial step" in response to Iran's "provocative behaviour", suggesting more could follow if Tehran does not curb its ballistic missile program and continues support for Houthi militia in Yemen.
The US moved a Navy destroyer, the USS Cole, close to the Bab al-Mandab Strait off the coast of Yemen to protect waterways.
In retaliation Iran has curtailed visas for all Americans and the Central Bank refused to use the US dollar for official statistics or financial reporting.
Mr Trump promised to be "tough on Iran" throughout his presidential campaign and repeatedly called the Iran nuclear deal, signed in 2015 under former President Barack Obama a "disaster".
The UN has not yet determined whether the missile test, which enraged Iran's enemy and US ally Israel, has broken the 2015 accord.
The US keeps a separate sanctions list that is not nuclear-related. Mr Obama imposed sanctions throughout his two terms on two dozen Iranian individuals and entities, which Mr Trump said was "weak".
Michael Flynn: We're officially putting Iran on notice
It is unclear how effective President Trump's move will prove in halting Iran's missile development. The new sanctions don't affect Iran Air, a big Iranian bank or a major government entity, and appear to be a warning shot across the bow by the new administration.
"This is part of a much broader strategy and merely a sign of coming attractions," Mark Dubowitz, CEO of the Foundation for Defence of Democracies, who is advising the administration and Congress on Iran-related issues, told AP. "The focus is clearly on missile procurement networks and represents a first step in the administration's escalation against Iran's missile program support for terrorism and other malign activities."
Iran's foreign minister, Mohammad Javad Zarif, said before the announcement of new US sanctions that Iran would be "unmoved by threats".
"We will never use our weapons against anyone, except in self-defence."
Ali-Akbar Velayati, the foreign adviser of Ayatollah Ali Khamenei, Iran's supreme leader, predicted this week that "the US will be the final loser".
"It is not for the first time that a naive person from the US poses threats to Iran," he told state media.
"Our missile drills are a show of our might," added Tehran Friday prayer leader Ayatollah Ahmad Khatami. "We are living in a world of wolves – wolves such as the arrogant government of America. In this world of wolves, should we remain unarmed and they do whatever damn things they want? No way! This will never happen!"
Iran says it has the right to conduct ballistic missile tests now that its nuclear programme has been sharply curtailed. The US and Western countries argue otherwise, noting that Tehran agreed to an eight-year extension of a ban on ballistic work in nuclear negotiations two years ago. That agreement was codified in a UN Security Council resolution passed in parallel, but separately, to the nuclear accord.
The sanctions come after Mr Trump and his aides issued cryptic warnings about potential retaliation for Iran testing a ballistic missile and supporting Shia rebels in Yemen, known as the Houthis. The rebels this week claimed a successful missile strike against a warship belonging to a Saudi-led coalition fighting to reinstall Yemen's internationally-recognised government. Iran denies arming the Houthis.
On Wednesday, Mr Trump's national security adviser, Michael Flynn, said: "We are officially putting Iran on notice."
Mr Trump followed that up with a tweet on Friday morning that accused Iran of "playing with fire" as part of a diplomatic spat over the ballistic missile test, before his comments on the possibility of military action in the afternoon.
Referring to the previous administration of Mr Obama, Mr Trump added that the Iranian government did not appreciate how "kind" that the US had been to them – a potential reference to the nuclear deal where Iran's nuclear capability was reduced in return for a loosening of sanctions. Mr Trump said that he would not follow a similar path.
In Washington, top legislators who have sought a sterner policy toward Iran applauded Mr Trump's decision over the sanctions.
"It is a new day in US-Iran relations," said Senator Bob Corker, the Senate Foreign Relations Committee's Republican chairman.
House Speaker Paul Ryan said the "swift and decisive response proves that our new administration is serious about holding the Iranian regime accountable for its illicit behaviour".
Join our new commenting forum
Join thought-provoking conversations, follow other Independent readers and see their replies