New York mayor Bill de Blasio urges all Americans to join protests against Donald Trump to 'take away his power'
He joins a number of other big city mayors who have vowed to protect undocumented migrants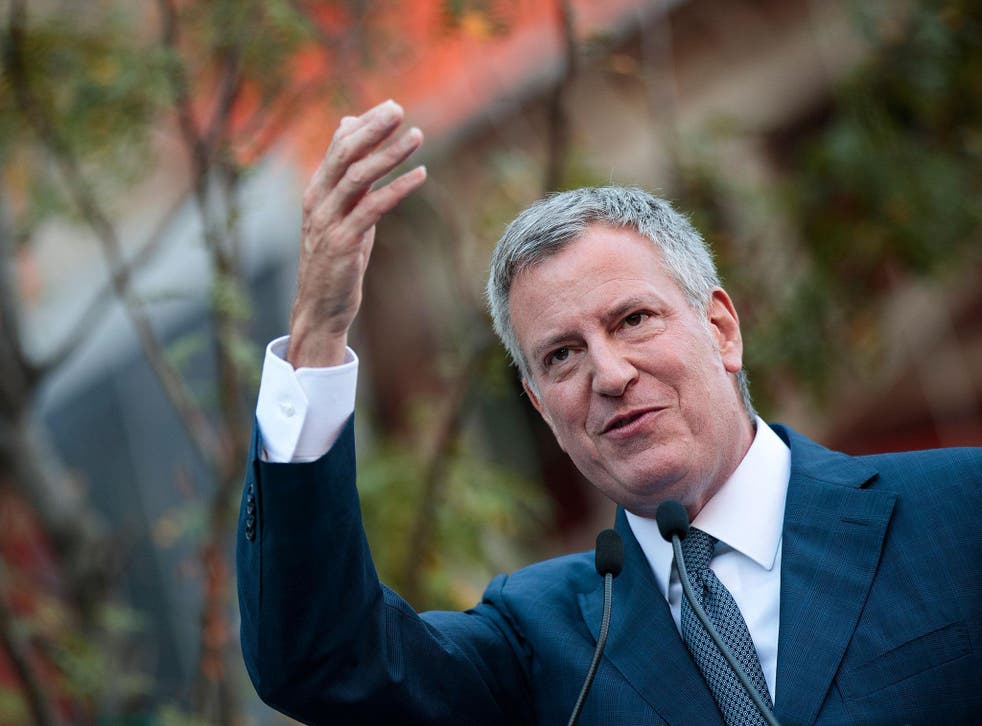 The Mayor of New York has called for the continuation of protests against President-elect Donald Trump, urging Americans to "fight back" to "take away his power".
Bill de Blasio, a Democrat elected as mayor on a populist liberal ticket, is known for his outspoken views. He is also running for re-election in 2017.
Protests have swept America following the election of Mr Trump, particularly in his home city of New York.
While some politicians have condemned the protests, Mr de Blasio has encouraged them.
"We have to recognise that all over this country, the more disruption that's caused peacefully ... the more it will change the trajectory of things," the Mayor told a local radio station, according to the New York Daily News.
"We need to hold Trump accountable for anything he does that encourages hate and division ... The more extreme he is, the more people fight back, the more it takes away his power."
The mayor has espoused this message elsewhere. On Twitter, he said: "I want all New Yorkers to know: as a city we have a lot of tools at our disposal to protect our values and we will use them.
"Peaceful protests are an American tradition. I'm inspired by people who in midst adversity engage rather than resign themselves and walk away."
President Trump protests

Show all 20
Mr de Blasio expressed particular concern over Mr Trump's appointment of Stephan Bannon as Chief Strategist.
Mr Bannon, the chief of alt-right media network Breitbart, has been condemned as racist and anti-Semitic and using the organisation to promote inflammatory and divisive views.
The Mayor has also clashed with Mr Trump on other issues, in particular immigration. The issue of foreigners in the US, particularly those without proper documentation, was a central theme of the President-elect's campaign.
Mr Trump has promised to deport the country's estimated 11 million illegal migrants, 500,000 of whom reside in New York, which is known as a 'sanctuary city'.
But Mr de Blasio, joining a number of other big city mayors, has vowed to protect undocumented migrants in New York.
"We are not going to sacrifice a half-million people who live among us, who are part of our community," he said. "We are not going to tear families apart."
Join our new commenting forum
Join thought-provoking conversations, follow other Independent readers and see their replies