Nice attacks: Rhode Island mosque vandalized and windows smashed in 'hate crime' following France deaths
The Rhode Island mosque incident is the latest in a growing number of potential anti-Muslim crimes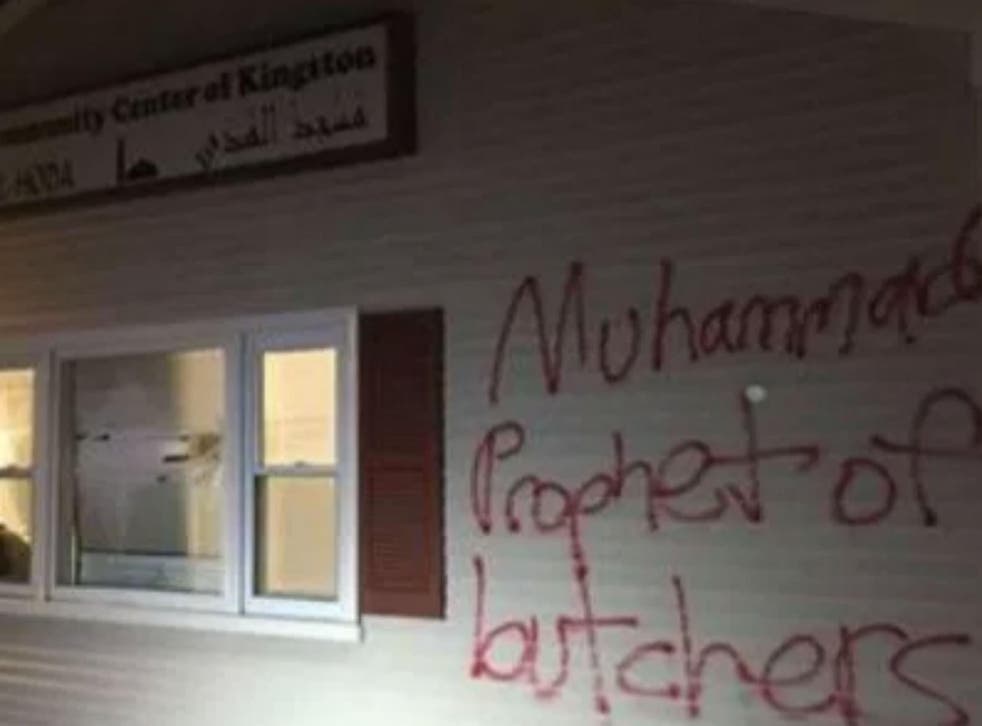 A mosque in Rhode Island has been defaced with anti-Muslim graffiti and has had its windows smashed.
The vandalism occurred shortly after the attack in Nice when a man in a lorry ran over more than 100 people, killing 84.
The defaced mosque is near the University of Rhode Island's main campus and is attended by students and university staff.
Mosque spokesman Nasser Zawia said nothing like this had happened since the mosque was founded in 2001, as reported by CBS News.
"Our community has been there since midnight, working on cleaning it," he said. "We've never faced anything like this."
The Council on American-Islamic Relations (CAIR), which has strongly condemned the attacks in France, has called for state and federal police to investigate the vandalism of the US mosque as a possible hate crime.
CAIR spokesman Ibrahim Hooper told The Independent he had personally received a spike of anti-Muslim hate emails after the Nice attacks.
"One person said to me that "Muslims should accept a few broken windows given what's happened in France and other places'," he said. "It's always a delicate issue in terms of are we, by highlighting anti-Muslim hate crimes, somehow diminishing condemnation of the attacks in France?"
The vandalism comes one day after a fire was lit outside the Islamic Centre of Tucson, about 120 miles south east of Phoenix, Arizona. CAIR has called for law enforcement to investigate the motive for the incident, which they claimed "appeared to be intentional".
CAIR has highlighted several cases of potential hate crimes this month, including a Muslim doctor who was shot and stabbed outside the Fort Piece Islamic Centre in Florida and two Muslim teenagers who were badly beaten outside a Brooklyn mosque.
On 30 June, a man in Minnesota opened fire on a group of people outside a mosque after making disparaging remarks about Muslims.
On the day of Eid, president Barack Obama condemned the rise of Islamophobic attacks in the US.
"No one should ever feel unsafe or afraid in their place of worship," he said.
Several Muslims were kicked off American airline flights this year for "how they looked" or making staff feel "uncomfortable".
A businessman from Abu Dhabi in traditional dress was also shouted at and searched by multiple officers with guns after they were mistakenly informed that the man had pledged allegiance to Isis.
Register for free to continue reading
Registration is a free and easy way to support our truly independent journalism
By registering, you will also enjoy limited access to Premium articles, exclusive newsletters, commenting, and virtual events with our leading journalists
Already have an account? sign in
Register for free to continue reading
Registration is a free and easy way to support our truly independent journalism
By registering, you will also enjoy limited access to Premium articles, exclusive newsletters, commenting, and virtual events with our leading journalists
Already have an account? sign in
Join our new commenting forum
Join thought-provoking conversations, follow other Independent readers and see their replies