Nigel Farage takes CPAC by storm... or not. Ukip leader gives speech to nearly empty room
Politician's barnstorming speech is heard by a near-empty room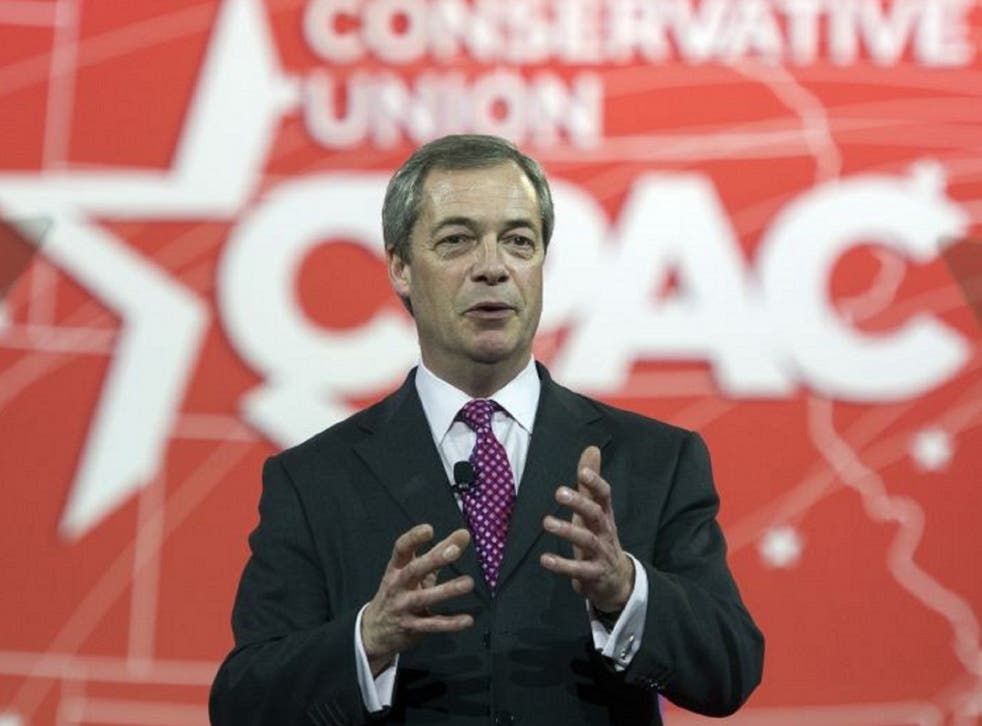 It was meant to be a speech that proved once and for all the Ukip leader is big in America. Instead, Nigel Farage's tub-thumping speech to the great and good of the US right was made to a near-empty room.
The Ukip leader headed to the Gaylord Conference Center in Maryland, US, to make an appearance for the Conservative Political Action Conference (CPAC), but looked out to see almost all of the seats empty.
Mr Marlow added: "Recently, after 20 years of hard work dedication and being called all sorts of ugly names that he is continued to be called today, he's a winner."
At the beginning of his 20-minute speech to the scant audience, the former stockbroker received a soft round of hand-clapping for his attempt to make himself appear more normal than the average Westminster politician that he claims to be opposed to.
In pictures: The rise of Ukip

Show all 8
He said: "It's good to be back in America, I used to visit here a lot. Because for 12 years I worked for American companies. Did you hear that folks? I worked. I had a job before getting involved in politics! How about that!"
In keeping with his practice of appealing to working class voters, he urged Republicans to reach out to supporters like those of Ronald Reagan's time as US president in the early 1980s.
Farage said that the UK and US, as allies, "must stand firm and defend our Judeo-Christian culture. We must make it clear that we believe in common law and not Sharia law."
However, he criticised the overseas engagements and wars that the US and UK go into together and said he believes it is time for the two countries to reassess whether the actions have been successful. He blamed war for having "inflamed and stoked the fires of military Islamism".
While explaining his stance on the EU, he made further attempts to show that he is not entirely against the concept of Europe as individual countries because his own family were refugees in the UK.
He said: "I actually care a lot about what happens in the rest of Europe. My own family were French Protestant Huguenots who fled and took refugee status in the United Kingdom.
"I'm married to a girl from Germany so nobody needs to tell me the dangers of living in a German-dominated household."
By that time, it seems as though the room filled up with a few more audience members or that his jokes were just considered more funny as the laughter became louder. But only slightly.
He added: "She always begs me not to tell that one but never mind!"
Join our new commenting forum
Join thought-provoking conversations, follow other Independent readers and see their replies