Nik Wallenda's Niagara tightrope triumph
Nik, a seventh-generation member of the daredevil and circus legends, the Flying Wallendas, became the first to walk a tightrope over the full 1,800 feet of the gorge, fulfilling a life's ambition and boosting tourism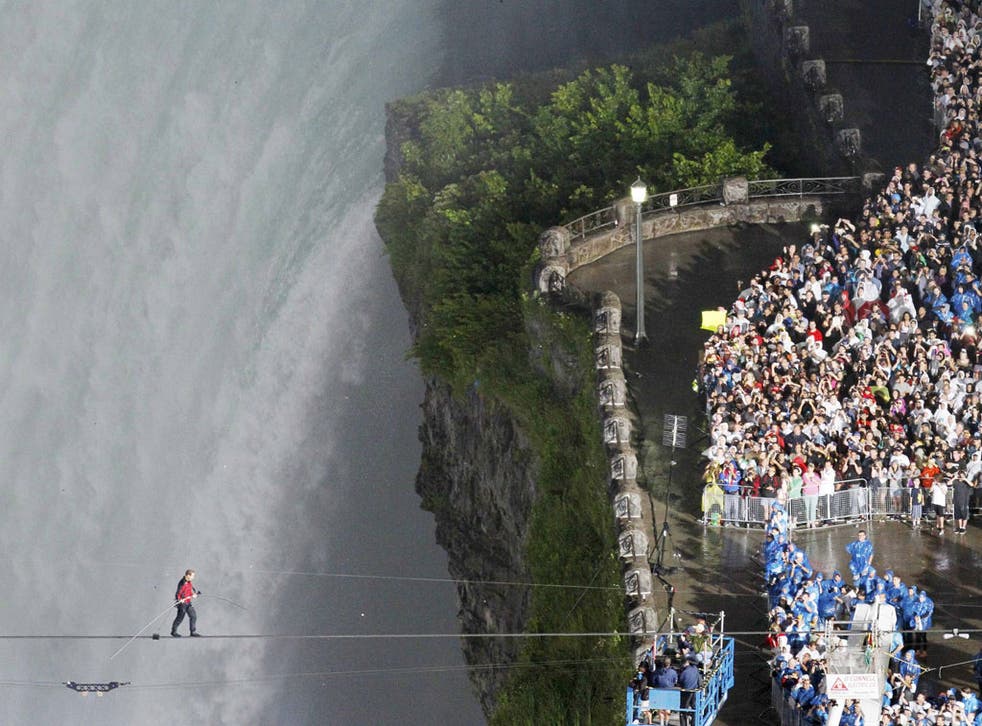 'What is the purpose of your trip, sir?" the customs agent asked Nik Wallenda when he presented his passport at the Canadian border. "To inspire people around the world," he replied.
Moments before, Wallenda had become the first person ever to walk over Niagara Falls on a tightrope dripping with spray from the thunderous waterfall that separates the US from Canada. With 100,000 people on the ground watching the night-time stunt under glaring spotlights, and millions more listening in to Wallenda's miked-up prayers on live television as he made his way across, the 33-year-old daredevil fulfilled a lifelong dream that was also a family destiny.
His is the seventh generation of the famous Flying Wallendas, who can lay claim to a history of death- and gravity-defying high-wire acts since they were a family of travelling acrobats in Austria-Hungary in the 18th century. Nik Wallenda's great-grandfather, Karl Wallenda, fell to his death during a stunt in Puerto Rico in 1978.
"This is what dreams are made of – people," Wallenda said, as he took his first steps over Horseshoe Falls, the widest of Niagara's three waterfalls. Wearing elkskin-soled shoes designed by his mother to withstand the sopping conditions and a safety harness that would have saved his life if he had fallen – at the insistence of ABC, the US broadcaster that sponsored the $1.3m event – Wallenda edged across the 1,800ft of the gorge for 25 minutes, with the winds and mists whipping him as he went.
"I'm strained, I'm drained," he said, at the halfway mark. "This is so physical, not only mental but physical ... My hands are going numb. I feel like I'm getting weak."
Wallenda broke into a run for the final yards on the Canadian side, where his wife and three children were waiting to greet him.
"There was no way to focus on the movement of the cable," he said later. "If I looked down at the cable, there was water moving everywhere. And if I looked up, there was heavy mist blowing in front of my face. So it was a very unique, a weird sensation.
"I am so blessed. How blessed I am to have the life that I have."
Wallenda already holds six Guinness World Records, including one for the longest and the highest bicycle ride on a tightrope and, with seven other members of the Flying Wallendas, the record for a pyramid of eight people on a highwire. Last year, he completed the stunt that killed his great-grandfather, a highwire slung in the same spot between two towers of the 10-storey Condado Plaza Hotel in San Juan, Puerto Rico.
At one point in the middle of the Niagara walk, he thought about his great-grandfather and the walks he had taken: "That's what this is all about – paying tribute to my ancestors and my hero, Karl Wallenda." He called the achievement a dream come true. "I hope what I do and what I just did inspires people around the world to reach for the skies," he said.
While tightrope walkers drew huge crowds in the 19th century as they crossed the Niagara river at narrower points downstream, no one has crossed the falls themselves, and daredevil stunts have been banned entirely since 1896 – until Wallenda persuaded local authorities on both sides of the border that a crossing would boost tourism.
"Over one billion people by Monday will have known the story of Nik Wallenda over Niagara Falls," Tim Clark, of the Buffalo-Niagara Film Board, told ABC News, "and I think that's just fantastic reinforcement for our tourism industry here in western New York state."
Anticipation had been building for weeks, as Wallenda practised in the car park of a local casino. He used a giant fan and fire trucks spraying water to simulate the tough conditions he would face over the falls.
Now, attention is already turning to what Wallenda might do for his next trick. His record-breaking ambitions are clearly not over: he already has the permits in place to become the first person to cross the Grand Canyon on a wire.
Daredevil history
The Wallenda legend extends through seven generations. The founder was Karl Wallenda – seen here in London in 1976 – who was born in 1905 and was performing by the age of six. He made his debut in 1928 at Madison Square Garden, recruited by Ringling Bros and Barnum & Bailey.
The family was performing in Connecticut in 1944 when one of the worst fires in US history broke out. The Wallendas slid down ropes to safety, but 168 people died.
Other tragedies include Rietta Wallenda, who fell to her death in 1963, and Karl's son-in-law, Richard Guzman, in 1972, who touched a live electric wire. The family was famed for its seven-person pyramid, but stopped this after three members fell to their deaths in 1962. Karl was 73 when he fell to his own death in Puerto Rico.
Josie Hinton
Join our new commenting forum
Join thought-provoking conversations, follow other Independent readers and see their replies