No charges over Kony2012 director's naked meltdown in street
Wife of film-maker denies drink or drugs were involved in his mental breakdown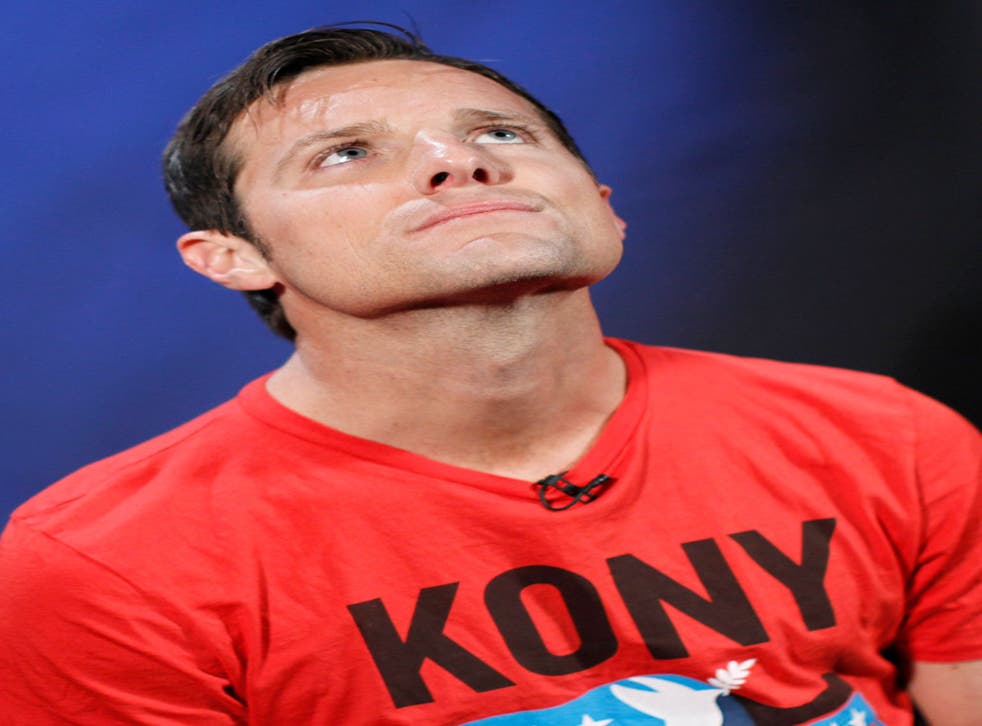 Jason Russell, a film-maker and activist behind the viral sensation Kony2012, will probably escape charges after running naked through the streets of San Diego last week, police said yesterday.
Mr Russell's family said the bizarre incident was the result of a mental breakdown, brought on by exhaustion and a barrage of public attacks against him and his video demanding the arrest of the Ugandan warlord Joseph Kony.
"We thought a few thousand people would see the film but in less than a week millions of people ... saw it," said Mr Russell's wife, Danica. "While that attention was great for raising awareness about Joseph Kony, it also brought a lot of attention to Jason and, because of how personal the film is, many of the attacks against it were also very personal, and Jason took them very hard."
Mr Russell was seen running around a busy crossroads in San Diego clad only in his underwear, shouting and gesticulating. He then removed his underpants and beat his fists on the pavement before being restrained by police and passers-by. Police said some onlookers thought he had vandalised cars and masturbated. He has been under psychiatric observation since last week. His family said there was no suggestion that drink or drugs were involved.
Footage of the incident uploaded on to the gossip website TMZ is also now a viral sensation, but Mr Russell's wife and staff at his charity, Invisible Children, insisted their campaigns would continue while he deals with his health. "We will take care of Jason, you take care of the work," Mrs Russell said. "The message of the film remains the same: stop at nothing."
Mr Russell's 29-minute video is aimed at enlisting support for military efforts to find and arrest Kony, whose decades-old reign of terror in central Africa involved rape, murder and the abduction of children to be used as boy soldiers or as sex slaves. Kony is the most-wanted person on the International Criminal Court's list of suspected war criminals.
For most of the past decade, Mr Russell has been campaigning for Western intervention to speed Kony's arrest, and Invisible Children has provided aid to villages devastated by war in central Africa. His charity is gearing up for a day of protest next month, in which it aims to blanket cities around the world in Kony2012 stickers and posters.
The video passed 82 million views on YouTube yesterday, two weeks after it was first uploaded by Invisible Children. But it has also generated a backlash from people who say it paints a simplistic or even distorted picture of the current situation in central Africa.
After founding his Lord's Resistance Army in the 1980s, Kony terrorised large parts of Uganda but his reign of terror has subsided since 2005 and he is now believed to command only a few hundred followers, scattered in remote jungle hideouts in neighbouring countries.
The Ugandan government took to YouTube to redress what it said was an imbalanced picture of the country given by Mr Russell's film. "The Kony 2012 campaign fails to make one crucial point clear: Joseph Kony is not in Uganda," said Prime Minister Amama Mbabazi.
Register for free to continue reading
Registration is a free and easy way to support our truly independent journalism
By registering, you will also enjoy limited access to Premium articles, exclusive newsletters, commenting, and virtual events with our leading journalists
Already have an account? sign in
Register for free to continue reading
Registration is a free and easy way to support our truly independent journalism
By registering, you will also enjoy limited access to Premium articles, exclusive newsletters, commenting, and virtual events with our leading journalists
Already have an account? sign in
Join our new commenting forum
Join thought-provoking conversations, follow other Independent readers and see their replies