Colombia off the list of Nobel Peace Prize contenders after Farc conflict deal defeated in referendum
President Santos under pressure to toughen deal with the rebels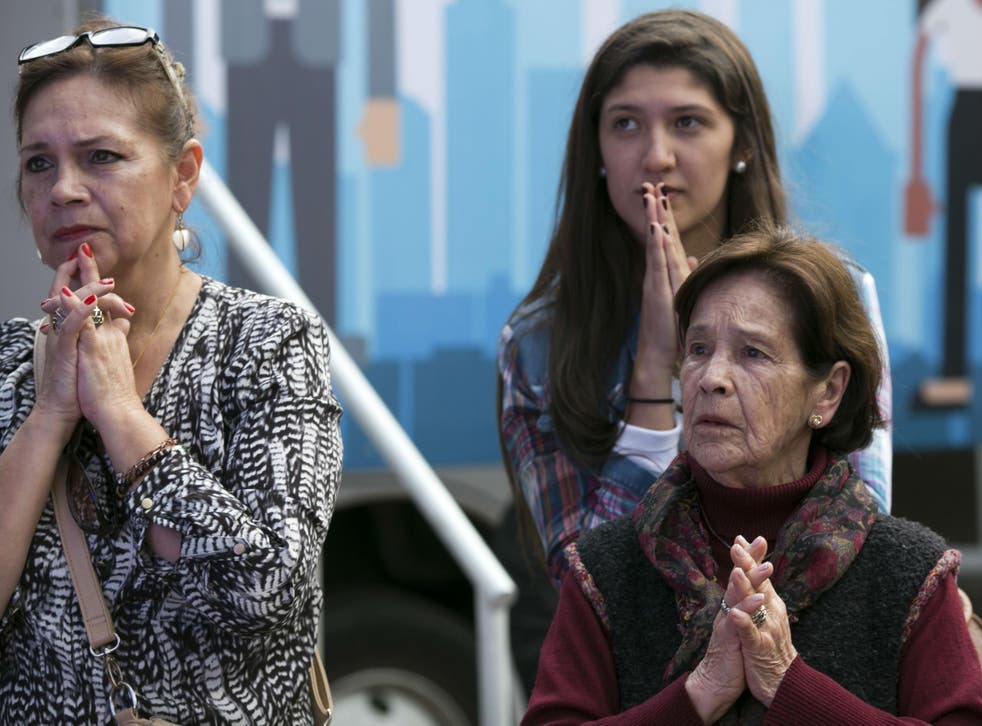 The leaders of Colombia and the Farc rebel movement have been dropped as contenders for this year's Nobel Peace Prize after a peace pact between them was rejected in a referendum.
The failure of the government to convince ordinary Colombians to support a peace deal that was signed in Bogota less than a week ago, has severely hobbled both President Juan Manuel Santos and the Farc's top commander Rodrigo Londono, also known as Timochenko.
After opponents of the pact, which was meant to formally bring a close to more than fifty years of civil conflict in Colombia, scored a narrow and totally unexpected victory in Sunday's national referendum, President Santos was left on Monday scrambling to pick up the pieces.
But in the meantime, the Peace Research Institute in Oslo said that there is no longer any possibility that Mr Santos and Timochenko could remain in the running for the Nobel medal. "Colombia's off any credible list," Kristian Berg Harpviken, the head of the Institute, said.
With support from an array of countries, including the United States, President Santos had relentlessly pursued the deal with FARC, short for the Revolutionary Armed Forces of Colombia, which has been waging a deadly war against the state from jungle hideouts since its founding on Marxist and agrarian principles in 1964.
The conclusion of the deal, that was negotiated by representatives of both sides in Cuba with Norwegian mediation, was widely seen as an achievement warranting recognition by the Nobel committee. In the past, the Peace Prize has been awarded too those who fought for peace in Northern Ireland, between Israel and the Palestinians and even in Vietnam after its long war.
Polls had suggested an easy win for Mr Santos and the pro-peace pact side in Sunday's plebiscite. Instead, the deal was defeated, though by the narrowest of margins. With turnout lower than 50 per cent, the no-vote prevailed with 50.2 per cent versus 49.8 per cent.
On Monday, Mr Santos, who now faces severe pressure from his predecessor in the presidential palace, Alvaro Uribe, who campaigned against the deal, said he was sending negotiators back to Havana to meet with Farc and discuss next steps.
"I won't give up. I'll continue search for peace until the last moment of my mandate," Mr Santos said in a televised address on Sunday night appealing for calm in the country.
Timochenko, whose own leadership of Farc has also been put on the line, similarly insisted a way be found to salvage the pact giving no indication that the referendum result would result in his soldiers taking up arms again. "The Farc reiterates its disposition to use only words as a weapon to build toward the future," Timochenko said. "Count on us, peace will triumph."
Opponents of the Santos-Timochenko peace deal argued that it gave too much away to Farc, promising to lift any threat of prison time against the rebel leaders if they acknowledged their crimes during five decades of terror and fighting that cost some 220,000 lives. It would have allowed the group to compete in presidential elections in 2018.
The deal was signed in Bogota last week in front of an array of foreign dignitaries including Ban Ki-Moon, the United Nations Secretary General, and the US Secretary of State, John Kerry.
The UN on Monday urged Colombia not to give up the hunt for a pact that will stick. "The Secretary-General trusts that all Colombians will continue their efforts to reach the common goal of a durable and stable peace," UN spokesman Farhan Haq said in a statement.
For Mr Uribe, whose father was killed by Farc guerrillas, the referendum result is a signal victory that will give him new leverage over Mr Carlos, who may now be forced to seek new terms that will be less favourable to the other side. The prospect of Farc acquiescing to tougher terms may be slim, however.
"I am very disappointed, and the result shows a very polarised and split Colombia," Norway's Foreign Minister Borge Brende told the NTB news agency. "We have told both parties that we will be at their disposal and are available. We must also involve the opposition who say they want peace and hear what they think might be the solution."
Register for free to continue reading
Registration is a free and easy way to support our truly independent journalism
By registering, you will also enjoy limited access to Premium articles, exclusive newsletters, commenting, and virtual events with our leading journalists
Already have an account? sign in
Register for free to continue reading
Registration is a free and easy way to support our truly independent journalism
By registering, you will also enjoy limited access to Premium articles, exclusive newsletters, commenting, and virtual events with our leading journalists
Already have an account? sign in
Join our new commenting forum
Join thought-provoking conversations, follow other Independent readers and see their replies