Norma McCorvey dead: 'Jane Roe' in Roe v Wade court battle that legalised abortion in the US dies aged 69
Former heroine of reproductive rights who later turned pro-lifer dies in her home state of Texas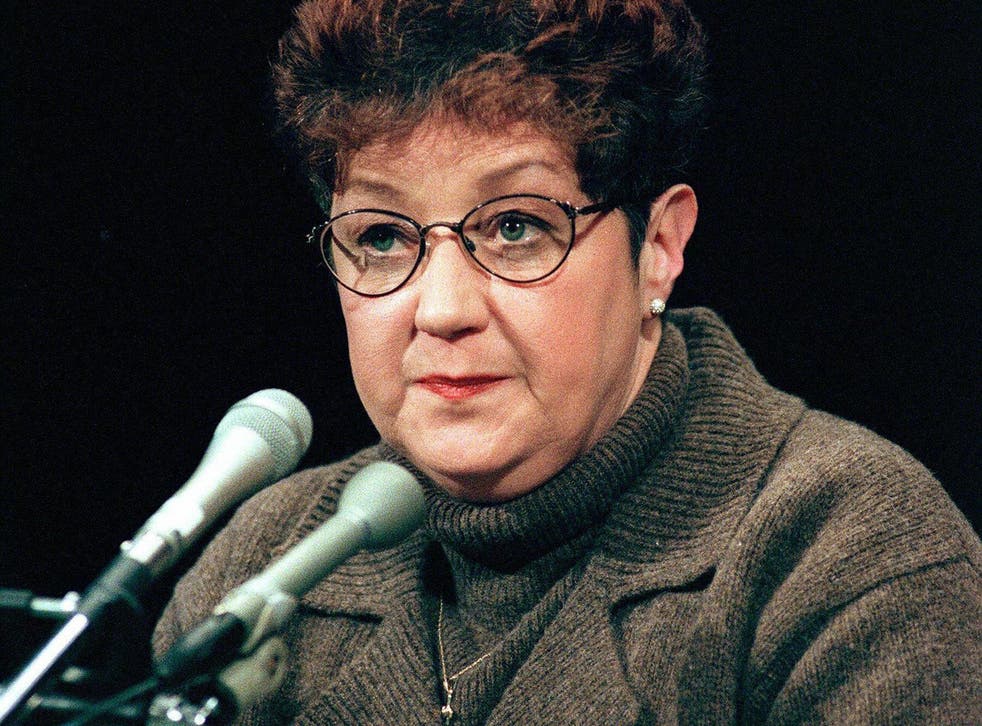 The woman whose high court battle led to the legalisation of abortion in the US has died at the age of 69.
Norma McCorvey, who was "Jane Roe" in the landmark Roe v Wade case heard at the Supreme Court in 1973, died of a heart condition in an assisted-living facility in Katy, Texas.
Her death was confirmed by Joshua Prager, a journalist currently working on a book Roe V Wade.
Ms McCorvey dramatically changed her views on abortion in her later life, becoming a born-again Christian and an active campaigner in the pro-life movement.
She was 22 years old, unmarried and living in poverty with addiction issues when she became pregnant in 1970, and in desperation took her fight not to have the baby all the way to the Supreme Court, where she won her case by 7-2.
Her victory was hugely significant for women in the US but largely an irrelevance to her own predicament, as the case dragged on for two and a half years, long after she had given birth and given up the baby for adoption.
She divided opinion then and now as the protagonist in an emotive story that goes to the heart of American culture, regarded as a heroine by some and as a harbinger of murder of the unborn by others.
When she filed her lawsuit, she was not seeking a landmark decision that would legalise abortion for all American women but simply for the right to end her own pregnancy safely and legally.
Since the ruling, it is estimated that around 50 million legal abortions have been performed on women in the US, although later court orders have imposed some restrictions on the availability of abortion.
In her home state of Texas, abortion was prohibited at the time except in cases where the life of the mother was at risk.
On January 22 1973, the Supreme Court handed down its historic ruling, written by Justice Harry A Blackmun, stating that the constitutional right to privacy should include the choice to terminate a pregnancy.
The ruling established a legal framework which pro-lifers have campaigned to overturn ever since.
Although the wording was later modified, the ruling made Ms McCorvey as Jane Roe a figurehead in the on-going battle over reproductive rights.
She did not shed her courtroom anonymity until the 1980s, at first giving her name to pro-choice campaigners, but then in a stunning reversal, becoming one of abortion's fiercest critics when she announced she had found God.
Ms McCorvey admitted that for years she had lied about the pregnancy, claiming it was the result of rape when in fact it resulted from consensual sex in a relationship that she "thought was love".
She has been portrayed as the victim of abuse, financial hardship, drug and alcohol addiction and possible mental health problems, including in the 1989 film, Wade vs. Roe, starring Holly Hunter.
According to the many accounts written about her, she worked variously as a bartender, a maid and a house painter.
Thousands march in Dublin for Irish abortion rights

Show all 5
She found happiness with a lesbian partner, although that relationship reportedly ended acrimoniously after 35 years.
Other, harsher accounts have portrayed her as a compulsive liar and drug-user who craved attention and money, with abortion rights activists questioning her Damascian conversion to pro-lifer in 1994 after years as a poster child for abortion rights.
She revealed her new stance in a memoir written with Andy Meisler in 1994 entitled "I am Roe", after living a mainly private life.
She described herself as "a simple woman with a ninth grade education" and said she was a victim of her lawyers, Linda Coffee and Sarah Weddington, who she accused of exploiting her predicament for their own careers or ideological beliefs.
Until the landmark case, women with money seeking to terminate their pregnancies would travel to states or other countries which permitted abortion.
Poorer women had the option of either trying to perform abortions on themselves, seeking back street procedures, or continuing with unwanted pregnancies.
Ms McCorvey was not the first woman to challenge the abortion laws, but she was the first whose case made it all the way to the Supreme Court through the appeals process. The defendant, Wade, was the Dallas County district attorney, Henry Wade, responsible for enforcing the state's abortion laws.
In interview, she expressed bitterness towards her lawyers for not helping her to get the one thing she said she really wanted at the time – an abortion.
Speaking about her lawyer Sarah Washington to the New York Times in 1992, she said: "Sarah sat right across the table from me at Columbo's pizza parlour, and I didn't know until two years ago that she had had an abortion herself."
"When I told her then how desperately I needed one, she could have told me where to go for it. But she wouldn't because she needed me to be pregnant for her case."
She wrote another memoir, Won by Love, in 1997 with co-author Gary Thomas, founded the Dallas-based Roe No More Ministry and reportedly became a Catholic, participating in anti-abortion protests.
Ohio legislator who wants to ban abortion has no idea why women would want to have abortions
She told a press conference in 2003 she was sorry she had ever taken her case to court because it had brought "the holocaust of abortion" and petitioned the Supreme Court again, this time to overturn the 1973 ruling.
Ms McCorvey was arrested in 2009 for disrupting the Senate confirmation hearing for pro-choice judge Sonia Sotomayor's nomination to the Supreme Court.
Although she made some money from her books and interviews, according to an article in Vanity Fair, by 2013 she was relying on the kindness of strangers to give her free lodgings and food.
She is survived by a daughter, Melissa, and two grandchildren. Nothing is known of the child she gave up for adoption during her fight for an abortion.
She told the New York Times in 1994: "I don't require that much in my life. I just never had the privilege to go into an abortion clinic, lay down and have an abortion. That's the one thing I never had."
Join our new commenting forum
Join thought-provoking conversations, follow other Independent readers and see their replies