North Carolina transgender bathroom bill breaches US Civil Rights Act, says Obama admininstration
The Obama administration has asked for a response from North Carolina officials within a week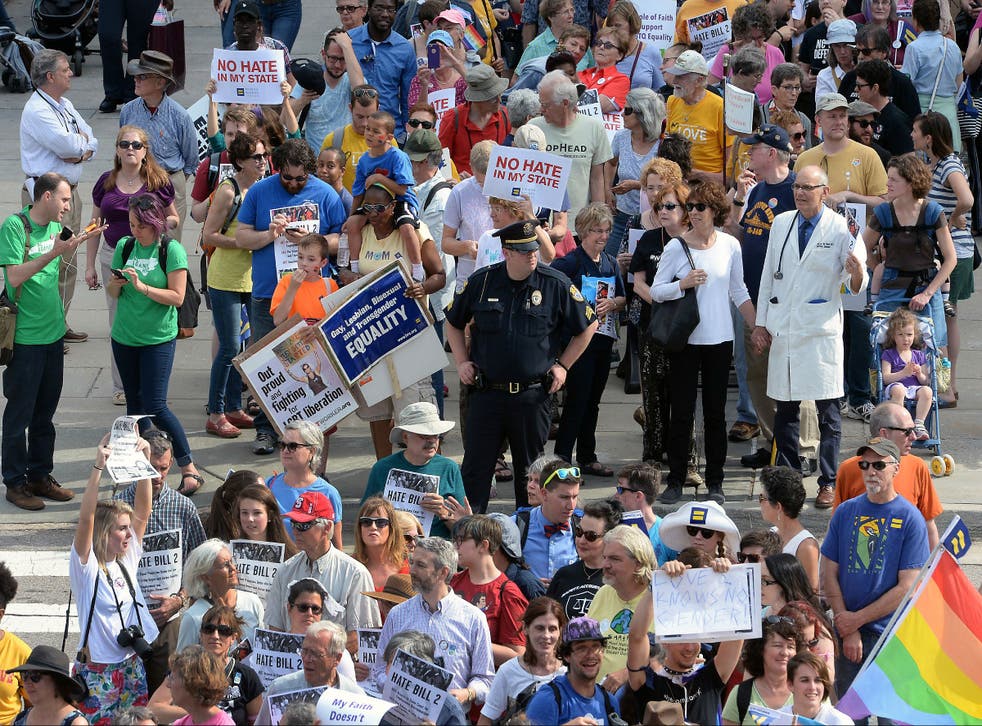 The American government has warned North Carolina that its controversial law limiting transgender people's use of lavatories breaches the US Civil Rights Act.
In March, North Carolina Governor Pat McCrory signed a sweeping law that ended anti-discrimination protections for lesbians, gays and bisexuals. It also stopped transgender people from using lavatories that did not match the gender they were born with.
The legislation was introduced after the city of Charlotte earlier passed its own bill to permit transgender people to use public toilets that correspond with their gender identity, rather than their gender at birth.
Yet, the Obama administration has told North Carolina official that the bill -House Bill 2, the Public Facilities Privacy & Security Act - breaches the US Civil Rights Act. The act was passed in 1964 and seeks to prevent discrimination based on race, colour, religion, sex, or national origin.
The US Justice Department sent letters to Mr McCrory and university leaders notifying them that the bill violates this seminal piece of US legislation.
"Access to sex-segregated restrooms and other workplace facilities consistent with gender identity is a term, condition or privilege of employment," said the letter.
"Denying such access to transgender individuals, whose gender identity is different from their gender assigned at birth, while affording it to similarly situated non-transgender employees, violates Title VII."
The Justice Department letters asked for a response by May 9 on "whether you will remedy these violations of Title VII."
The North Carolina bill has sparked protest from activists, business and musicians. Bruce Springsteen was among many performers who cancelled concerts in protest over the bill.
On Wednesday evening, Mr McCrory, a Republican, issued a statement but did not specifically say what the state will do, the Associated Press said.
"A claim by the Obama administration charges that one part of House Bill 2, which requires state employees in public government buildings and students in our universities to use a restroom, locker room and shower facility that match their biological sex, is now in violation of federal law. The Obama administration has not only staked out its position for North Carolina, but for all states, universities and most employers in the US.
"The right and expectation of privacy in one of the most private areas of our personal lives is now in jeopardy. We will be reviewing to determine the next steps."
North Carolina Attorney General and Democratic candidate for governor Roy Cooper said: "Enough is enough. It's time for the Governor to put our schools and economy first and work to repeal this devastating law."
The state could lose federal money as a result of its action. The letter from the Justice Department reminded university system leaders they accepted funding from groups like the Office on Violence Against Women by agreeing not to discriminate on the basis of gender identity.
A few days after passage of the bill, two transgender men, a lesbian, the American Civil Liberties Union of North Carolina and Equality North Carolina filed a federal lawsuit asking a judge to declare the law unconstitutional and a violation of federal laws banning sex discrimination.
"It is now clearer than ever that this discriminatory law violates civil rights protections and jeopardizes billions of dollars in federal funds for North Carolina," the lawsuit said. "The only way to reverse the ongoing damage HB 2 is causing to North Carolina's people, economy and reputation is a full repeal."
Join our new commenting forum
Join thought-provoking conversations, follow other Independent readers and see their replies