North Korea: America is preparing military options in case sanctions fail, says most senior US general
Joint Chief of Staffs chairman says US ready to use 'full range' of military capabilities to defend itself against Pyongyang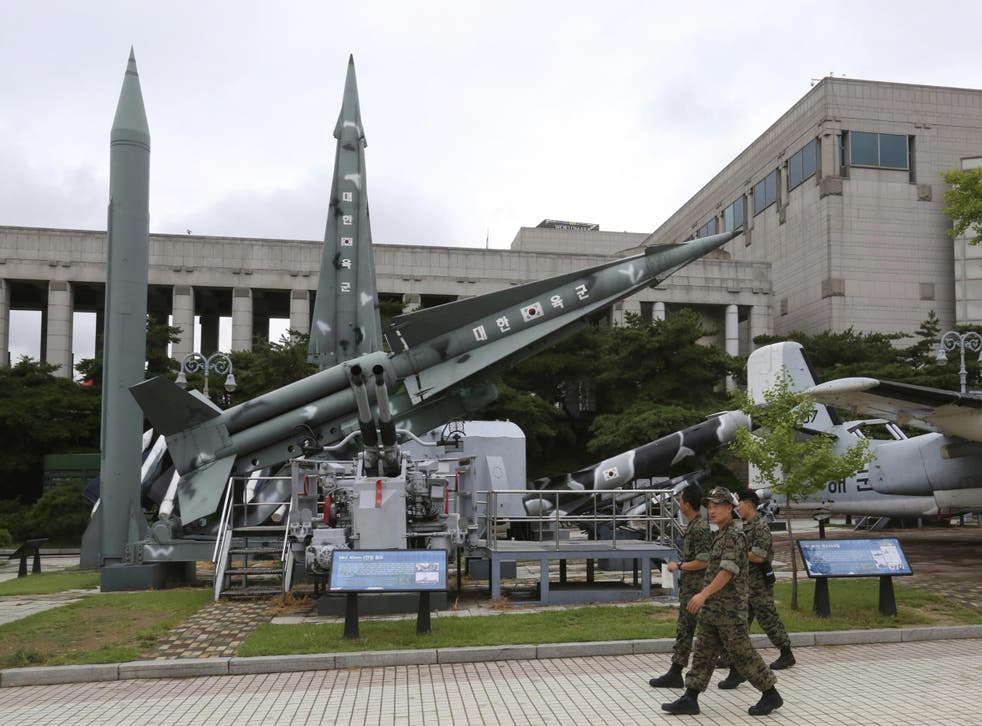 America is preparing military options in case sanctions imposed on North Korea fail, the most senior general in the US armed forces has warned.
Joseph Dunford said a "full range" of contingency plans had been drawn up in case diplomatic and economic sanctions did not deter Pyongyang's development of nuclear weapons.
The Joint Chiefs of Staff chairman told South Korean President Moon Jae-in of the preparations during a 50-minute meeting on Monday, according to a US military spokesman.
It comes amid heightened tensions over fears Pyongyang is close to achieving its goal of putting mainland US within range of a nuclear weapon.
The two nations exchanged military threats last week, with North Korea warning it has developed a plan to strike the US Pacific territory of Guam.
On Friday Donald Trump said military solutions to the crisis were "locked and loaded", days after vowing to unleash "fire and fury" if Pyongyang continued to threaten the US.
Mr Dunford is visiting Seoul to discuss the rising tensions in the region with President Moon Jae-in and Defence Minister Song Young-moo ahead of major joint US-South Korean military drills scheduled for later this month.
World news in pictures

Show all 50
"He conveyed America's readiness to use the full range of military capabilities to defend our allies and the US homeland," said US military spokesman Darryn James.
Mr Dunford, who will also meet with leaders in Japan and China, "stressed that North Korea's ballistic missile and nuclear weapons programmes threaten the entire global community," the spokesman added.
Mr Dunford had earlier told reporters he aimed to "sense what the temperature is in the region" and discuss military options in the event the "diplomatic and economic pressurisation campaign" fails.
"We're all looking to get out of this situation without a war," he added.
Mr Moon separately called for a peaceful solution to the nuclear stand-off, urging that "there must not be another war on the Korean Peninsula".
It comes as senior US officials attempted to provide assurances with that conflict with North Korea not imminent.
North Koreans stage massive rally in show of defiance against Donald Trump
"We're not closer to war than a week ago but we are closer to war than we were a decade ago," said H.R. McMaster, Mr Trump's national security adviser.
CIA director Mike Pompeo said "there's nothing imminent today," in response to a question from a reporter about how worried should people be over the escalating tensions.
North Korea, which is angry over new United Nations sanctions against its rapidly developing nuclear and missile programme, continued its tough stance on Monday.
It accused the US of mobilising a huge number of weapons and troops for annual military drills with South Korea that begin later this month.
Pyongyang, which claims the drills are preparation for war, claimed it would be ready to send its Guam missile launch plan to North Korean leader Kim Jong-un for approval just before or as the drills begin.
"What matters is that if a second conflict [on the peninsula] erupts, that cannot help but lead to a nuclear war," the country's official Korean Central News Agency said in a commentary. "We are closely monitoring every move by the United States."
The commentary claimed about 3.5 million young students and workers have volunteered to join or rejoin the army because of a possible confrontation with the US.
The deepening diplomatic crisis was sparked by North Korea's test launch of two tests of Intercontinental Ballistic Missiles (ICBMs) last month.
Pyongyang claimed that the range of the second missile meant they could now reach the US, which set officials on edge before an intelligence report indicated that North Korea had also successfully miniaturised nuclear weapons that would fit within one of their missiles.
Those actions prompted the UN Security Council to place severe sanctions on North Korea, leading the Asian country to vow revenge for the economic losses.
In the latest round of an escalating war of words, Mr Trump last week warned King Jong-un he "will truly regret it" if any US territory was attacked.
"This man will not get away with what he is doing," the President said. "If he utters one threat in the form of an overt threat... or if he does anything with respect to Guam, or any place else that is an American territory or an America ally, he will truly regret it and he will regret it fast.
Join our new commenting forum
Join thought-provoking conversations, follow other Independent readers and see their replies