Obama becomes fourth US president in a row to go on TV and announce Iraq bombings
Watch each televised address here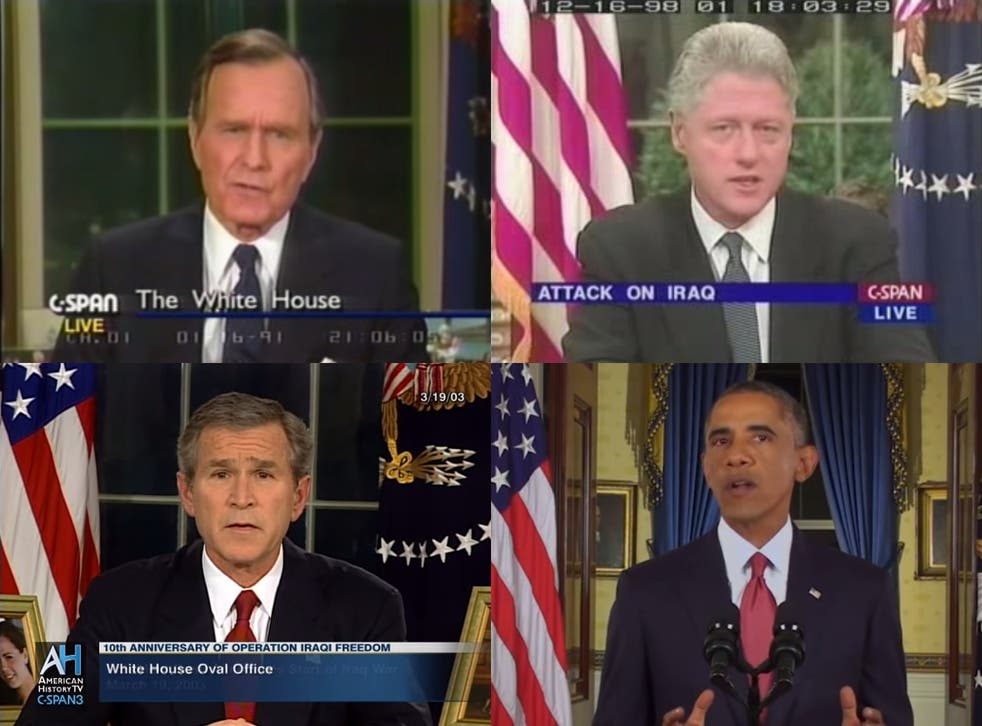 If President Obama's televised address regarding military action against Isis felt oddly familiar last week, that's because going on prime-time TV to announce airstrikes in Iraq is something of a presidential tradition, like taking the oath of office and owning an amusingly-named pet.
Obama promised to "degrade and ultimately destroy" Isil, after Bush promised to "disarm and free" Iraq, after Clinton promised to "protect" the US from Iraq's "nuclear weapons programs", after Bush senior was "thinking of peace, not war" as bombs were dropped on Iraq.
The addresses span almost 25 years and presidents on both sides of the political spectrum, here they are along with some excerpts:
President George H. W. Bush – 16 January, 1991
"Even as planes of the multinational forces attack Iraq, I prefer to think of peace, not war.
"I'm convinced not only that we will prevail, but that out of the horror of combat will come the recognition that no nation can stand against a world united. No nation will be permitted to brutally assault its neighbour."
President Bill Clinton – 16 December , 1998
"Heavy as they are, the costs of action must be weighed against the price of inaction. If Saddam defies the world and we fail to respond, we will face a far greater threat in the future. Saddam will strike again at his neighbors. He will make war on his own people.
"And mark my words, he will develop weapons of mass destruction. He will deploy them, and he will use them."
"Because we're acting today, it is less likely that we will face these dangers in the future."
President George W. Bush – 19 March, 2003
"My fellow citizens, at this hour American and coalition forces are in the early stages of military operations to disarm Iraq, to free its people and to defend the world from grave danger.
"On my orders, coalition forces have begin striking selected targets of military importance to undermine Saddam Hussein's ability to wage war. (sic) These are opening stages of what will be a broad and concerted campaign.
...
"To all the men and women of the United States armed forces now in the Middle East, the peace of a troubled world and the hopes of an oppressed people now depend on you. That trust is well-placed. The enemies you confront will come to know your skill and bravery. The people you liberate will witness the honourable and decent spirit of the American military."
President Barack Obama – 10 September, 2014
"Tonight, with a new Iraqi government in place, and following consultation with allies abroad and congress at home, I can announce that America will lead a broad coalition to roll back this terrorist threat.
"Our objective is clear, we will degrade and ultimately destroy Isil. First we will conduct a systematic campaign of airstrikes against these terrorists.
"Moreover I've made it clear that we will hunt down terrorists that threaten our country wherever they are. That means i will not hesitate to take action against Isil in Syria as well as Iraq.
"This is a core principle of my presidency, if you threaten American you will find no safe haven."
Register for free to continue reading
Registration is a free and easy way to support our truly independent journalism
By registering, you will also enjoy limited access to Premium articles, exclusive newsletters, commenting, and virtual events with our leading journalists
Already have an account? sign in
Register for free to continue reading
Registration is a free and easy way to support our truly independent journalism
By registering, you will also enjoy limited access to Premium articles, exclusive newsletters, commenting, and virtual events with our leading journalists
Already have an account? sign in
Join our new commenting forum
Join thought-provoking conversations, follow other Independent readers and see their replies