Oregon College shooting: 10 people killed at Umpqua Community College
The gunman was killed during an exchange of fire with police
Kashmira Gander
Thursday 01 October 2015 19:30 Comments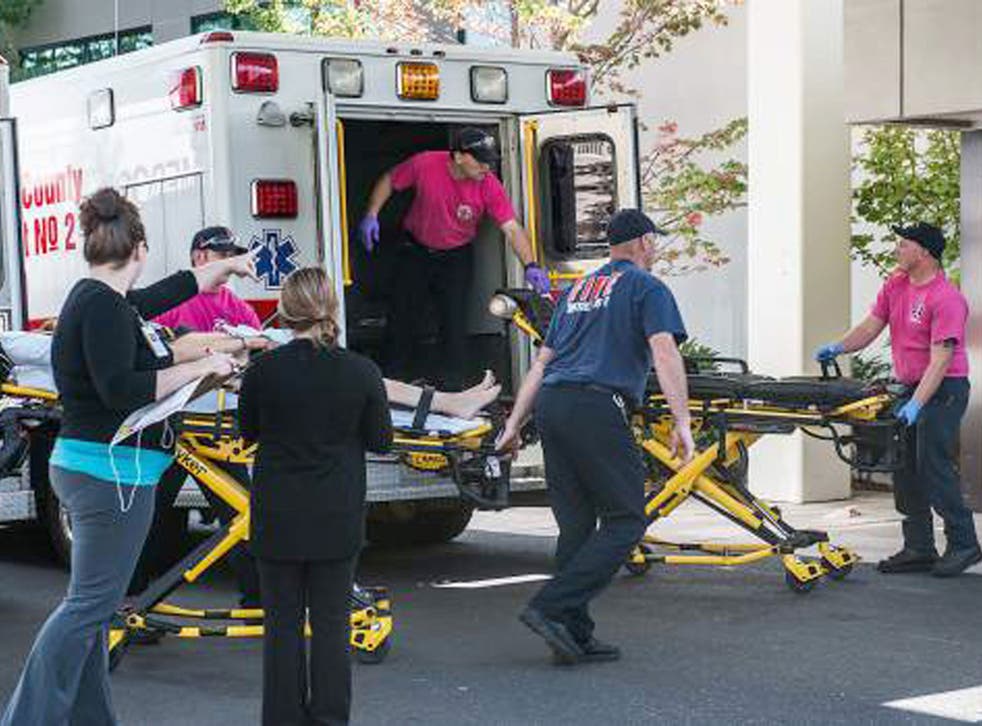 Latest updates:
Gunman, who is now dead, was a 20-year-old
Shooter 'asked students to disclose their religions' 
President Obama says US must change gun laws
A now-deceased gunman has killed at least 10 people and injured seven others at a community college in Oregon.
The emergency services were alerted at 10:38am to reports of a shooting at Umpqua Community College in Roseburg, approximately 180 miles south of Portland, the state's largest city.
Douglas County Sheriff John Hanlin confirmed that the gunman was a man in his 20s who was killed during an exchange of gunfire with officers. However, he did not disclose whether the gunman was shot by officers or if he took his own life.
No police officers were harmed in the incident, he added.
Witness Kortney Moore, 18, told the Roseburg News-Review newspaper that she was in a writing class when a shot came through a window.
The gunman then shot her teacher and asked people to stand up and state their religion before firing more bullets. Her account has not been verified.
President Barack Obama appeared frustrated as he addressed the shooting, and said that the US must change its gun laws.
Expressing his condolences to those affected he said that "our thoughts amd prayers are not enough."
"It does nothing to prevent this carnage from being inflicted some place else in America next week or a couple of months from now [...] We've become numb to this."
"This is a political choice that we make, to allow this to happen every few months in America."
He concluded it is "terrible" that he cannot guarantee another similar mass shooting will not happen again soon.
"God bless the memories of those who were killed today," he said.
Around 13,000 students attend the facility in the city which lies west of the Cascade Mountains. 3,000 of those are full-time students.
Students had returned to the college after the summer break on 28 September. Following the tragedy, the college said it would not re-open until Monday.
Please allow a moment for the live blog to load
Register for free to continue reading
Registration is a free and easy way to support our truly independent journalism
By registering, you will also enjoy limited access to Premium articles, exclusive newsletters, commenting, and virtual events with our leading journalists
Already have an account? sign in
Register for free to continue reading
Registration is a free and easy way to support our truly independent journalism
By registering, you will also enjoy limited access to Premium articles, exclusive newsletters, commenting, and virtual events with our leading journalists
Already have an account? sign in
Join our new commenting forum
Join thought-provoking conversations, follow other Independent readers and see their replies