Oregon shooting: Witnesses describe scenes of anguish
Gunshots rang out for a minute and sounded like fireworks
Andrew Buncombe
New York
,
Justin Carissimo
Thursday 01 October 2015 20:54 Comments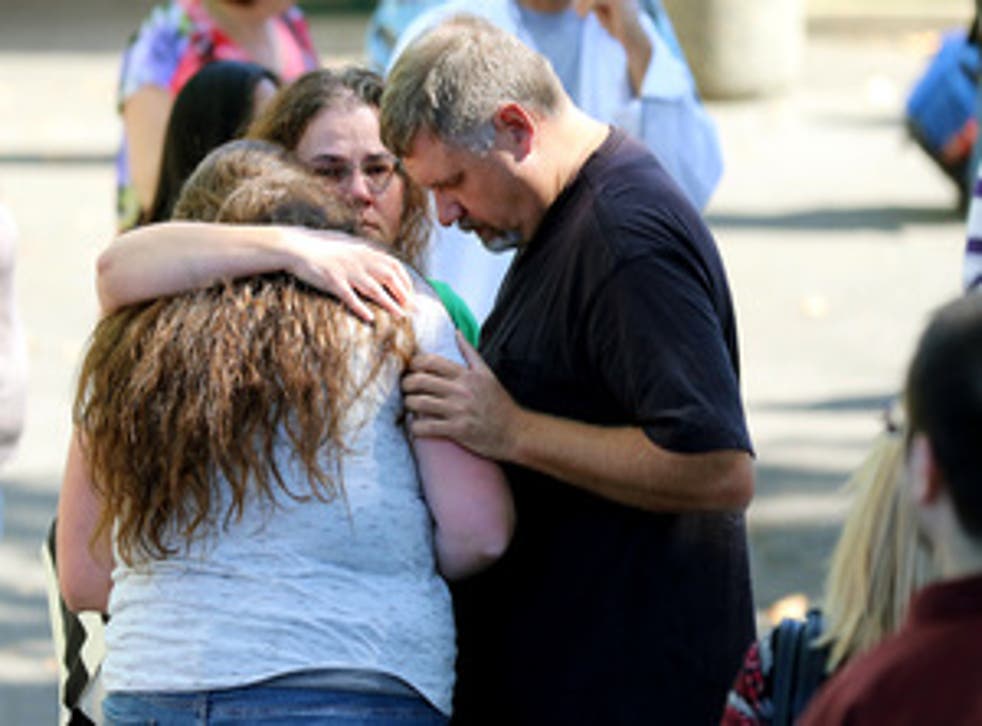 Witnesses have described how a small town of 20,000 was transformed in America's latest community to find itself reeling from gun violence.
Roseberg, situated two hours south from Portland, erupted in chaos early Thursday morning when a shooter opened fire at the local college.
"I heard the shots and I thought it was fireworks," Lori Andrews, whose lives opposite Umpqua Community College, told The Independent. "It went on for about a minute."
Mrs Williams said the town was close-knit and quiet, a place where "everyone knew one another".
She said she had rushed to the gates of the college, and saw at least seven ambulances with their sirens flashing. She saw one female student was being escorted out, wrapped in a blanket and covered in blood.
Several witnesses began tweeting what they saw while fleeing the school shooting.
Mrs Williams said the town had been placed under lock-down. Students were being bussed, to the Douglas County Fairgrounds to be picked up by family members.
"We locked our door, and I went out to lock up the restrooms and could hear four shots from the front of campus," UCC Foundation Executive Director Dennis O'Neill told the News-Review.
Luke Rogers, a college student, told CNN, shooting had started in the science block .
Brady Winder, 23, of Portland, told the News-Review that he was in the next room when he heard a loud thud. He the heard a series of gunshots. He then heard a percussion of gunshots and the students all fled out the front door. They left "like ants, and people screaming". He saw a girl swim across the creek while fleeing.
Hannah Miles was in a class room next door to the shooting in Snyder Hall. Miles said they heard a sound next door that sounded like a yardstick slapping on a chalkboard. Then they heard the noise again. A teacher went to see if everything was all right, at which point it went off repeatedly and someone said everybody get out now.
The Douglas County Sheriff's Office issued a statement saying that police units from multiple jurisdictions have responded to the scene.
Marilyn Kittleman, a mother of student, told the broadcaster that her son was all right but was still waiting to be evacuated.
Register for free to continue reading
Registration is a free and easy way to support our truly independent journalism
By registering, you will also enjoy limited access to Premium articles, exclusive newsletters, commenting, and virtual events with our leading journalists
Already have an account? sign in
Join our new commenting forum
Join thought-provoking conversations, follow other Independent readers and see their replies