Orlando attack: Republican defends decision to offer semi-automatic rifle as 'hog fest' raffle prize
Police are investigating death threats against Andy Holt of Tennessee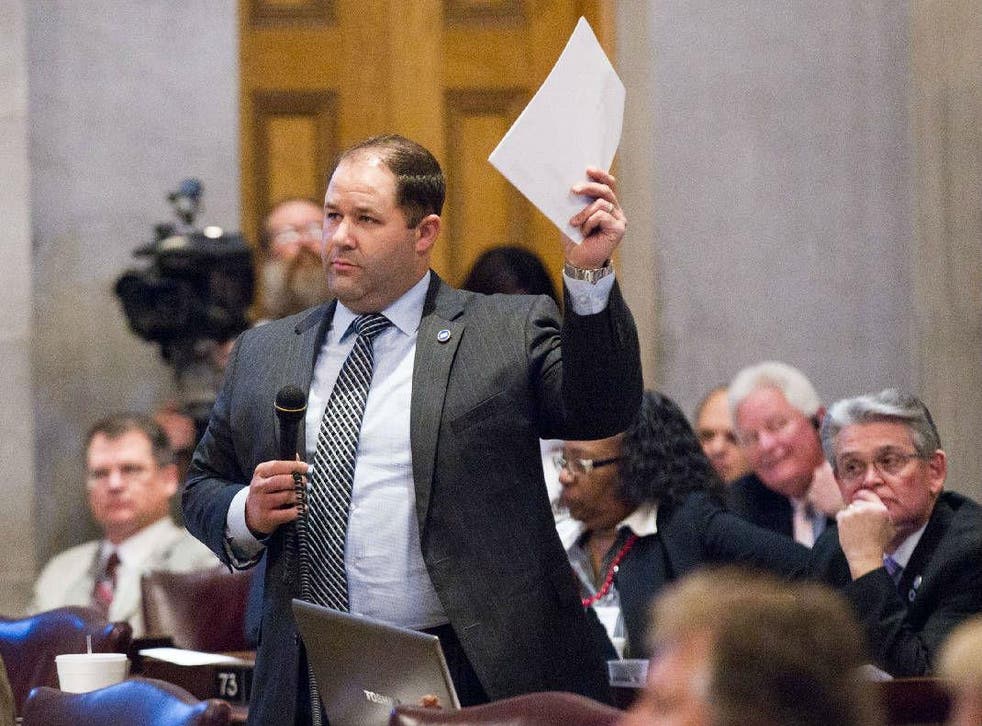 Republican politician Andy Holt wants everyone to attend his "hog fest and turkey shoot fundraiser". For the $30 cost of a ticket, there will be hay rides, a small zoo for the children and live music.
Oh, and Mr Holt is also offering people a chance to win two AR-15 assault rifles - the weapon used at Sandy Hook, San Bernadino and very similar to the one used in Orlando - in a raffle.
In recent days, Mr Holt, a state representative from Tennessee, has been at the centre of a mounting controversy over his decision to offer as the prizes the weapons, which gun control campaigners have described as the "gold standard for mass murder of innocent civilians".
Mr Holt - who said he added the second weapon in response to the outcry from "the media" - also made transgender jokes about his event. He said he has since received death threats and police have launched an investigation into an alleged threat against himself and an assistant.
"I'm sick and tired of the media and liberal politicians attacking our right to keep and bear arms," Mr Holt wrote on Facebook.
Mr Holt told The Independent he stood by his decision to offer the weapon as a prize for his event at his family farm in the town of Dresden.
"The giveaway was planned before the shooting. In fact, a month before the shooting. Offensive? That's like asking if people were offended by receiving a newspaper after the Charlie Hebdo attack, or if people were offended by watching an airliner commercial after the 9/11 attacks," he said in an email
"In America, our right to self-defence is protected just the same as the right to free speech."
Asked about AR-15, he said he did not understand why people were obsessing bout the gun. Matinee is reported to have used a weapon very similar to the AR-15, which is produced by Remington. Relatives of those who died in Sandy Hook are suing the company
"Media creating a narrative around a specific gun that wasn't even used proves the media has a biased agenda, and doesn't even deserve a response," he said.
Mr Holt also denied that he was deliberately seeking to provoke outcry.
"So, I plan a gun give-away a month before the Orlando terror attack, then the media and liberals come after me like a swarm of bees, yet I'm the one that provoked the situation? Okay. Makes perfect sense," he said.
"What's even funnier - you didn't ask a single question regarding the fact that this was a terror attack carried out by a radical Muslim. Instead, you've chosen to focus on a firearm that wasn't even used by the terrorist. In fact, you won't even call him a terrorist in your questions."
Mr Holt has also triggered a response by his comments about transgender people. In the advertisement for his hog fest later this month, he wrote: "The Women's division is open to all biological females ages 18 and over."
Orlando Shooting Survivor Recalls Playing Dead to Avoid Gunman
He added: "Sorry fellers, 'identifying' as a female won't get you into this contest; Obama has no control over this event."
He declined to answer a question about his comments about transgender people and accused The Independent of "yellow journalism at its finest".
The row comes as President Barack Obama and Vice President Joe Biden visit Orlando to meet the survivor of last Sunday's attack on a gay night club, which left 49 people dead and more than 40 others wounded. Mr Obama will also meet with members of the emergency services who responded to the attack, carried out by 29-year-old Mateen.
The FBI has said it believes Mateen, who called police to claim he was carrying out the attack in the name of Isis, was radicalised online. Agents are currently questioning his second wife, who reportedly told investigators she tried to talk her husband out of the attack.
It has also been reported that Mateen may have been gay or bisexual, that he used gay dating applications and that he visited the Pulse nightclub many times. The city has held a series of vigils, with people asking that the community come together.
In Washington, Democrats held a 15-hour filibuster to try and force the Republicans to vote on gun control issues.
Join our new commenting forum
Join thought-provoking conversations, follow other Independent readers and see their replies