Ortega beating Buffett as Zara fashions $53.6bn fortune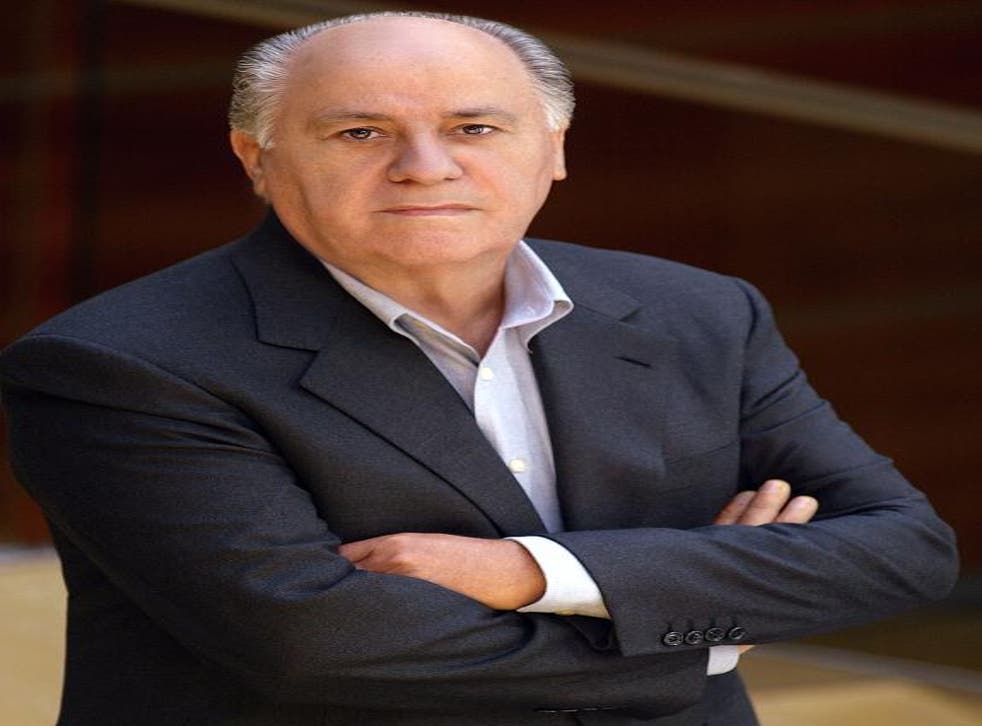 Inside Inditex SA's concrete-and-glass headquarters in the Spanish town of Arteixo, a lithe woman slips into a dress that a seamstress working amid buzzing sewing machines stitched together just minutes earlier. A half circle of designers — looking like models themselves — nod approval.
In weeks, this and hundreds of other creations inspired by pop culture or couture catwalks will fill the company's more than 1,600 Zara stores in 85 countries on six continents. Since opening the first shop in his seaside home of La Coruna, Spain in 1975, billionaire founder Amancio Ortega has built the world's largest clothing retailer — and a fortune exceeding Warren Buffett's.
Ortega, 76, a publicity-shy entrepreneur with a net worth of $53.6 billion as of Oct. 5, is hardly a celebrity like Buffett or Bill Gates. He occupies the No. 3 spot on Bloomberg Markets' first annual ranking of the world's richest people, behind Microsoft's co-founder. Ortega owns 59 percent of Inditex stock — and those shares surged 58 percent this year through Oct. 5, knocking Buffett, with a net worth of $48.4 billion, to fourth. Mexico's Carlos Slim tops Bloomberg Markets magazine's ranking, with $77.5 billion.
Ortega's wealth is soaring even as his country battles an economic meltdown. Spain's unemployment is hovering around 25 percent as the country suffers its second recession since 2009 and a debt crisis roils Europe. With the global economy growing the slowest in three years, Ortega's cost-conscious lines are ringing up sales.
"That turbulence strangely favors a retailer like Zara," says Nancy Koehn, a retail historian at Harvard Business School. "Among fashionistas, there's a new badge of status in finding the cool at a lower price." Kate Middleton, the Duchess of Cambridge, is sometimes photographed wearing Zara.
Inditex, short for Textile Design Industries in Spanish, boosted revenue to 7.2 billion euros ($9.3 billion) in the first half of 2012, 17 percent more than a year earlier. Revenue in Spain remained stable at about 1.6 billion euros during that time.
"They are very flexible with their product and they are growing nicely," says Peter Braendle, who helps oversee $55 billion, including Inditex shares, at Swisscanto Asset Management in Zurich.
Ortega's Buffett-beating billions haven't changed him, people who work with the fashion mogul say.
After stepping down as Inditex chairman last year, he still travels a half-hour to headquarters most days from La Coruna, where residents speak the local Galician language. He usually settles at a table amid the designers, fabric experts and buyers for the Zara Woman line.
Wearing a simple shirt and slacks rarely of his own brands, which are cut for slimmer men, he confers on everything from placement of a zipper to the September debut of Zara's Chinese website.
"He's extremely close to the business operation, where he meets and sees and talks to everyone," says Antonio Camunas, a former president of the Spain-U.S. Chamber of Commerce who has advised Ortega for almost two decades. Ortega declined to grant an interview for this story.
Ortega turned the top-down fashion industry on its head by responding to customers' demands, says Covadonga O'Shea, president of the University of Navarra's ISEM Fashion Business School in Madrid. "He saw that fashion has to be accessible, not just for a small elite," says O'Shea, who describes Ortega as humble, eager for her opinion and trusting of young talent. "Fashion had to be democratized."
Ortega doesn't have qualms about borrowing from haute brands. In 2008, French footwear maker Christian Louboutin Sarl unsuccessfully sued Inditex, saying the company had infringed on its trademark red-soled high heels. A typical Zara shoe costs less than $100; Louboutin's can exceed $1,000.
Inditex employs 300 designers in Arteixo and 100 in Barcelona, a base for smaller brands such as Massimo Dutti. They churn out 20,000 new items a year, taking cues from daily Inditex store reports on what's selling, what's hanging on racks and what customers are trying on and rejecting. The designers draw up patterns, and in the Arteixo factories, robotic cutters slice miles of fabric to their specifications.
Seamstresses in nearby cooperatives assemble the pieces and send them back for ironing. A machine tags the price, applies plastic wrap and slots each item for delivery.
The son of a railway worker, young Amancio got his start as an errand boy for a clothing shop after dropping out of school at about age 13. He later joined his brother, Antonio, and sister Josefa as salespeople at a competing store. There, he met Rosalia Mera, his first wife. In 1963, the siblings went into business producing inexpensive versions of matelasse bathrobes. Rosalia, Josefa and Antonio's wife, Primitiva, stitched the first quilted items by hand.
Ortega began his global push in 1968 after visiting a Paris clothing fair with Javier Canas Caramelo, an early partner. Ortega opened the first Zara in 1975. By 1990, he had built a Zara in every Spanish city of at least 100,000 people and expanded to Paris and New York. He took his first vacation only after Inditex's initial public offering in 2001, Camunas says.
Ortega's personal life grew turbulent. Mera had given birth to a daughter, Sandra, now 44 and with a $1.1 billion fortune as of Oct. 5. A son, Marcos, was born mentally disabled, which O'Shea calls one of Ortega's great sorrows.
In 1983, Ortega fathered another daughter, Marta, with an Inditex employee. After divorcing Ortega, Mera remains Inditex's second-largest shareholder, with a fortune of $5.2 billion. The employee, Flora Perez Marcote, became Ortega's second wife two decades later. Of his three children, only Marta, who's approaching 30, works at Inditex, as a buyer for the Zara Woman line alongside her father in Arteixo. After starting as a salesperson, she may take the reins one day from the world's third-richest person, O'Shea says.
Despite Ortega's great wealth, Canas doesn't see much difference in the man he got to know in the 1960s. "His mindset, his character, I see him exactly the same as always," Canas says. "He's not out there telling the world, 'I'm No. 3.'"
Join our new commenting forum
Join thought-provoking conversations, follow other Independent readers and see their replies