Paris march: Critics say President Barack Obama 'let the world down' by not attending rally
The US President did not join 44 world leaders in a show of solidarity after days of terror attacks
Lizzie Dearden
Monday 12 January 2015 14:01 Comments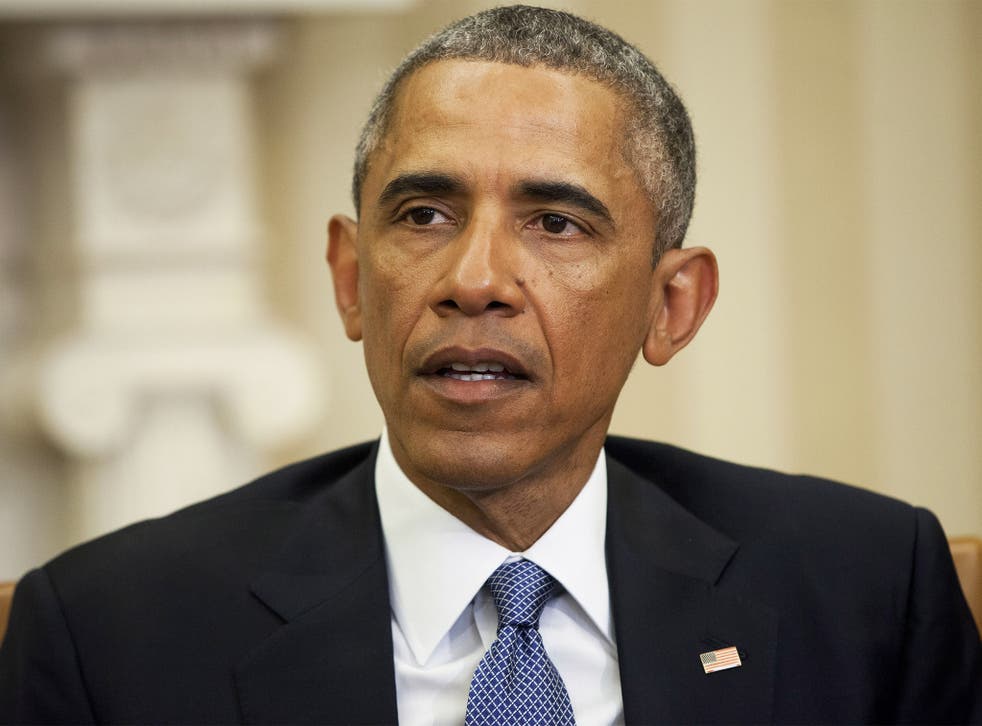 President Barack Obama is being criticised for not joining more than 40 world leaders alongside the millions who attended a huge solidarity march in Paris yesterday.
David Cameron and Angela Merkel linked arms with President Francois Hollande and dignitaries from countries including Turkey, Israel and Italy during what was believed to be the largest gathering in Paris since the celebrations marking liberation from the Nazis in 1944.
The US president's absence was conspicuous amid the international show of unity in the wake of three days of terror attacks in France that started with the Charlie Hebdo massacre on Wednesday.
His ambassador to France, Jane Hartley, was sent to the demonstration but her presence was not enough for US media outlets, who questioned why President Obama himself or at least the Secretary of State or Vice President did not attend.
The New York Daily News carried a front page today dominated by a picture of the march and the headline "You let the world down".
Fareed Zakaria, who hosts a public affairs programme on US network CNN, said the absence of senior US officials was a mistake.
Fox News host Greta Van Susteren tweeted: "This is really embarrassing – WHERE IS PRESIDENT OBAMA? Why didn't he go?"
"Sad that 50 world leaders could show solidarity in Paris but President Obama refused to participate. The cowardice continues," added Newt Gingrich, former speaker of the US House of Representatives.
French commentators appeared to take little notice, with some remarking that his attendance would be unthinkable given the level of security accompanying him to public functions.
John Kerry was in India for a previously scheduled visit and the US Attorney General Eric Holder was left to meet with his counterparts in Paris to discuss ways to prevent violent extremism, without going to the march.
The Secretary of State, who will travel to France on his way back to the US, said he did not believe "the people of France have any doubt about America's understanding about what happened, about our personal sense of loss and our deep commitment to the people of France in this moment of trial".
The White House did not immediately respond to requests for comment. But Obama on Friday pledged US support for France, saying: "I want the people of France to know that the United States stands with you today, stands with you tomorrow."
A spokesperson said the President will be holding a global security meeting in Washington in February to discuss domestic and international efforts to counteract violent extremism.
Mr Kerry told a news conference that he and the President were "deeply engaged" with French authorities almost immediately after the first attack occurred and had offered intelligence assistance.
In pictures: Charlie Hebdo demonstration, Paris

Show all 20
When asked about criticism about the march, he added: "I really think that this is sort of quibbling a little bit in the sense that our Assistant Secretary of State Victoria Nuland was there and marched, our ambassador was there and marched, many people from the embassy were there and marched.
"I would have personally very much wanted to have been there but couldn't do so because of the commitment that I had here and it is important to keep these kinds of commitments."
Mr Kerry will arrive in Paris on Thursday after stops in Sofia, Bulgaria and Geneva, Switzerland.
Additional reporting by agencies
Register for free to continue reading
Registration is a free and easy way to support our truly independent journalism
By registering, you will also enjoy limited access to Premium articles, exclusive newsletters, commenting, and virtual events with our leading journalists
Already have an account? sign in
Join our new commenting forum
Join thought-provoking conversations, follow other Independent readers and see their replies