Florida shooting: Meet Jacob the comfort dog, the veteran of mass killings helping victims of America's latest massacre
As Parkland struggles to come to terms with massacre that left 17 people dead, golden retriever can normally be found surrounded by a group of children while wearing a harness simply saying 'please pet me'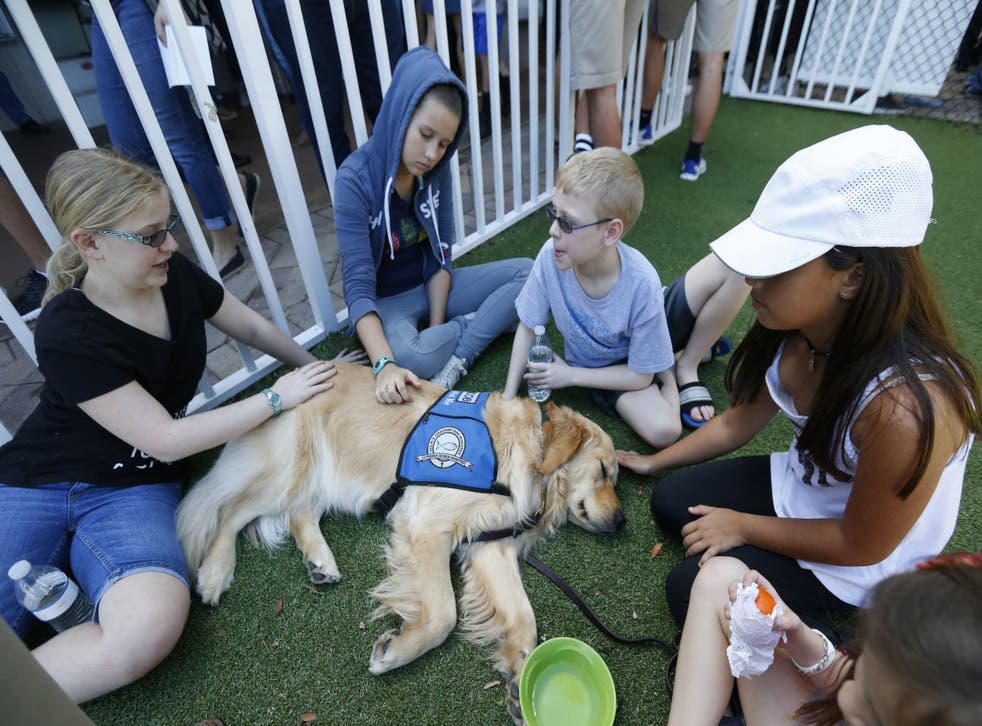 Among those attending a vigil for the victims of America's latest gun massacre was one rather unusual guest.
Golden retriever Jacob, aged four, a specially trained "comfort dog", could be seen lying in the shade, surrounded by a group of children and wearing a harness that simply said "please pet me".
Jacob is one of 19 dogs currently in Parkland supporting friends, family and loved ones as they grieve those lost when Nikolas Cruz opened fire at Marjory Stoneman Douglas High School shooting.
The dogs are part of a group of 130 golden retrievers, K9 Comfort Dogs, run by Lutheran Church Charities, which specially trains dogs to act as therapy animals in disaster situations.
"When someone pets one of our dogs it lowers their blood pressure and makes them relax." Tim Hetzner, chief executive of the Illinois-based charity, told The Independent.
"This helps in the healing process of the individual and the community."
The charity believes dogs help people feel calmer, and it's not alone.
A study last year by the University of Florida on pet-owning families found that dogs make children feel more supported socially and less stressed.
But what differentiates a specially trained comfort dog from a regular golden retriever?
According to Mr Hetzner, the comfort dogs all undergo over 2,000 hours of socialisation training which usually occurs over the span of a year and a half, beginning between eight and 10 weeks of age.
They are trained not to jump, bark, or display aggressive behaviour.
When they are not supporting people through disaster response, the retrievers typically work in libraries, schools, churches, with police officers and fire fighters, and at community events.
But it's not all work – a day in the life of a comfort dog is mostly filled with "fun and rest", Mr Hetzner says.
Florida shooting – in pictures

Show all 10
Like many of the dogs, this is not Jacob's first trip – he visited Orlando after the Pulse night club attack and Las Vegas after the shooting by Stephen Paddock.
So what's next in store for Jacob?
"Jacob will serve in Florida to provide comfort and love," Mr Hetzner said. "Following this deployment, he will enjoy a long period of rest and fun before returning to work."
You can follow Jacob on Facebook, here.
Join our new commenting forum
Join thought-provoking conversations, follow other Independent readers and see their replies