Irma: Parts of Miami 'neck deep' in flood water as hurricane tears through Florida
In spite of warnings issued about the 'life threatening' storm, many Floridians have stayed put in the so-called 'sunshine state'
Rachel Roberts
Monday 11 September 2017 08:10 Comments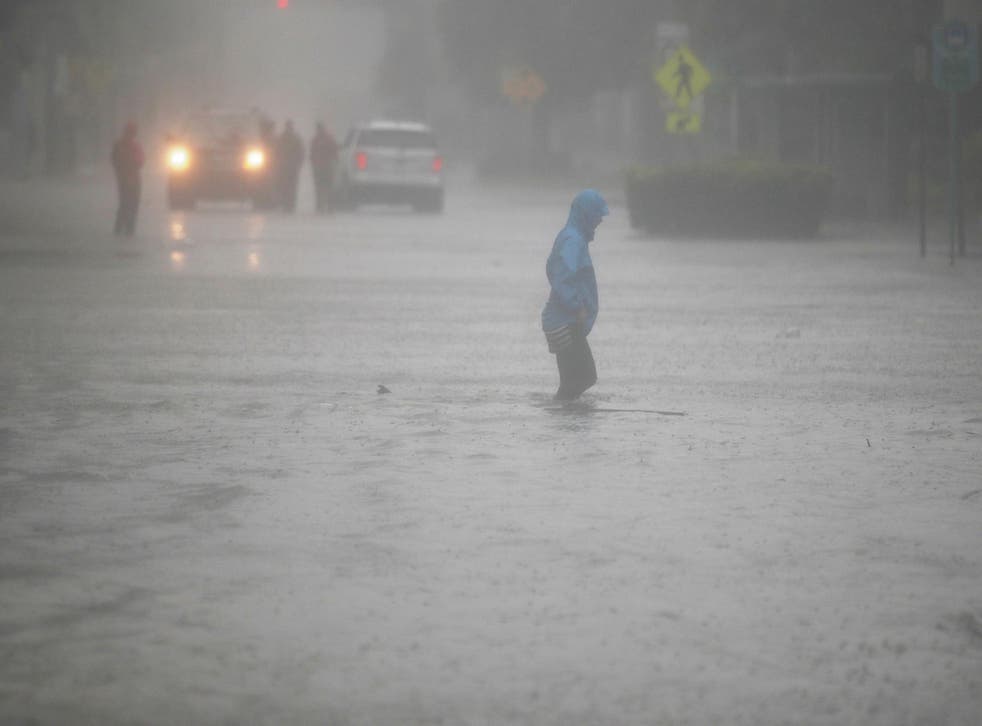 Parts of Miami are underwater after being battered by Hurricane Irma with winds of up to 130mph tearing through the city in the so-called "sunshine state" of Florida.
At least three people have been left dead in Florida Keys with serious damage also caused to buildings across the region.
Several social media users have been uploading videos and images of the havoc wreaked by the deadly storm which had been barrelling its way towards the US mainland for a week before it finally hit.
Footage shows severe flooding in the Brickwell area of downtown Miami after the hurricane dumped heavy rain on the popular holiday destination, a city with a population of close to half a million.
In spite of the warnings issued that the storm was "life threatening", many Floridians chose to stay put as Irma swirled towards them after tearing through several Caribbean islands and battering the north coast of Cuba.
An estimated 127,000 people are huddling in shelters across Florida as the storm continues its progress along a low-lying string of islands.
Irma knocked out power to over 1 million customers located more than 100 miles from the eye of the storm.
Britons in the historic storm's path are being warned their situation may "deteriorate significantly".
The hurricane began to affect Florida on Saturday, with its forward reaches sending "embedded tornadoes" sweeping across southern parts.
Irma's eyewall - a band of clouds surrounding the centre of the storm - reached the low-lying Keys island chain on Sunday morning, with the eye of the storm 15 miles southeast of Key West.
More than six million people in Florida and Georgia have been urged to leave their homes as the National Hurricane Centre (NHC) warned the storm would bring 130 mph winds, torrential rain and storm surges of up to 15ft.
Florida governor Rick Scott called on anyone still in at-risk areas to follow evacuation orders, saying: "This is clearly a life-threatening situation."
"If you have been ordered to evacuate you need to leave now. This is your last chance to make a good decision," he said on Saturday night.
"Evacuation procedures are in place across the state, more than 6.5 million Floridians have been ordered to evacuate. Do not put yourself or your family's life at risk."
Monitoring the situation from Camp David, President Donald Trump urged people in the danger areas to heed the governor's advice.
Prime Minister Theresa May said work was taking place with US authorities to ensure British expats and tourists in Florida were protected as millions of locals and visitors flee to safety.
A meeting of the UK Government's emergency Cobra committee is scheduled for Sunday afternoon after the Foreign Office said its ability to provide assistance to British citizens may be "extremely limited" and advised those affected to make their own contingency plans.
Some 500 British troops have been deployed to the region, along with British police officers stationed in the British Virgin Islands, to restore law and order following reports of looting.
The Press Association contributed to this report
Register for free to continue reading
Registration is a free and easy way to support our truly independent journalism
By registering, you will also enjoy limited access to Premium articles, exclusive newsletters, commenting, and virtual events with our leading journalists
Already have an account? sign in
Join our new commenting forum
Join thought-provoking conversations, follow other Independent readers and see their replies