Pepe the Frog meme designated 'hate symbol' by the Anti-Defamation League for its popularity amongst Alt-Right
Although the meme did not have racist origins, the white supremacist segment of the Internet has co-opted the meme for their cause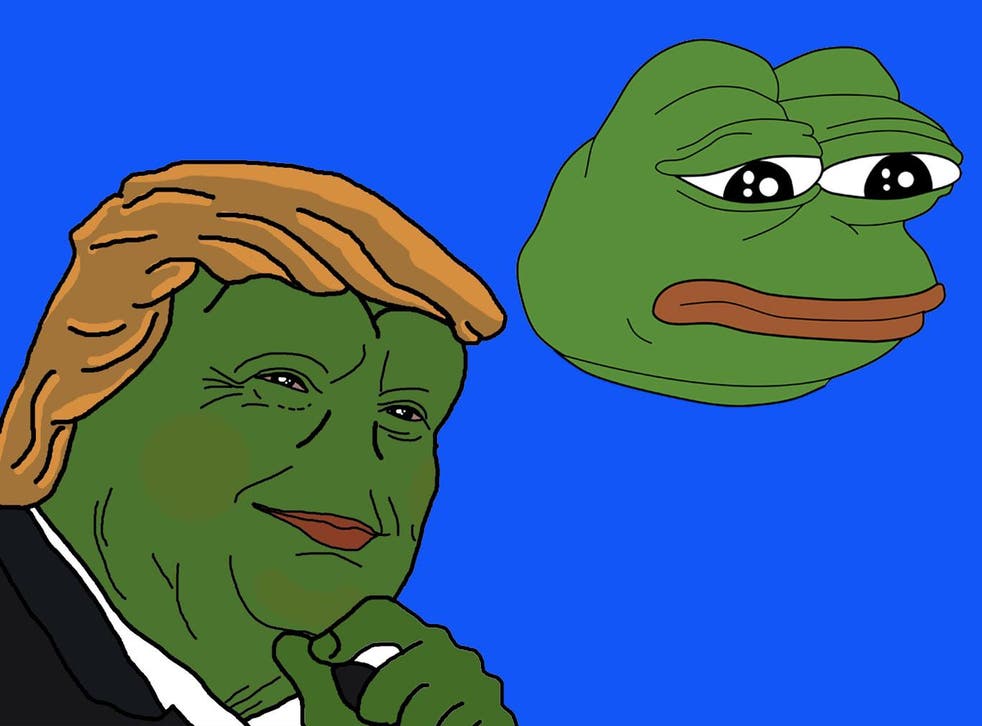 The popular Internet meme Pepe the Frog has been officially designated a hate symbol by the Anti-Defamation League.
The anti-bigotry organisation added the meme its database of hate symbols on Tuesday, noting that it did not always have connections to white supremacist organisations, but has gained traction with the emergence of the Alt-Right movement.
Pepe the Frog debuted in the 2005 comic Boy's Club and took on a life of its own through the 4chan message boards. But the meme has become a favourite amongst Donald Trump supporters to express feelings of racism, anti-Semitism, and Islamophobia.
"The Pepe the Frog character did not originally have racist or anti-Semitic connotations," the ADL said in a statement. "Internet users appropriated the character and turned him into a meme, placing the frog in a variety of circumstances and saying many different things. …
"[T]he use of racist and bigoted versions of Pepe memes seems to be increasing, not decreasing."
The ADL included images of the Alt-Right versions Pepe the Frog, including bigoted caricatures of the frog as a Jewish rabbi, the frog wearing a Ku Klux Klan hood, and a version of Pepe in blackface.
Prior to the ADL's designation, Pepe's creator, Matt Furie said he was not concerned with the longevity of the Alt-Right's co-opting of the frog.
"I think he's on a weird manifestation right now," Mr Furie told the Washington Post, "It's unfortunate that he's peaking nationally in the news in this really negative way, but I think it's just a phase."
Because of the popularity of Pepe amongst Mr Trump's Alt-Right supporters, Democratic presidential nominee Hillary Clinton has voiced her concern about the use of the meme.
After Ms Clinton's "basket of deplorables" comment sparked controversy earlier in September, Donald Trump Jr posted a photoshopped image taken from the film The Expendables, that included a Pepe with coiffed blonde hair – like the Republican nominee – as well as other surrogates for the New York businessman.
The Clinton campaign called the meme "horrifying".
However, Pepe the Frog's background is far more innocuous.
The first image of Pepe featured the frog uttering the phrase, "Feels good, man." And such was the philosophy of Pepe according to creator, Mr Furie.
"I find complete joy in physically, emotionally, and spiritually serving Pepe and his friends through comics," Mr Furie told the Daily Dot. "Pepe offers you complete support, attention, and embraces how capable you are of birthing your own Pepe."
"Seeing a frog always takes my breath away and brings a genuine smile to my face," he added, explaining that he wanted the readers of his comic to experience "a thrill of overwhelming beauty and joy."
Register for free to continue reading
Registration is a free and easy way to support our truly independent journalism
By registering, you will also enjoy limited access to Premium articles, exclusive newsletters, commenting, and virtual events with our leading journalists
Already have an account? sign in
Register for free to continue reading
Registration is a free and easy way to support our truly independent journalism
By registering, you will also enjoy limited access to Premium articles, exclusive newsletters, commenting, and virtual events with our leading journalists
Already have an account? sign in