A large earthquake with a preliminary magnitude of 8.0 has struck in north-central Peru, according to the US Geological Survey (USGS).
The tremor began at 2.41am and had an epicentre in a nature reserve 160 miles southeast of the northern town of Yurimaguas.
Only one person was reported to have died, possibly because the earthquake was centred 70 miles below the Earth's surface, limiting the damage it caused.
However, it still caused some buildings to collapse and knocked down power lines across northern Peru.
Tremors could be felt as far away as the capital Lima, which lies more than 800 miles further south, where people ran out of their homes in fear.
World news in pictures

Show all 50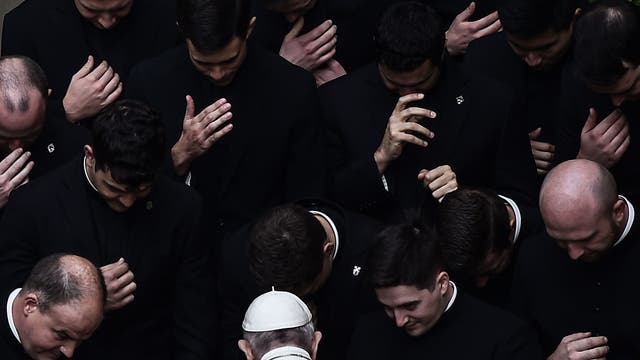 A number of people in Peru have posted videos on social media which show their houses and furniture shaking for several minutes during the earthquake.
In one video residents run into the street, crying and clinging to each other in terror.
The president of Peru Martin Vizcarra encouraged his citizens to remain calm before heading to the region worst hit with some of his government ministers in tow.
He also warned early reports suggested a bridge may have collapsed and many roads could have been made impassable.
The head of Peru's national emergency operations centre said the sole fatality confirmed so far happened when a house was crushed by a rock which fell on it in the Huarango district.
There are so far another six people known to have been injured across seven provinces, as well as three schools, three hospitals and two churches affected by the disaster.
Peruvian firefighters have tweeted images from Yurimaguas, the town closest to the epicentre, showing rubble and collapsed houses.
Rescue workers were currently combing through the wreckage looking for victims.
Power cuts were also reported in a number of Amazonian cities.
Earthquakes are a common occurrence in Peru, which lies on the Pacific's so-called Ring of Fire which sees most of the world's earthquakes and volcanoes.
In 1970 a 7.9 magnitude earthquake off the coast of Peru led to a deadly landslide which together killed about 70,000 people.
More recently, 500 people died during a similar-sized quake near Lima in 2007.
It is not yet known if there are any casualties from this latest tremor.
The shaking was strong enough to be felt beyond Peru's borders, with people in Colombia also reporting tremors from the quake.
Join our new commenting forum
Join thought-provoking conversations, follow other Independent readers and see their replies