Photographer dies after high school football players crash into her during game
Wichita Northwest High School mourns the loss of 'mentor and friend' Linda Gregory, the football team's photographer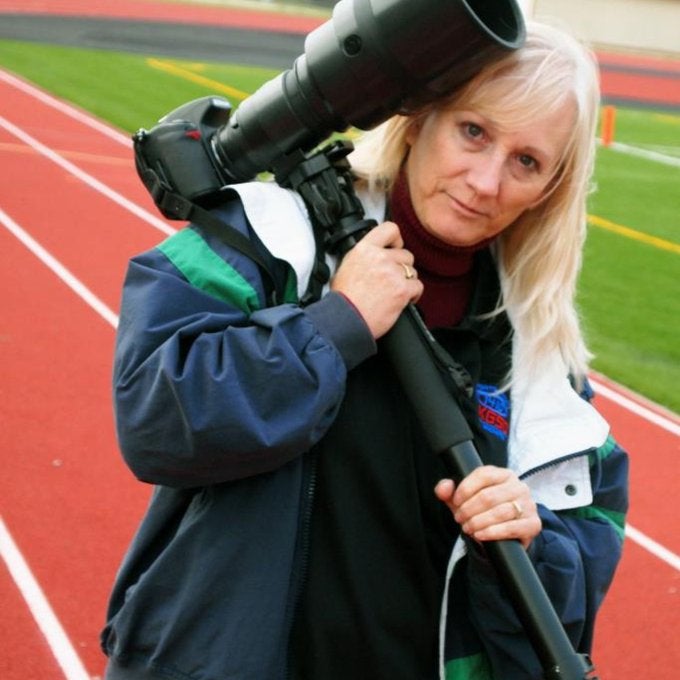 A football photographer has died after high school football players accidentally collided with her on the sidelines.
Linda Gregory was taking professional photographs of Wichita Northwest High School's team on the sidelines of a junior varsity football game, when two players who were engaged in a block made their way out of bounds and knocked her over.
The incident, which occurred on Monday night, saw Ms Gregory fall and hit her head on the concrete that surrounds the track at Bishop Carrol High School in Kansas.
Ms Gregory was rushed to the hospital by emergency services after the collision where she was put on life support.
Steve Martin, the high school's football coach confirmed on Wednesday that Ms Gregory had died. "Linda was an amazing person who breathed life into our students here at Northwest," Mr Martin said to the Eagle.
"The loss is a painful one for our team and my family, but we can only hope to learn from this tragic event," he said. "She would go out of her way to make each kid feel important in her own unique way. Her passion for kids was amazing, but it went deeper than taking pictures for Linda and Mel [her husband]. They were a part of our football team and always will be. They are family. She was a mentor and friend to some of our boys, past and present, and they are hurting right now."
The school also released a statement at the news of Ms Gregory's passing, which said: "Linda's sideline presence and constant support of our students will be sorely missed at Northwest High School."
Ms Gregory and her husband Mel were long time sports and photography fans. A friend of theirs used to coach boys basketball at Northwest back in 2014, which sparked their afffinity with all Northwest sports events, showing up to take pictures of the games. The couple since then have never missed a game, reports KWCH.
Ms Gregory also has her own professional photography business and would also give advice to student photographers she would meet at various games, reports Varsity Kansas.
New York Jets running back Breece Hall, who used to play football at Northwest back in high school took to Facebook after hearing back on Tuesday when he heard Ms Gregory was on life support. He said: "We need prayers!!! These are the most genuine, polite, kind, giving, whole-hearted people. Prayers out to you and your wonderful wife, Mel Gregory."
Mr Martin shared that the team would be remembering Ms Gregory throughout the rest of their games. "She left this world doing what she loved to do and that was being around people and expressing herself with pictures," he said. "We will be keeping her spirit alive in our program and will be wearing LG stickers on our helmets to always remind us of our number one fan."
The LG stickers that Mr Martin describes will be worn on the helmets of each Wichita Northwest Grizzly team member for the remainder of the season.
Join our commenting forum
Join thought-provoking conversations, follow other Independent readers and see their replies