Norway plane crash: Four US soldiers onboard military aircraft killed during Nato training exercise
PM Jonas Gahr Store expresses 'deepest sympathies' to families and colleagues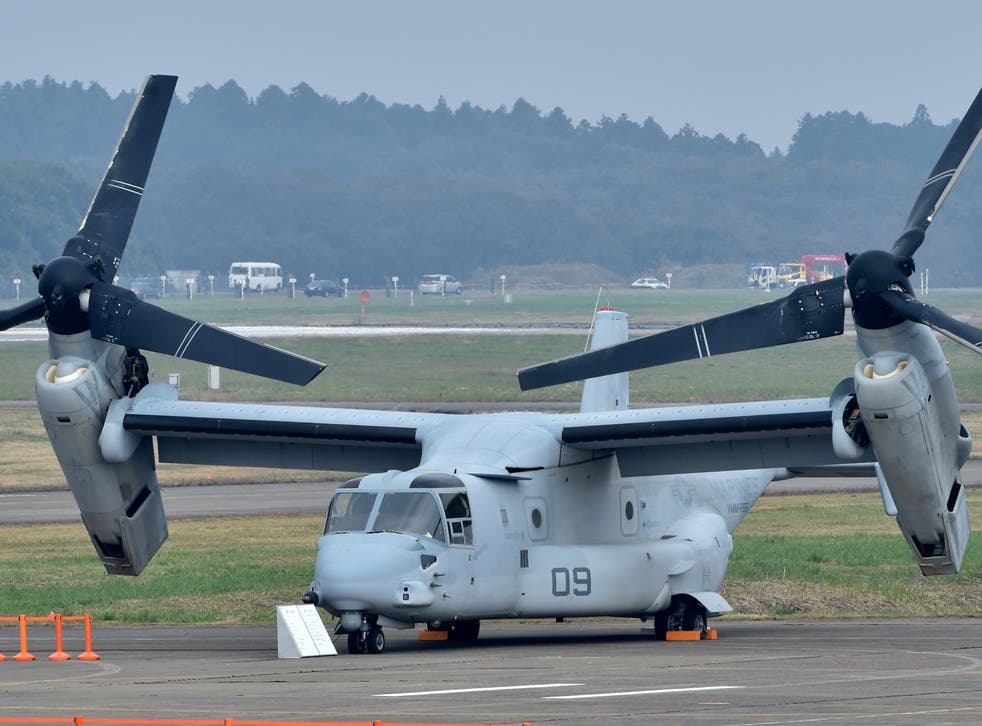 All four US soldiers who were onboard a military plane that crashed in Norway on Friday have died, according to the country's prime minister.
Jonas Gahr Store expressed his "deepest sympathies" to the families of those who were killed, writing in a tweet: "It is with great sadness we have received the message that four American soldiers died in a plane crash last night ... Our deepest sympathies go to the soldiers' families, relatives and fellow soldiers in their unit."
Rescue services reached the crash site by land early on Saturday after helicopters were unable to help due to poor weather conditions.
Local forecasts at the time suggested there were gale-force winds, heavy rain and the risk of avalanches.
The V-22B Osprey aircraft, which belonged to the US Marine Corps, "had a crew of four and was out on a training mission in Nordland County," Norway's armed forces said in a statement.
It was on its way north to Bodo, where it was scheduled to land just before 6pm on Friday, the statement added. However, a search operation was launched after the aircraft was reported missing when it failed to arrive.
Local volunteers and the Red Cross assisted with the rescue.
The annual drill – called Cold Response – is designed to prepare Nato member countries for the defence of Norway. It is unrelated to the war in Ukraine, officials stressed.
No cause was given for the crash, but the Norwegian armed forces said that Cold Response, which is due to run until 1 April, "will carry on as planned, with the measures we have to take due to the weather."
An investigation has now been launched into the crash but bad weather is said to be making it difficult for officials to make a dent in their proceedings.
Reports of the crash surfaced late on Friday, with the Norwegian military saying the plane crashed due to bad weather in a "rugged area".
US military Ospreys, whose tilting rotors can either point upward like a helicopter or forward like an airplane, have been involved in multiple crashes over the years.
In 2017, three US Marines were killed when a V-22 Osprey tilt-rotor aircraft crashed off the coast of Australia. And back in April 2000, a V-22 Marine tilt-rotor Osprey crashed during a night landing in Arizona, killing 19.
Register for free to continue reading
Registration is a free and easy way to support our truly independent journalism
By registering, you will also enjoy limited access to Premium articles, exclusive newsletters, commenting, and virtual events with our leading journalists
Already have an account? sign in
Register for free to continue reading
Registration is a free and easy way to support our truly independent journalism
By registering, you will also enjoy limited access to Premium articles, exclusive newsletters, commenting, and virtual events with our leading journalists
Already have an account? sign in
Join our new commenting forum
Join thought-provoking conversations, follow other Independent readers and see their replies