Police discover underground tunnel used to transport drugs by rail across US-Mexico border
The passage is believed to be one of the longest ever built beneath the border and is thought to have been constructed for the notorious Sinaloa cartel, which controls the region's drug trade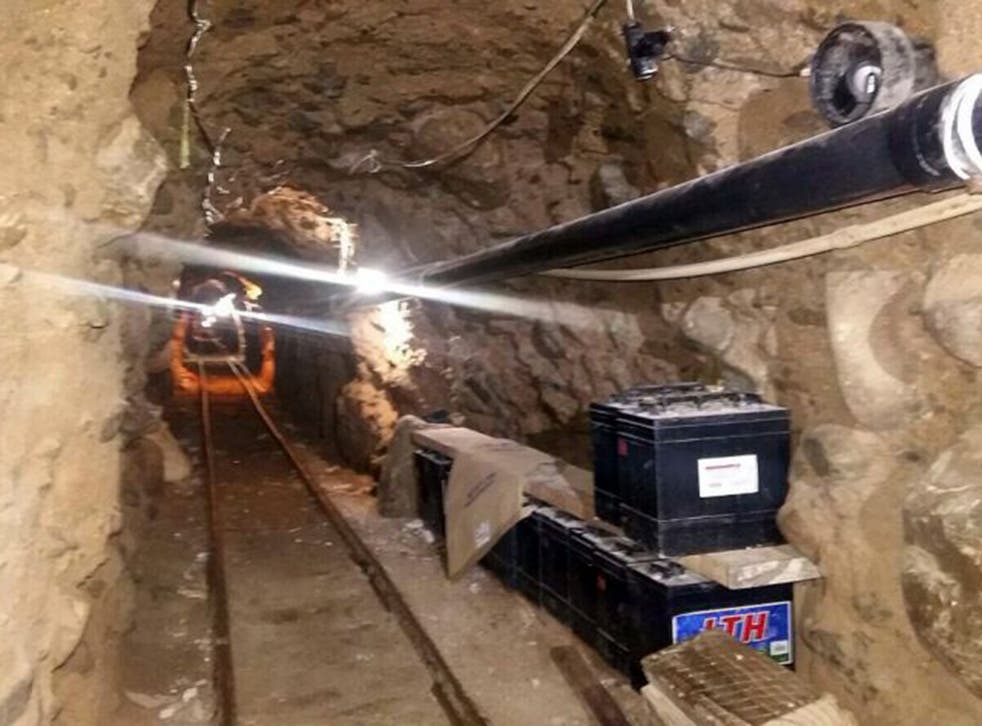 Police in Mexico and the US have uncovered an 875-yard drug-smuggling tunnel linking the Mexican city of Tijuana to San Diego in California, seizing 12 tons of marijuana and arresting 22 people in the process.
The passage, believed to be one of the longest ever constructed beneath the US-Mexican border, and connecting two warehouses in the neighbouring cities, is approximately 10m underground. It has lighting, ventilation and a rail system to move loads from one end to the other. It is said to have been built for the Sinaloa cartel, which controls the region's drug trade.
Sinaloa boss Joaquin "El Chapo" Guzman escaped from a maximum security Mexican prison in July, apparently via a tunnel almost a mile long that led from his cell to a nearby warehouse.
The simultaneous raids on the tunnel's two entrances were reportedly the climax of a six-month investigation. According to US law enforcement, an undercover agent for the Department of Homeland Security had told the smugglers he would furnish them with a warehouse and transportation if they paid $10,000 (£6,515) per truckload of drugs he moved. When Mexican federal police arrived at the warehouse, they detained the suspects "without firing a single shot", the country's National Security Commission said.
The tunnel is thought to have been newly operational. "We see a super tunnel open for business once every year or so," said Laura Duffy, the US Attorney for Southern California. "Just when they think they're ready to move, we put it out of business."
The passage uncovered on Wednesday was the 10th such tunnel found in the area since 2006; several featured electric rail cars and hydraulic lift mechanisms. Smugglers supposedly prefer to tunnel to California than to Arizona, as south-California soil is firmer and needs less support.
Most of the passages under the border were built by Guzman's cartel, past masters at the craft of tunnel-building. Guzman, who has been on the run since his escape in July, came close to recapture this month after he was spotted by Mexican special forces near Cosala, a town in the mountains of his home state, Sinaloa. Authorities believe he broke his leg after falling off a small cliff as he fled his pursuers.
The suspects arrested in the cross-border raids told police they were working for an organised crime group from Jalisco state, home to the notorious Jalisco New Generation cartel, a ruthless group allied to the Sinaloa cartel.
Register for free to continue reading
Registration is a free and easy way to support our truly independent journalism
By registering, you will also enjoy limited access to Premium articles, exclusive newsletters, commenting, and virtual events with our leading journalists
Already have an account? sign in
Register for free to continue reading
Registration is a free and easy way to support our truly independent journalism
By registering, you will also enjoy limited access to Premium articles, exclusive newsletters, commenting, and virtual events with our leading journalists
Already have an account? sign in
Join our new commenting forum
Join thought-provoking conversations, follow other Independent readers and see their replies