Florida police chief instructed officers to pin crimes on innocent black people, probe finds
A 2014 investigation found officers were encouraged to arrest innocent minorities and charge them with unsolved crimes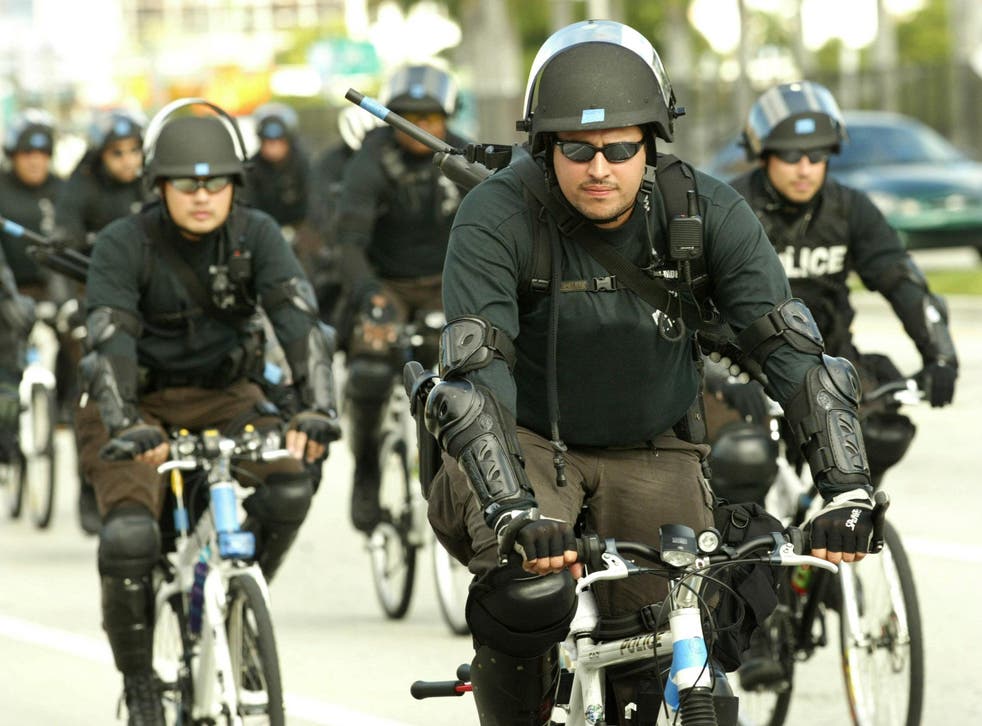 A former police chief and two officers in Florida were charged with federal civil rights violations after pinning a series of burglaries on an innocent black teenager.
Biscayne Park police department's former chief Ray Atesanio, as well as officers Raul Fernandez and Charlie Dayoub, plead not guilty this week to falsely charging a black Haitian-American teenager with burglary. But an internal probe of the department in 2014 found that, under the ex-police chief, officers were encouraged to charge nearby blacks with reported crimes.
Documents reviewed by the Miami Herald reveal how Mr Atesanio was allegedly hoping to bolster data surrounding successful convictions for crimes in Biscayne Park by charging innocent minorities who may have past criminal records.
"If they have burglaries that are open cases that are not solved yet, if you see anybody black walking through our streets and they have somewhat of a record, arrest them so we can pin them for all the burglaries," Anthony De La Torre, who worked in the department under Mr Atesanio, told outside investigators conducting the probe. "They were basically doing this to have a 100 per cent clearance rate for the city."
A third of the police department told investigators they were regularly encouraged to file false charges and felt pressure to oblige with such demands.
Heidi Shafran, a local community leader and village manager at Biscayne Park, said officers were targeting racial minorities under Mr Atesanio.
West Midlands police caught on video telling black man 'you'd be the first person I'd shoot' new blurred
"The letters said police were doing a lot of bad things," she told the Herald. "It said police officers were directed to pick up people of colour and blame the crimes on them."
Erasmus Banmah, a 35-year-old black transient man, was also arrested in the region under Mr Atesanio's tenure and charged with five counts of vehicle burglaries in a single day. All of the charges were dropped and an investigation remains ongoing after the local authorities failed to cooperate in the case.
The two officers charged alongside Mr Atesanio are reportedly cooperating with authorities in their efforts to build their case against the former police chief, who oversaw a 12-person department.
World news in pictures

Show all 50
Successful conviction rates under the ex-police chief skyrocketed, with nearly each case being resolved every year and the vast majority of those charged being African-American males.
However, those numbers plumetted when Mr Atesanio resigned amid the 2014 probe. That year, zero of the 19 crime cases were been closed.
Mr Atesanio had a history of celebrating his own apparent successes, claiming at one commission meeting in 2013, "This year, as we stand, we have a 100 per cent clearance rate on burglary cases in the village of Biscayne Park. This is the first time I've ever known that to happen in any department that I've ever been in."
Join our new commenting forum
Join thought-provoking conversations, follow other Independent readers and see their replies