More than 100,000 years of life lost to police violence between 2015 and 2016 in US, study finds
Young people and people of colour disproportionately affected by police killings
Emily Shugerman
New York
Tuesday 08 May 2018 01:26 Comments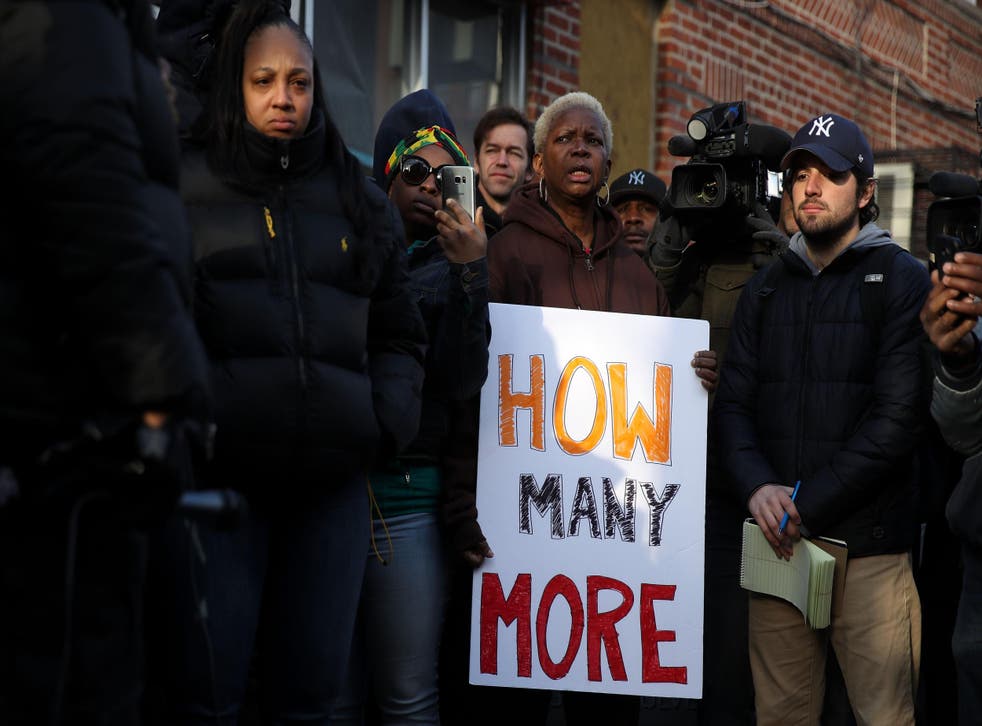 More than 100,000 years of life were lost to police violence between 2015 and 2016, according to a new study.
Researchers took an original approach to studying the effects of police violence – including shootings, use of tasers, and physical force – by estimating how many years of life were lost at the hands of law enforcement.
Using a public database of police killings, the researchers subtracted the age of the victims from their standard life expectancy to find out how many years of their life were taken. The findings, the researchers wrote, were "substantial".
There were 1,146 police killings in 2015 and 1,092 in 2016, according to the researchers, resulting in more than 112,129 hours of life lost over the two years. The number of years lost were comparable to those from meningitis or maternal mortality, and higher than those from unintentional firearm injuries, the researchers wrote.
The study – from researchers at Harvard, the University of California at Berkeley, and the University of California, Los Angeles – also found that non-white people and young people were disproportionately affected by police violence.
Body cam video released from police shooting that killed 6-year-old
People of colour comprise 38.5 per cent of the US population, but 51.5 per cent of years of life lost to police violence, according to the study. People aged 25 to 34 years suffered the most deaths at the hands of police, and lost the most years of life on average.
"Framing police violence as an important cause of deaths among young adults (which implicitly also means people of colour) provides another valuable lens to motivate prevention efforts," the researchers wrote, adding that they hoped the numbers could serve as a tool for public health, legal, and political leaders.
The numbers were compiled from the Guardian's 'The Counted' database, which tracks police killings using police reports, stories from news outlets, and other independent reporting systems. Previous studies have found the database to be more reliable than the National Vital Statistics System.
Black Lives Matter organises march to Trump Tower

Show all 15
'The Counted' only provides data as recently as 2016. But a similar project, Mapping Police Violence, found that 1,147 people were killed by police last year. Nearly 150 were unarmed.
Movements like Black Lives Matter have brought attention to police shootings of unarmed, black men in recent years. Most recently, demonstrators took to the streets in honour of Stephon Clark, a 22-year-old black man from Sacramento, California, whose family says he was facing away from police when he was gunned down on 18 March.
Shootings of unarmed people such as Mr Clark have declined since 2015, according to the Washington Post. Criminologists who reviewed the data said the level of racial bias in these shootings also appeared to have declined, but not disappeared.
"These trends mark significant changes," Geoff Alpert, a professor in the Department of Criminology and Criminal Justice at the University of South Carolina, told the Post. "What we don't understand yet is what's causing these numbers to move downward."
Register for free to continue reading
Registration is a free and easy way to support our truly independent journalism
By registering, you will also enjoy limited access to Premium articles, exclusive newsletters, commenting, and virtual events with our leading journalists
Already have an account? sign in
Join our new commenting forum
Join thought-provoking conversations, follow other Independent readers and see their replies