Pope Francis US visit: Republicans want pontiff to shut-up about issues such as climate change, guns and capitalism
One Republican is boycotting Francis' address to Congress
Andrew Buncombe
Wednesday 23 September 2015 09:32 Comments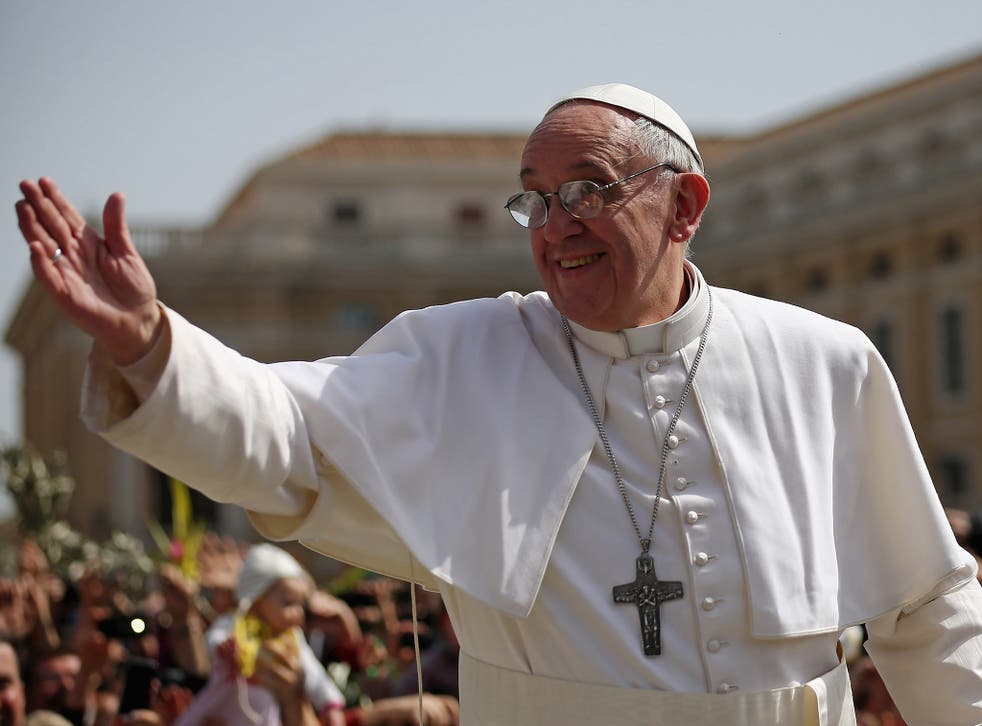 A Congressman from Arizona has said he will boycott Pope Francis' historic address this week as fears grow among Republicans about the pontiff expressing liberal or even left wing views.
As the nation readies for the pope's six-day visit – the first time Francis will have set foot in the US – there is swelling unease among conservatives about what he may say on issues such as climate change, capitalism and social justice. Others are anxious the pope's religious visit will become embroiled in politics.
Republican Paul Gosar, who represents Arizona's 4th congressional district, said he was boycotting Thursday's address to the Joint Houses of Congress – the first by any pope and to be broadcast around the world - because the pope had chosen to "act and talk like a leftist politician".
Writing on the conservative website Townhall.com, Mr Gosar added: "It is my hope that Pope Francis realises his time is better spent focusing on matters like religious tolerance and the sanctity of all life."
Even though the pope was invited to address the two houses by both minority leader Nancy Pelosi and Republican Speaker, John Boehner, it is conservatives who are most anxious about the occasion.
Pope Francis, a 78-year Argentine who assumed office in 2013, said this summer said he supported the "very consistent scientific consensus" that climate change was caused by humans and has expressed a liberal world view on other issues.
CNN said that in interviews, a large number of Republican politicians said they wanted the leader of the Catholic Church to keep a lid on his progressive attitudes on climate change, immigration, guns and capitalism.
"I think it's totally inappropriate that the Pope is weighing in on all the real sensitive, far-left issues," said Oklahoma Republican James Inhofe, one of the most conservative senators and a climate change sceptic.
"I'm not a Catholic, but my Catholic friends in Oklahoma are not real pleased with it."
More than 50 per cent of Americans have a favourable view of Pope Francis. But his view to the US and the comments he makes here will be seized on by people around the world, particularly in Latin America.
This is all the more so given that Francis will be arriving in the US from Cuba, where he has spent four days touring the country and meeting with its political leaders, including former president Raul Castro.
As it was, the Vatican played an important role in helping broker the diplomacy between the US and Cuba – publicly unveiled last December and which has led to a realignment of the relationship between the two countries.
Earlier this year, the House hosted a controversial speech to both chambers by Israeli Prime Minister Benjamin Netanyahu, who protested against President Obama's proposed deal with Iran. He said the pope's speech will be "one of the biggest events in the history of the Capitol".
A number of voices have expressed the hope that Francis will not find himself at the centre of a political tug-of-war. Jon O'Brien, president of the group Catholics for Choice said millions of people were very excited ahead of his visit.
"It's more pastoral than political. He will speak more about spirituality. He will speak to shared values rather than policies," he said.
Archbishop Joseph Kurtz, President of the US Conference of Catholic Bishops, said: "He's coming as a pastor of souls and a prophet, not a politician."
Register for free to continue reading
Registration is a free and easy way to support our truly independent journalism
By registering, you will also enjoy limited access to Premium articles, exclusive newsletters, commenting, and virtual events with our leading journalists
Already have an account? sign in
Join our new commenting forum
Join thought-provoking conversations, follow other Independent readers and see their replies