Pope Francis visit to Mexico offers faint hope to state ravaged by drug wars
Forty priests are among the tens of thousands dead in the region where children mimic narcos amid unending violence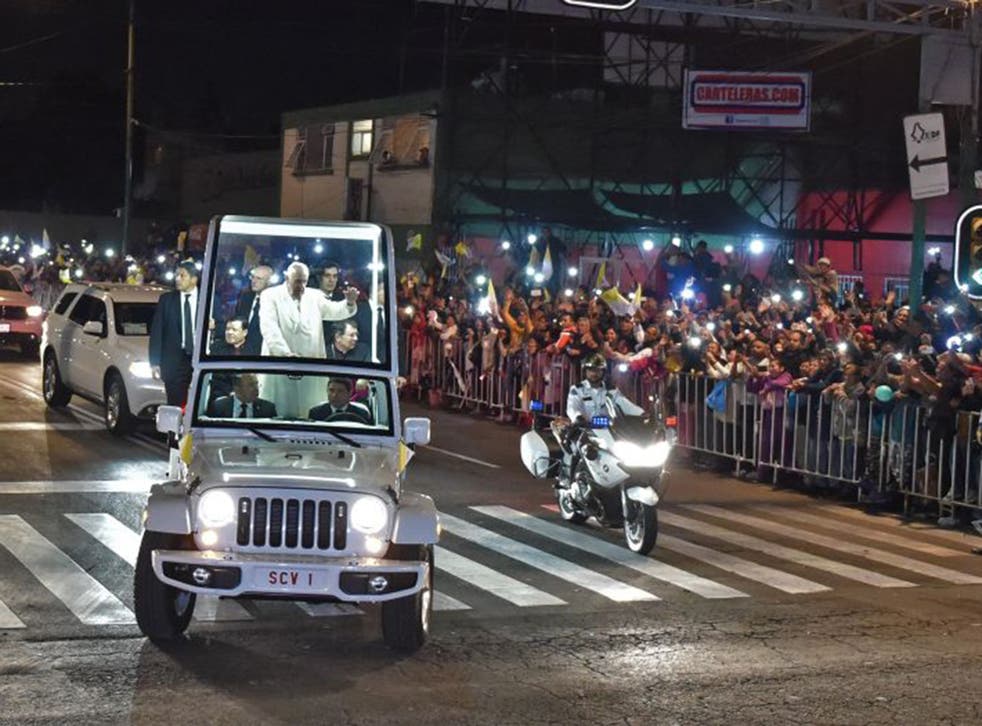 In Nueva Italia, a small agricultural town torn apart by a decade of fighting between drug cartels, vigilantes and the Mexican army, the local parish priest has been left feeling increasingly isolated as he tries to point locals towards an alternative to a life of crime.
"People will turn to whatever they can to get by. Many people here, crippled by debt, end up with a rifle in their hands, taking orders from a boss," Father Patricio Madrigal Díaz said. "Even the children imitate narcos and pretend to shoot each other. They use the same language as the criminals and recreate the violence that occurs here."
The arrival of Pope Francis in the troubled western state of Michoacán, which encompasses Nueva Italia, on 16 February brings the faintest hope of a brighter future.
"I think his visit can intensify the humble attempts by local parishes to prioritise peace and provide support for victims and children," Father Madrigal said. "There's no one else for us to turn to. We can't associate ourselves with the criminals or the government. People think they're one and the same."
Pope Francis began his five-day visit in earnest on 13 February, speaking to Mexico's bishops at the Cathedral of the Assumption in Mexico City, and before that meeting with Mexican officials and foreign ambassadors at the National Palace. In a speech to the assembled diplomats, he was expected to touch on some of the grave problems facing Mexico stemming from drug violence and poverty.
To that end, having personally decided to visit Ciudad Juárez, once the world's most murderous city, and Morelia, the Michoacán state capital, during his five-day tour of Mexico, Pope Francis clearly aims to galvanise church support for the locals who struggle daily against the cartels. Speaking ahead of his visit, the Pope explicitly exhorted the Mexican people to "fight every day against corruption, against drug trafficking, against war, against division, against organised crime and against human trafficking".
Michoacán has been at the centre of Mexico's drug war since cartel gunmen rolled seven severed heads across the dance floor at a bar in the city of Uruapan in September 2006. Upon taking office that December, then president Felipe Calderón, a Michoacán native, began an ill-fated crusade against the cartels by sending the army into the state.
Almost 10 years on, more than 100,000 Mexicans have been killed. Michoacán, home to the pseudo-religious La Familia and Knights Templar cartels, remains disputed by warring gangs.
"The only real reason [for the Pope] to visit Morelia is because of the narco violence. It's been the epicentre of the drug war and it's where you have certain parish priests on the front line," said Dr Andrew Chesnut, a leading expert on religion in Latin America. "I think it will inspire those on the front line but I don't think we'll see any direct reduction in violence because of this visit. Realistically, I don't think he's going to be converting any narco hearts."
Pope Francis gives life advice: in pictures

Show all 10
According to the Catholic Multimedia Centre, 40 priests have been murdered in Mexico in the last decade, with Michoacán among the worst-hit states. The centre, which links the killings to the priests' defence of migrants and their opposition to drug trafficking, also reports a 100 per cent rise in the kidnapping and torture of clergymen in the past three years.
The Catholic church in Mexico "could do more" to protect its priests and has sometimes turned a blind eye to donations from known drug traffickers, Dr Chesnut said. Yet Pope Francis has begun to address these issues, he noted, by elevating Alberto Suárez Inda, the Archbishop of Morelia, to cardinal last year, primarily because of his outspokenness against the cartel violence.
By 2013, the situation in Michoacán was so desperate that vigilante groups started springing up in an attempt to expel the cartels from their communities. The vigilantes liberated many towns across this lawless, mountainous region, including Nueva Italia, but their successes were undermined by accusations that they had been infiltrated by rival gangs.
The Mexican government eventually intervened by imprisoning the movement's most prominent leader and converting many of the vigilantes into members of a rural police force. Father Madrigal said the government's actions only made things worse: "They perverted the movement and left us in chaos. The situation is no better than it was before. There are threats and constant killings, kidnappings, robberies and highway blockades."
With little faith that the authorities are capable of restoring order in Michoacán, Father Madrigal's only hope is that the papal visit will encourage parishes across the region to provide victims with refuge and legal support, and give young people the guidance and training they need to escape poverty and find respectable work. "We must not give in or let our guard down," he said, "It must be an effective but non-violent struggle."
Register for free to continue reading
Registration is a free and easy way to support our truly independent journalism
By registering, you will also enjoy limited access to Premium articles, exclusive newsletters, commenting, and virtual events with our leading journalists
Already have an account? sign in
Register for free to continue reading
Registration is a free and easy way to support our truly independent journalism
By registering, you will also enjoy limited access to Premium articles, exclusive newsletters, commenting, and virtual events with our leading journalists
Already have an account? sign in
Join our new commenting forum
Join thought-provoking conversations, follow other Independent readers and see their replies