'The tactics of a dictator': Portland leaders demand removal of masked federal agents sent by Trump admin following spate of arbitrary arrests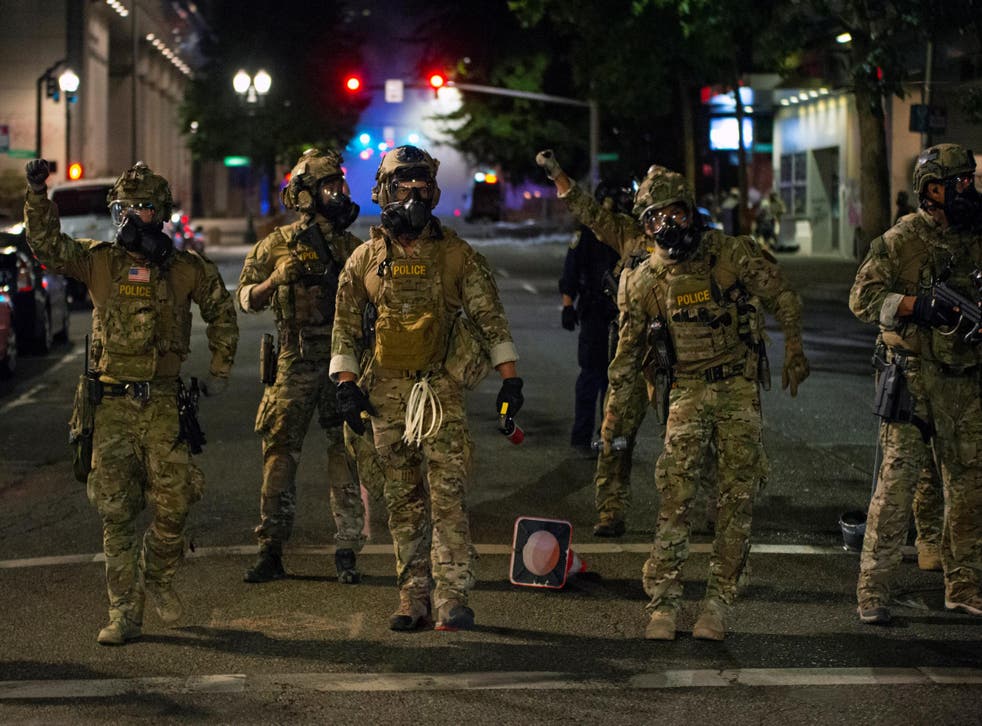 Elected officials in Portland have called on the Trump administration to remove militarised federal agents from the city following reports of protesters being arbitrarily detained, likening their actions to the "tactics of a government led by a dictator".
Federal law enforcement officers driving unmarked vehicles and wearing camouflage have been seizing people from the street in recent days in Portland, Oregon, which has seen nightly protests for racial justice since the police killing of George Floyd.
Agents from the US Customs and Border Protection, Immigration and Customs Enforcement, and the Department of Homeland Security's Federal Protective Service have deployed in the city ostensibly to protect federal property. But video and witness testimony show they have far exceeded that mandate and have detained people without cause far from the buildings they are supposed to be protecting.
"The message crafted by the Trump administration to justify this escalation of force and intimidation in Portland borders on propaganda, apparently to serve the president's perceived political interests. This is unacceptable under our Constitution," said a letter signed by Oregon Senators Ron Wyden and Jeff Merkley, together with House Representatives Earl Blumenauer and Suzanne Bonamici.
The letter, which was addressed to acting Department of Homeland Security secretary Chad Wolf, who deployed the agents, and US attorney general William Barr, accuses the federal agents of operating without identifying insignia in an apparent effort to evade accountability, and of "snatching people off the street with no apparent reason."
"These actions are out of control [...] They are more reflective of tactics of a government led by a dictator, not from the government of our constitutional democratic republic," the officials wrote.
They were joined by the city's mayor in calling for the removal of the federal troops.
"Keep your troops in your own buildings, or have them leave our city," Mayor Ted Wheeler said at a news conference on Friday.
"This is part of the core media strategy out of Trump's White House: to use federal troops to bolster his sagging polling data," Mr Wheeler said. "And it is an absolute abuse of federal law enforcement officials."
Federal officers have charged at least 13 people with crimes related to the protests so far, Oregon Public Broadcasting reported Thursday. Some have been detained by the federal courthouse, which has been the scene of protests. But others were grabbed blocks away.
One video showed two people in helmets and green camouflage with "police" patches grabbing a person on the sidewalk, handcuffing them and taking them into an unmarked vehicle.
"Who are you?" someone asks the pair, who do not respond. At least some of the federal officers belong to the Department of Homeland Security.
Customs and Border Protection said in a statement that its agents had information indicating the person in the video was suspected of assaulting federal agents or destroying federal property.
In another case, Mark Pettibone, 29, said a minivan rolled up to him around 2 a.m. Wednesday and four or five people got out "looking like they were deployed to a Middle Eastern war."
Mr Pettibone told The Associated Press he got to his knees as the group approached. They dragged him into the van without identifying themselves or responding to his questions and pulled his beanie over his eyes so he couldn't see, he said.
"I figured I was just going to disappear for an indefinite amount of time," Mr Pettibone said.
Mr Pettibone said he was put into a cell and officers dumped the contents of his backpack, with one remarking: "Oh, this is a bunch of nothing."
After he asked for a lawyer, Mr Pettibone was allowed to leave.
Acting DHS secretary Wolf justified the deployment of the federal agents with a press release that detailed a litany of alleged crimes carried out by "violent anarchists". Many of the incidents listed are graffiti of federal property or removing fences.
"The city of Portland has been under siege for 47 straight days by a violent mob while local political leaders refuse to restore order to protect their city," said the release by Mr Wolf.
"Each night, lawless anarchists destroy and desecrate property, including the federal courthouse, and attack the brave law enforcement officers protecting it."
Mr Wolf visited Portland on Thursday and again called the demonstrators, who are protesting racism and police brutality, "violent anarchists."
The ACLU of Oregon said the federal agents appear to be violating people's rights, which "should concern everyone in the United States."
"Usually when we see people in unmarked cars forcibly grab someone off the street we call it kidnapping," said Jann Carson, interim executive director of the ACLU of Oregon. "The actions of the militarised federal officers are flat-out unconstitutional and will not go unanswered."
Oregon attorney general Ellen Rosenblum said she would file a lawsuit in federal court against the Department of Homeland Security, the Marshals Service, Customs and Border Protection and Federal Protection Service alleging they have violated the civil rights of Oregonians by detaining them without probable cause. She will also seek a temporary restraining order against them.
— With agencies
Register for free to continue reading
Registration is a free and easy way to support our truly independent journalism
By registering, you will also enjoy limited access to Premium articles, exclusive newsletters, commenting, and virtual events with our leading journalists
Already have an account? sign in
Register for free to continue reading
Registration is a free and easy way to support our truly independent journalism
By registering, you will also enjoy limited access to Premium articles, exclusive newsletters, commenting, and virtual events with our leading journalists
Already have an account? sign in
Join our new commenting forum
Join thought-provoking conversations, follow other Independent readers and see their replies