Donald Trump tells flood survivors who have fled homes: 'Have a good time!'
The President struck an upbeat note as he posed for selfies, high-fived children and joked about his 'big hands' during a trip to the NRG Center in Houston, which is being used to temporarily house those affected by the natural disaster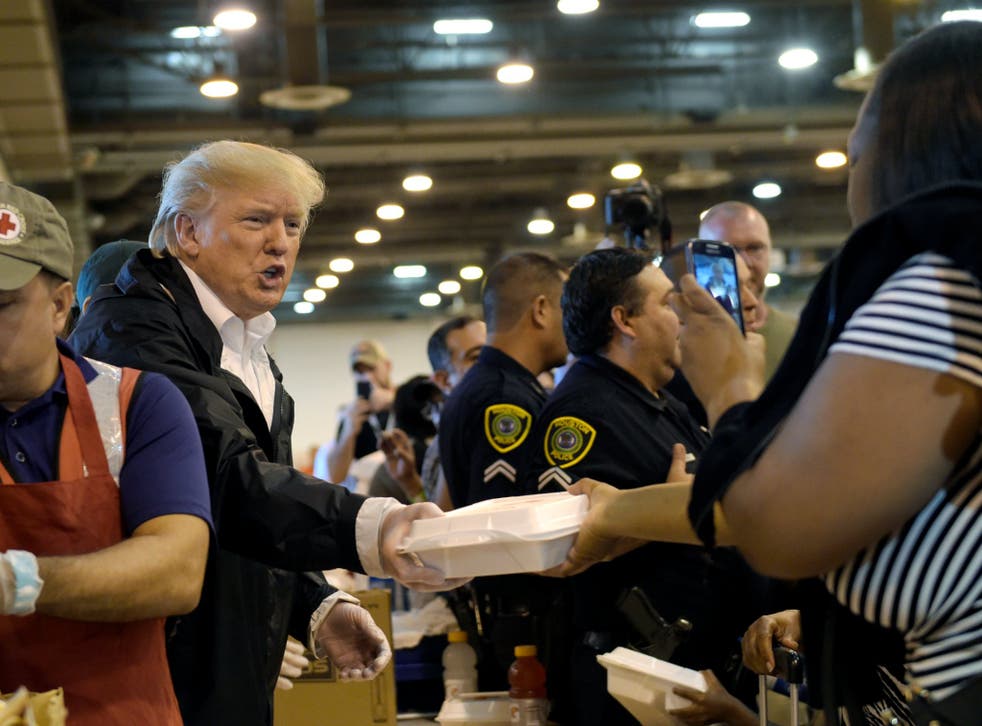 Donald Trump told Hurricane Harvey survivors to "have a good time" as he visited an emergency centre where hundreds of Texans were sheltering after losing their homes and relatives in the devastating storm.
The President struck an upbeat note as he posed for selfies, high-fived children and joked about his "big hands" during a trip to the NRG Center in Houston, which is being used to temporarily house those affected by the natural disaster.
Mr Trump's visit on Saturday came after a week of historic flooding in the area that killed at least 40 people, displaced tens of thousands and left swaths of the city underwater.
Emergency workers and volunteers in the Houston area were still dealing with the destruction and burying the dead as the US leader smiled for television cameras and told reporters he had seen "a lot of happiness" after the hurricane.
Nearby, the city of Beaumont, Texas, was struggling to restore its drinking water.
Firefighters in Crosby, outside of Houston, were warily eyeing the Arkema chemical plant, twice the scene of explosions.
Floodwaters had inundated at least seven highly contaminated toxic waste sites in the Houston area, raising concerns about creeping pollution.
Mr Trump was criticised for having minimal interaction with residents and offering few expressions of concern during a trip to Texas on Thursday.
Donald Trump's international Presidential trips

Show all 22
But he was greeted warmly by volunteers and children at the NRG Center on Saturday and helped out by handing out hot dogs and loading relief supplies into vehicles.
"As tough as this was, it's been a wonderful thing," he said of the response to the storm.
"I want to congratulate everybody that's worked so hard. It's been an incredible five days, six days. It seems like it's been much longer than that, but actually it's going so well that it's going fast, in a certain sense."
After hugging survivors in the emergency shelter, Mr Trump smiled and said: "Have a good time, everybody!"
During a brief stop on a Texas street that had just become safe to use again, the President spotted a supporter wearing a "Trump is my president" T-shirt and pulled him in front of television cameras at the scene.
"Look at this guy," he said. "You just became famous."
The White House has asked Congress to approve a $7.9bn Harvey relief down payment when lawmakers return to Washington on Tuesday.
Additional reporting by Associated Press
Register for free to continue reading
Registration is a free and easy way to support our truly independent journalism
By registering, you will also enjoy limited access to Premium articles, exclusive newsletters, commenting, and virtual events with our leading journalists
Already have an account? sign in
Register for free to continue reading
Registration is a free and easy way to support our truly independent journalism
By registering, you will also enjoy limited access to Premium articles, exclusive newsletters, commenting, and virtual events with our leading journalists
Already have an account? sign in
Join our new commenting forum
Join thought-provoking conversations, follow other Independent readers and see their replies