President Obama declares war on war
Obama warned that the world is facing a 'cycle of conflict'
Christopher Hooton
Thursday 25 September 2014 12:27 Comments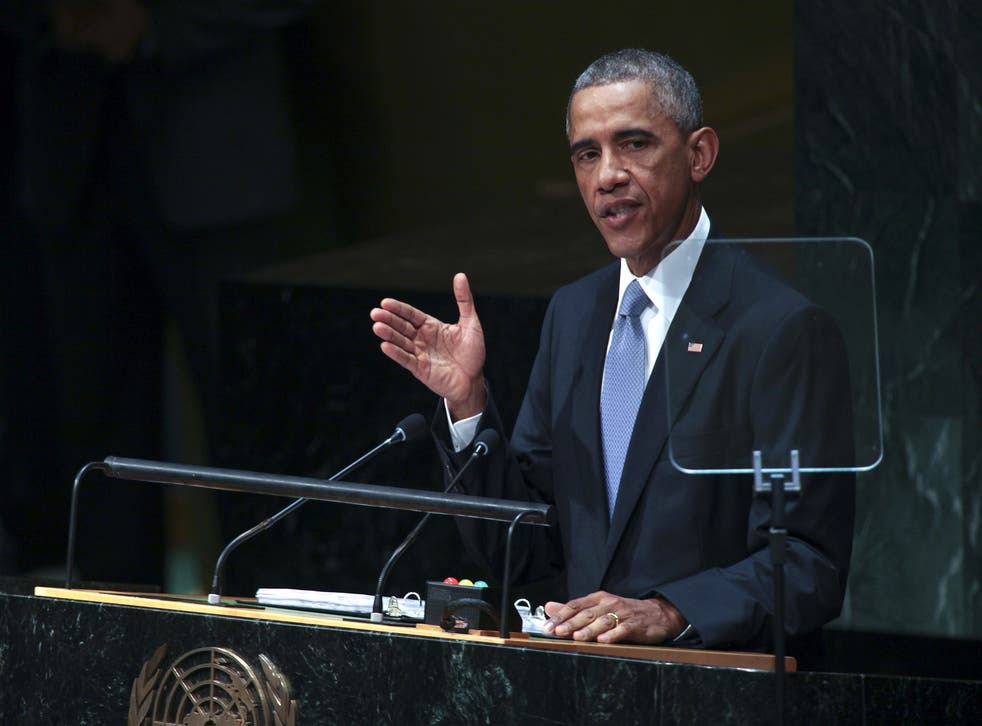 You'll remember the "war on terror" and the "war on drugs", well now President Barack Obama has declared a "war on war" during a speech at the UN General Assembly.
The phrase sums up the predicament of a world embroiled in numerous complex and inextricable wars.
Obama urged all countries and religions to reject extremist ideologies on Wednesday, lest the world end up in a "cycle of conflict".
Quoting influential Muslim cleric Sheikh Abdullah bin Bayyah, he suggested that a "war on war" was needed to ensure a peaceful future:
"The ideology of Isil or al Qaeda or Boko Haram will wilt and die if it is consistently exposed, confronted, and refuted in the light of day. Look at the new Forum for Promoting Peace in Muslim Societies – Sheikh bin Bayyah described its purpose: 'We must declare war on war, so the outcome will be peace upon peace.' Look at the young British Muslims, who responded to terrorist propaganda by starting the 'notinmyname' campaign, declaring – 'Isis is hiding behind a false Islam.' Look at the Christian and Muslim leaders who came together in the Central African Republic to reject violence – listen to the Imam who said, 'Politics try to divide the religious in our country, but religion shouldn't be a cause of hate, war, or strife.'"
(passage at 22:32 in video)
Taking aim at the Islamic State, Obama condemned the group as a "network of death", saying that "the only language understood by killers like this is the language of force."
His annual visit to the UN comes shortly after the US began bombing Syria in a bid to disrupt the Islamic State.
Timeline: The emergence of Isis

Show all 40
Earlier in the month, Obama became the fourth president in a row to go on TV and announce airstrikes in Iraq.
Register for free to continue reading
Registration is a free and easy way to support our truly independent journalism
By registering, you will also enjoy limited access to Premium articles, exclusive newsletters, commenting, and virtual events with our leading journalists
Already have an account? sign in
Join our new commenting forum
Join thought-provoking conversations, follow other Independent readers and see their replies