Inmates launch massive nationwide strike to protest 'modern slavery' in US prison system
Prisoners in at least 24 states are participating in the strike on the 45th anniversary of the Attica prisoner uprising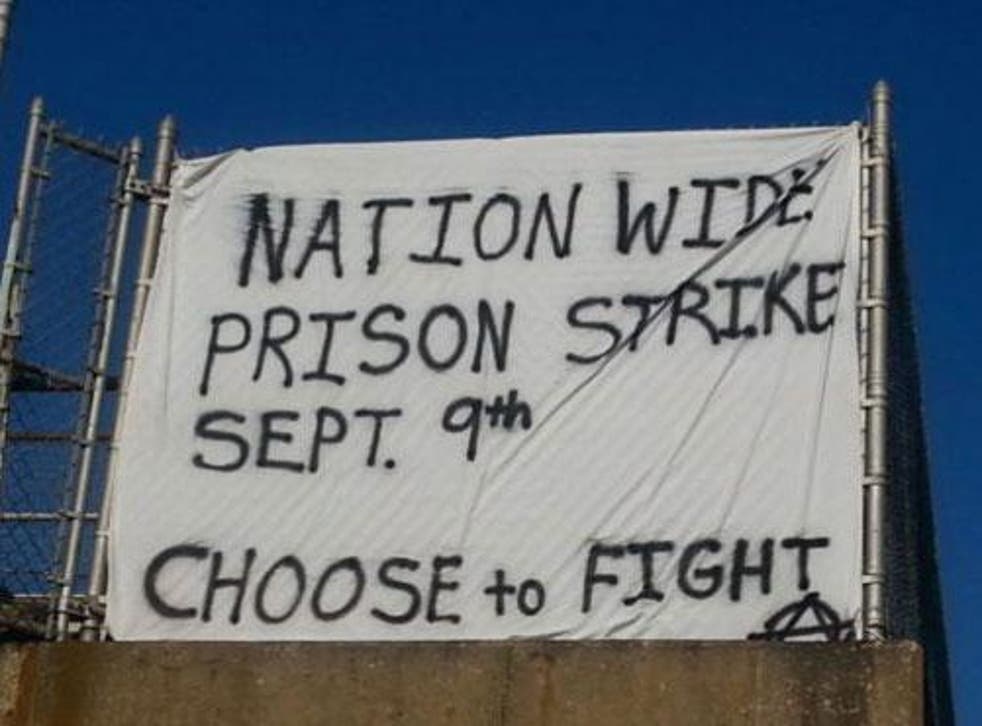 Inmates in as many as 40 prisons in 24 states are refusing to go to work to protest what many believe is "modern-day slavery" and calling for reforms in the US prison system.
The strike comes on the 45th anniversary of the Attica prison uprising, when inmates in the notorious New York correctional facility revolted and demanded better living conditions. But many of the reforms demanded during the Attica protest still remain among the demands of the prisoners today.
Organisers with the Incarcerated Workers Organising Committee and the prisoner-run Free Alabama Movement have helped prisoners band together to decry the state of labour in prison – for which inmates make only 12 to 40 cents hourly, according to the Federal Bureau of Prisons.
"Slavery is alive and well in the prison system, but by the end of this year, it won't be anymore," the IWOC wrote in a call to action. "This is a call to end slavery in America."
But the prisoners' demands go beyond fair wages for work – which is, in some cases, performed for private, for-profit companies like McDonald's, Victoria's Secret, and IBM, according to organisers. Prisoners in various states are calling for wider reforms within the incarceration system.
"Different prisoners have different goals and aims," Brianna Peril, co-chair of the IWOC and former prisoner, told The Independent. "It's looking like it's going to be a state-by-state thing."
South Carolina prisoners issued their list of demands Friday afternoon, which included a call for state minimum wage for general labour, fairer parole practises, the reinstitution of educational courses for high school diplomas, lowered commissary costs, among others.
Ms Peril added that some prisoners are demanding an improvement to "horrendous" meals and changes to solitary confinement policies.
"People are left in solitary confinement for years on end, which is torture, literally," she said.
The precise number of prisoners participating in the strike is unclear due to the nature of the response by authorities at the correctional facilities. According to Ms Peril, many of the prisons engage lockdown protocols even in the event of nonviolent protests, barring inmates from communicating with the outside world. Advocates are calling prisons across the country for reports of lockdowns.
Still, organisers are able to share periodic updates from the inside via mobile phones and social media.
Prisoners at Alabama's Holman Prison reported confirmation of their participation, according to Support Prisoner Resistance.
"12.01 Sept 9th, all inmates at Holman Prison refused to report to their prison jobs without incident," the report read. "With the rising of the sun came an eerie silence as the men at Holman laid on their racks reading or sleeping. Officers are performing all tasks."
The strike follows the success of the Free Alabama Movement in May. Prisoners in at least five prisons in Alabama coordinated a strike to call attention to the state of labour in the facilities, which protesters said were exploitative and led to recidivism. Two prisons were locked down as a result of the protests.
"Recidivism is guaranteed in living conditions like these," founder of the movement Melvin Ray told ABC News from inside the William E Donaldson Correctional Facility. "If I want to smoke crack, I can smoke crack right now. But as I'm talking to you, there are 96 men on both sides of me and not a single one of them can get access to a book."
The Alabama Department of Corrections denied Mr Ray's claim about the lack of books.
As the demands of inmates continue to seep out from behind bars, the message in prisons across the US remains clear: change must come.
Ms Peril called for an alternative to incarceration, going so far as to suggest abolishment of the prison system altogether.
"It can't be any worse than what we have now," she said, "If only we had a social service instead of punishment and torture. We want rehabilitation – or just plain 'habilitation'."
Prisoners want "basic life skills, education," she added. "All of those things are really important to people in prisons."
Register for free to continue reading
Registration is a free and easy way to support our truly independent journalism
By registering, you will also enjoy limited access to Premium articles, exclusive newsletters, commenting, and virtual events with our leading journalists
Already have an account? sign in
Register for free to continue reading
Registration is a free and easy way to support our truly independent journalism
By registering, you will also enjoy limited access to Premium articles, exclusive newsletters, commenting, and virtual events with our leading journalists
Already have an account? sign in