Pro-gun Republican Marco Rubio re-considering running for senate after Orlando attacks
After the massacre at gay nightclub Pulse, the Florida senator and failed presidential candidate is re-considering his plans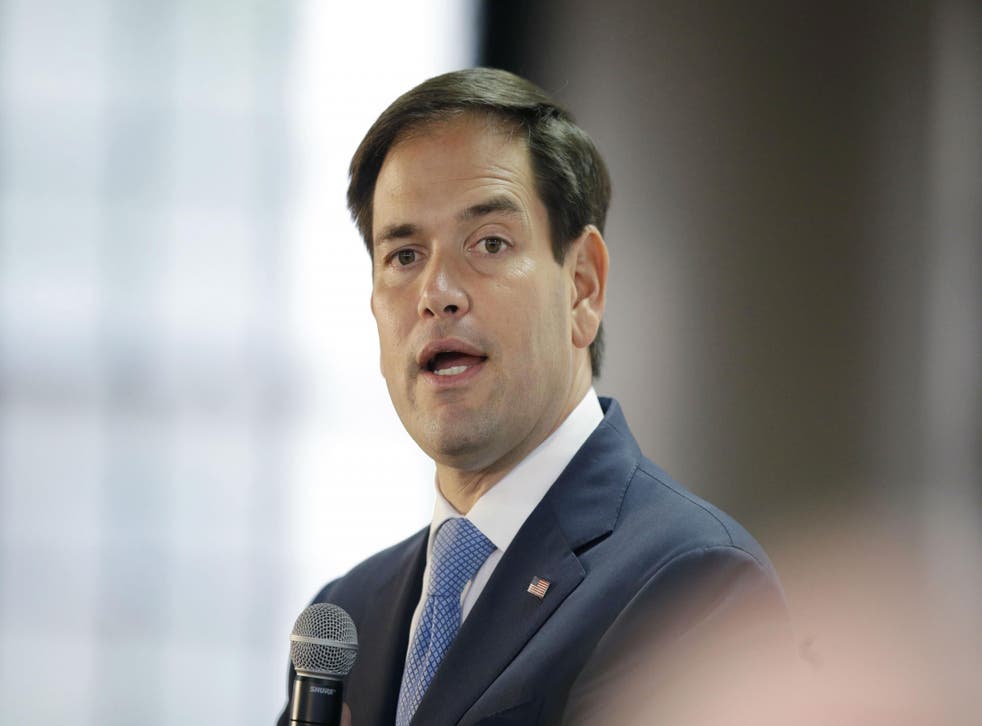 Florida senator Marco Rubio is considering re-running for a second term in the senate in the wake of the mass shooting in Orlando.
Mr Rubio said he would not run again for senate when he announced he would compete against Donald Trump for president, but he quit the race in March after he lost out to Mr Trump in his home state in Florida.
After the worst shooting in US history over the weekend, which killed 49 people and injured 53, Mr Rubio has been considering whether to jump back in for a second term as senator.
The 45-year-old said his decision followed a conversation with his friend and Florida Lieutenant Governor Carlos Lopez-Cantera, who is running to succeed him in the senate.
"Obviously, I take everything very seriously what is going on, not just in Orlando but in our country. I've enjoyed my service here a lot. So I'll go home later this week and spend some time with my family, and if there's been a change in our status I'll be sure to let everyone know," he said.
The Florida senator made the comments just after he had left a private briefing on the Orlando attack with law enforcement and homeland security officials.
He has a deadline of 24 June to decide if he will run.
Mr Rubio hinted of his change of mind on Hugh Hewitt's radio show as early as Monday, just one day after the mass shooting at the Pulse nightclub.
"I haven't even given it thought in that perspective, other than to say I've been deeply impacted by it, and I think when it visits your home states, when it impacts a community you know well, it really gives you pause, to think a little bit about your service to your country and where you can be most useful to your country," he said.
As reported by CBS, Democrats are planning to spend millions in the Senate race if Mr Rubio decides to jump in. Candidate Patrick Murphy has already raised more than $7 million for his campaign, more than any Republican.
Shortly after the attacks in San Bernardino, California, Mr Rubio opposed banning people on the FBI terrorist watch list from buying guns.
Politico reported that senate minority leader Harry Reid reacted to the news: "How can the junior senator from Florida — who all of a sudden is again interested in running for reelection — how can he speak of running for office again when he voted to let potential terrorists buy assault weapons and explosives?"
Representative David Jolly, one of five Republicans running for Mr Rubio's seat, but he told Fox News he would "support" Mr Rubio if he re-entered the senate election campaign.
Register for free to continue reading
Registration is a free and easy way to support our truly independent journalism
By registering, you will also enjoy limited access to Premium articles, exclusive newsletters, commenting, and virtual events with our leading journalists
Already have an account? sign in
Register for free to continue reading
Registration is a free and easy way to support our truly independent journalism
By registering, you will also enjoy limited access to Premium articles, exclusive newsletters, commenting, and virtual events with our leading journalists
Already have an account? sign in
Join our new commenting forum
Join thought-provoking conversations, follow other Independent readers and see their replies